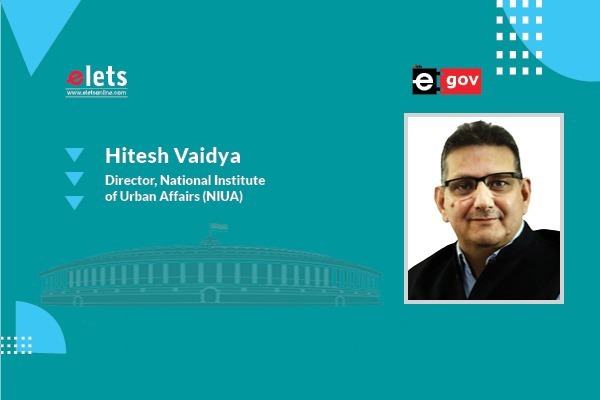 The first target under the Sustainable Development Goal (SDG) 6 specifies "by 2030, achieve universal and equitable access to safe and affordable drinking water for all". The national-level programmes have helped in increasing access to improved water supply sources in India, the water supply sector now has to address the challenges of universal coverage, improved quality, reliability, and sustainability of services. In this article, Hitesh Vaidya, Director, National Institue of Urban Affairs (NIUA) brings to light the aforementioned subject and government's efforts to achieve SDG 6.1.
The erstwhile Millennium Development Goal (MDG) indicator use of an improved source of drinking water has been used as a proxy for 'safe drinking water' but, international consultations since 2011 established consensus on the need to better address normative human rights criteria including accessibility, availability, and quality.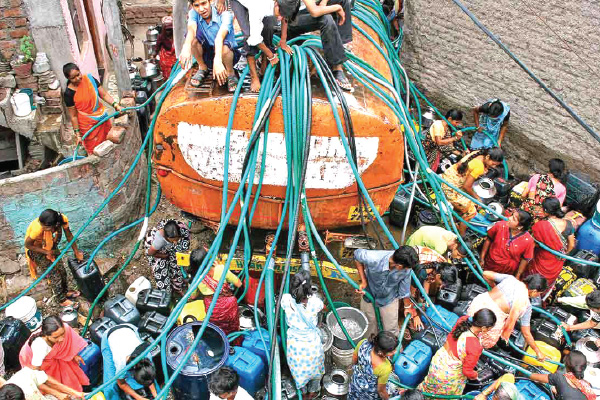 India is facing severe and sustained water stress conditions. Many parts of the country are experiencing water scarcity and deterioration of groundwater and surface water resources. It is projected that India's water demand will grow 24 per cent by 2025, and 74 per cent by 2050. The situation of water in urban areas of India is further dire. By the year 2050, the number of people living in Indian cities is expected to be about 840 million. In order to accommodate, this ever-increasing urbanisation, India needs to explore smarter and sustainable ways of improving the situation of clean drinking water.
There are several programmes and policies that have been enacted by the Government of India to tackle the situation and overcome the challenges of drinking water in urban India. According to the WHO-UNICEF Joint Monitoring Programme report, India has made good progress thus far. In the drinking water sector, 97 per cent of urban households in India have access to improved water supply facilities as compared to 89 per cent in 1990.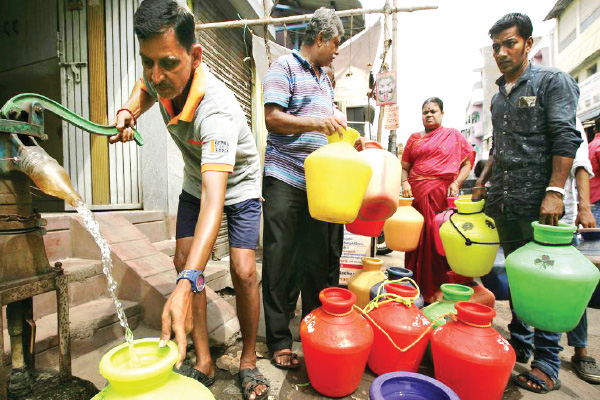 Water supply is the responsibility of State governments in the country. The States have delegated the power to the urban local bodies for the provision of water supply to the citizens at the city level. The first central level efforts to provide drinking water in cities and towns were undertaken through Integrated Development for Small and Medium Towns (IDSMT) (1979) and the Accelerated Urban Water Supply Programme (AUWSP, 1992). The landmark shift in the water supply including its infrastructure development occurred under the Jawaharlal Nehru National Urban Renewal Mission (2005). Under the programme, the Urban Infrastructure Development Scheme for Small and Medium Towns (UIDSSMT) and Basic Services for Urban Poor (BSUP) focused on providing drinking water to the urban poor. The Service Level Benchmarks (SLBs) for four sectors i.e water supply, solid waste management, sewerage, and stormwater drainage were initiated by the Government of India in the year 2008. The SLBs provided a ready reckoner for the urban local bodies to identify performance gaps and improve the service delivery.
While these programmes have helped in increasing access to improved water supply sources, the water supply sector now has to address the challenges of universal coverage, improved quality, reliability, and sustainability of services. It was projected in the High Power Expert Committee report (2011) that the water supply sector needs an investment of Rs 3.2 lakh crore for the period 2012-2031.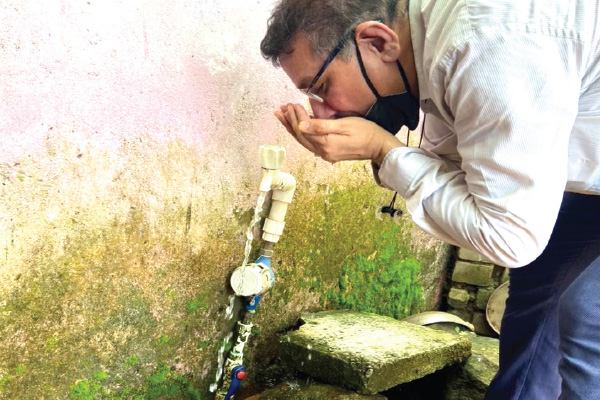 The Union Budget 2021-22 has allocated Rs 11,500 crore for measures to enhance water availability and water resource sustainability. To take concrete measures in the urban water supply sector, the Government of India announced Atal Mission for Rejuvenation and Urban Transformation (AMRUT) 2.0 with the aim to make 4,700 towns and cities water secure. The mission addresses water needs, rejuvenating water bodies, better management of aquifers, and reuse of treated wastewater thereby promoting a circular economy of water.
The ultimate goal of AMRUT 2.0 is to provide 100 per cent coverage of water supply to all households in 4,700 towns and cities, by providing 2.68 crore urban household tap connections. The mission has a reform agenda with a focus on strengthening urban local bodies and the water security of the cities. Major reforms include rejuvenation of water bodies, rainwater harvesting, reducing non- revenue water (NRW), meeting 40 per cent of industrial water demand through recycled used water, a dual piping system for bulk users through building bye-laws, unlocking value & improving land-use efficiency through proper master planning, improving credit rating and accessing market finance including the issuance of municipal bonds and implementation Online Building Permission System under Ease of Doing Business (EoDB).
The mission also promotes a circular economy of water through the formulation of a City Water Balance Plan for each city. Pey Jal Survekshan will be conducted in cities to ascertain the equitable distribution of water, reuse of wastewater and mapping of water bodies with respect to quantity and quality of water.
The mission also includes the use of digital technology and information, education and communication campaign to spread awareness among the citizens about the conservation of water. An Urban Water Information System through National Remote Sensing Centre (NRSC) will be developed under AMRUT 2.0 for the Aquifer Management system. Target- based capacity-building programmes will be developed for all stakeholders including contractors, plumbers, plant operators, students, women and other stakeholders.
According to the National Sample Survey (2018), only 57.5 per cent of urban households have individual water connections and 40-50 per cent of water is lost in the distribution system due to pipeline leakages and water theft. There are high costs and investments linked to water supply infrastructure and operation and maintenance. The treatment of polluted water resources, longer pipelines for distant water and high energy consumption to pump and distribute water are expensive to invest in. Moreover, the cost recovery from city water utilities faces severe financial stress due to low and inconsistent water charges and poor recovery of water bills.
SDG 6.1 is focused on providing sufficient safely managed water, accessible at the household level, and which is affordable to citizens. The actions to be undertaken to achieve SDG 6.1 must focus on investigating more innovative technical solutions that can provide adequate quantities and improved qualities of water to urban households.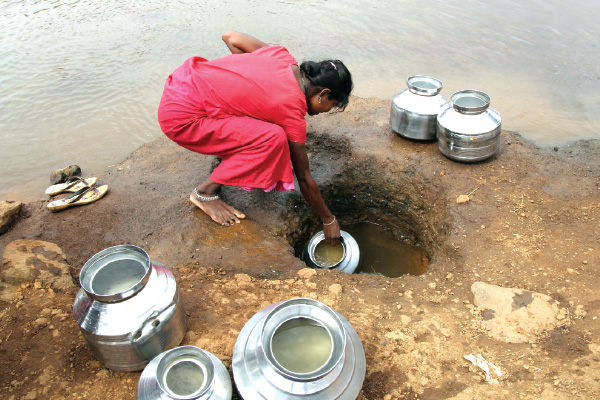 The urban local bodies must prioritise and establish new centralised and decentralised sewage treatment plants for the treatment, recycling and reuse of grey and black water. The water distribution infrastructure must cover the peri-urban and slum areas and such upcoming spaces. While there are challenges in achieving SDG 6.1 in the urban context, there are also opportunities for new thinking, new technologies, new philosophies, and new ideas to achieve one of the most basic requirements for humankind.
NIUA is supporting the cities to localise SDG 6.1 through technical assistance, partnerships, trainings, shared learning and knowledge management. Eight projects contributing to the urban water sector: Addressing the urban drivers of river health in Ganga Basin; Assessing the Efficacy and Efficiency of the Drink from Tap; Developing an Urban Water Body Diagnostic Tool; Participatory and Inclusive Water Sensitive Urban Design for Sustainability and Resilience (PARIWAR); City Investment to Innovate, Integrate and Sustain (CITIIS); Sustainable, Healthy, Learning Cities and Neighborhoods (SHLC); Scale and Nature of Deprivation among Children in Urban India (SNDC); and ClimateSmart Cities Assessment Framework (CSCAF). The projects address complex safety, accessibility, and management of drinking water issues in Indian cities.
NIUA is committed to supporting states and cities through extensive research and policy advisories, data solutions, technology, and capacity building to align with the SDGs and initiate a renewed discourse for future directions on improving the urban water sector in India.