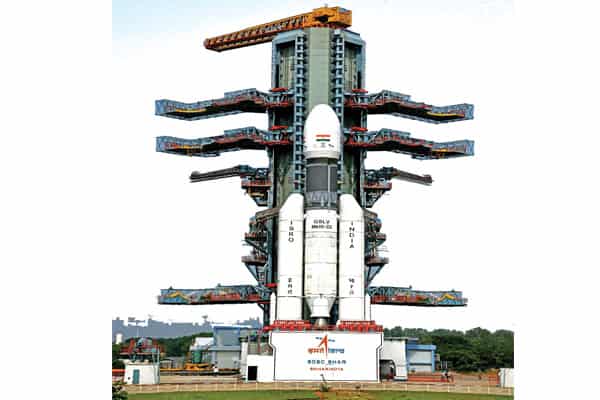 At the stroke of midnight on 14th August 1947, when the world was sleeping, India had awoken to life and freedom, and the long-suppressed nation could eventually find utterances. The sun had finally set on the British Empire. But, the 200 years of extreme subjugation, torture, killing, destruction of social tradition, property right as well as authority structure had rendered India financially, culturally, and socially drained. So, when it made its tryst with destiny, India was reduced to a country of poor and its economy was in shambles. But the embedded spirit of India's soil to reinvent itself after each setback kept the nation together and growing. After independence, the subsequent governments of India strove to chart a more inclusive and developmentally sustainable future for Indians. They brought various policies, rules, and regulations to lay the foundation of today's India, and over the years, those policies have catapulted India into one of the best tech-driven economies in the world. Abhineet Kumar of EletS News Network (ENN) brings you the journey of Independent India.
INFRASTRUCTURE
From unmetalled two-lane roads to world-class expressways, basic railway network to a modern progressive rail system, few scattered airports to a booming aviation sector, India's transformation in the infrastructure sector over the past 75 years has been truly impressive.
Today, India has bestowed itself with world-class infrastructure in aviation, roads, railways, and waterways which has been making further strides with each passing year.
The road network of our country which was 40000 kilometers (km) during independence has increased to 6,371,847 km with 600 plus National Highways. From zero expressways then to 24 now with a combined length of 2192 km, the country has grown by leaps and bounds. In Railways, the country had a total track length of around 54693 km in 1947 which has now increased to over 68,000 km. 83 per cent of railway track is fully electrified. Modern trains like BandeBharat, Tejas, Antyodaya and Humsafar have the potential to transform rail travel. Coupled with the upcoming Bullet trains, and introduction of modern safety and passenger amenities, train journeys in India are set for a complete makeover.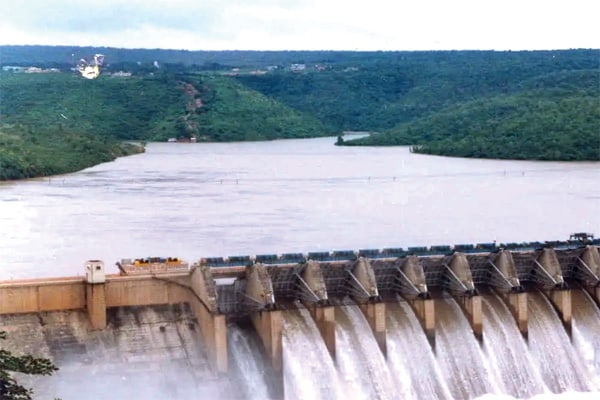 The Aviation Sector too, which was the privilege of few rich and affluent at the time of independence, has spread its wings to every nook and corner of the country with 137 domestic and international airports. The UDAN scheme further envisages making air travel affordable and accessible for the masses. And finally, the Waterways Sector, which accounts for 95 per cent by volume and 65 per cent by value of India's trade, has also witnessed remarkable strides. With 218 major and minor ports, a long coastline and large rivers, the country is well positioned to leverage an
EDUCATION
To take forward the fledgling democracy into the path of exponential growth and development, a knowledge-riched economy was required, where science and innovation drive education. PM Nehru and his successors gave major thrusts on scientific education to reap the benefit of technological evolution. India went ahead with the recommendations the Nalini Raj Sarkar committee gave for setting up four IITs in the 1950s.
Accordingly, the first IIT was set up by turning an old jail, where freedom fighters were kept, into an academic institution in Kharagpur in 1951. AIIMS was launched in 1956. And after that, India established a series of such centres of excellence viz., IIT Bombay in 1958, IIT Kanpur and IIT Madras in 1959, IIT Delhi in 1959, IIM Calcutta and IIM Ahmedabad in 1961.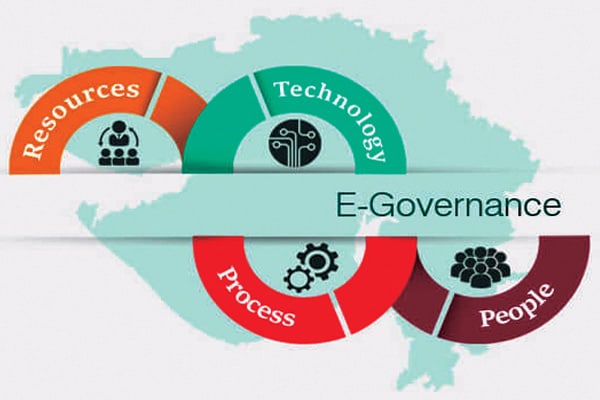 These premiere institutions have transformed scientific education in India and produced successful scientists, engineers, and entrepreneurs whose contributions have made India a pioneer in science, technology, and innovation. Today, India boasts of having 23 IITs, 20 IIMs, and 19 AIIMS, all of which are playing instrumental roles in taking the nation's journey forward.
AGRICULTURE
The colonial government's exploitative nature and reckless intervention had made India deficient in agricultural produce. Large-scale famines were a common phenomenon in British India.And who would forget the tragic and dreadful Bengal famine of 1943 in which four million Indians died of starvation? So, the newly freed India had to actively address the prevailing large-scale hunger problem. The government undertook a massive dam construction program.Dams like Bhakra Nangal in Punjab, Hirakund in Odisha, Damodar Valley project, and Nagarjuna Sagar project and the fresh impetus provided by India's Green Revolution quickly turned the hunger woes and made India into an agricultural surplus country.
Also Read | SAFE Sanitation for ALL
Though the 1962 China war and 1965 Pakistan war had stalled growth in agriculture's produce, the severity of which can be gauged from the facts that India had to import food from America under the PL-480 program and the then PM Lal Bahadur Shastri had to exhort the people of India to keep one-day fast and policies quickly came out of the crisis. And today, through various e-Governance measures, India has seen a massive digital transformation. Direct benefit transfers like subsidies, money through PM-Kisan, and various other important insights are accessible online. AIML technologies like drones and robotics are taking agriculture to the next level in development.
ISRO
Established in 1969, the Indian Space Research Organisation, which harnesses space technology, has played a pivotal role in transforming India and making it a superpower in every respect. From launching the first satellite Aryabhatta to the successful launch of Mars' mission, that too in a maiden attempt, and lowest budget, from Chandrayaan 1, India's first lunar mission, to the soon-to-be- launched India's first man mission Gaganyan, India has seen it all. ISRO's relentless mission mode services and projects have been helping India immensely in fields like communications, agriculture, defence, navigation, and IT.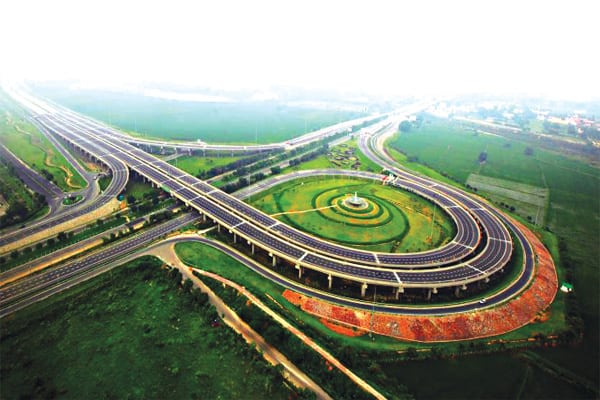 FINANCIAL INSTITUTIONS
Financial institutions like Industrial Financial Corporation of India (IFCI) were set up in 1948 and banks like State Bank of India (SBI), Industrial Credit and Investment Corporation of India (ICICI), and Industrial Development Bank of India (IDBI) were set up in 1955, 1956 and 1964 respectively. With this, the process of financially integrating India had begun. As a result, 70 years later, the successful implementation of JAM (Jandhan, Aadhaar, Mobile) trinity, UPI, and dissemination of various digital financial services like subsidies and loans could be made possible.
INFORMATION TECHNOLOGY
The decades of the 60s and 70s, the inception period of IT in India, were phenomenal in many ways. Indian software companies like Tata Consultancy Services (TCS) and Infosys were established which paved the way for the emergence of many such companies working in the field of IT and Software and created demand for downstream computer services.
Shiv Nadar founded HCL and started supplying indigenous hardware for computer production. While the HCL focussed on building hardware for the computer systems, others such as TCS, Wipro, and Infosys focused on leveraging Indian talent to build software in India and sell to the world.
POST 1980
In the 80s, there was a wave of IT entrepreneurship in India. Startups like Wipro, NIIT, and Mastek started emerging and expanding. The Centre for Development of Advanced Studies set up the National Supercomputer Centre in Bangalore, where City Bank and Texas instruments set up their software development centres and in the ensuing time, Bangalore emerged as the software hub of the country. Under the Rajiv Gandhi government, the Centre for Development of Telematics (C-DOT) was set up in 1984 to develop top- notch telecommunication technology and meet the needs of the Indian elecommunication network. It revolutionised the communication network in the country.
In 1986, Mahanagar Telephone Nigam Limited (MTNL) was established which further helped in the spread of the telephone network. PCO (Public Call Office) connected the rural areas to the outside world. The Indian Railways was modernised after the introduction of computerised railway tickets. Then came the LPG reform (Liberalisation, Privatisation, Globalisation) of 1991 which changed the very foundation of India's economy and polity for the better. With this, the government brought a series of administrative changes in the economy, and finally the corrupt Licence Raj was done away with.
Also Read | Emerging Self-Reliant India

The central pillar of the policy was import substitution, the belief that India needed to rely on internal markets for development, not international trade had ceased to exist. Through LPG reform, the self-imposed restriction on foreign investment and technology was lifted and the government ceased to control finance and capital markets. The reform attracted a large number of FDI and FPI investors to Indian markets who, subsequently, pumped a lot of money into the country, thereby helping India in its path of development and growth.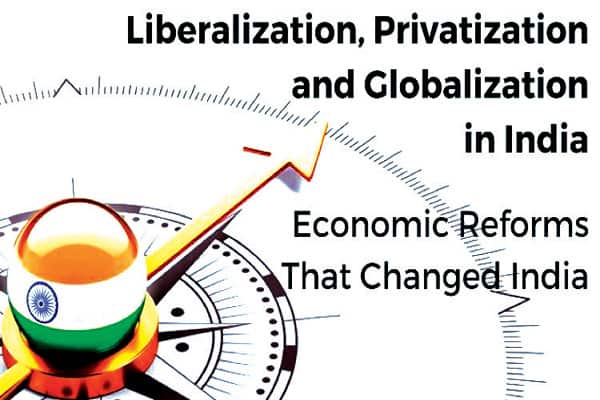 INDIA ENTERS 21ST CENTURY
In 2000, the Atal Bihari Vajpayee government launched the Information Technology (IT) Act, the first comprehensive law in India dealing with cybercrime and
e-Commerce. The Act derived its inspiration from United Nations Model Law On Electronic Commerce 1997. The main objective of the IT Act was to carry out lawful and trustworthy electronic, digital, and online transactions and alleviate cybercrimes. The Act provided fresh impetus to the e-Governance model in India and strengthened its position.
In 2006, India launched the National e-Governance plan (NeGP) comprising 27 Mission Mode projects and 8 components. The National e-Governance plan takes a holistic view of e-Governance initiatives across the country, integrating them into a collective vision of bringing public services closer home to citizens with transparency, efficiency and reliability factors. Over the years, the NeGP has evolved and a large number of initiatives have been undertaken by various state and Central governments. Sustained efforts have been made at multiple levels to improve the delivery of public services and simplify the process of accessing them. E-Governance in India has steadily evolved from the computerisation of government departments to initiatives that encapsulate the finer points of governance, such as citizen centricity, service orientation and transparency.Initiatives like e-Pramaan and G-I cloud will ensure the benefits of cloud computing for e-Governance projects.
AADHAAR
One of the largest biometric identification programs in the world – Aadhaar – was launched by the Planning Commission in 2009. The project, run under the aegis of the Ministry of Electronics and Information Technology (MeitY), acts as an e-Governance tool and key to opening the threshold to transform India digitally. The Aadhaar program has transformed e-Governance in India. It has brought efficiency, effectiveness, transparency, responsiveness, and accountability to public services and administration.Technology, policy, and governance are interconnected and for these things to function vibrantly, citizen-centric policies and open technologies are required which will further strengthen India's position in good governance.
BHIM UPI
As India leapfrogged to a cashless economy from being dominated by it, the success of the digital payment revolution cannot be underestimated. The launch of the Unified Payment Interface (UPI) by the National Payment Corporation of India (NPCI) helped in the exponential rise of digital payments in the country, given the convenience and security it provides. Recent findings mentioned that the volume of UPI transactions exceeds those of debit and credit cards combined. India has overtaken China in real-time transactions, marking the 25 billion mark much higher than China's 15 billion mark in 2020. In May this year, 60 million transactions were done through UPI which is a new record. It is said that the UPI adoption rate in India will reach close to 75 per cent in the next three years.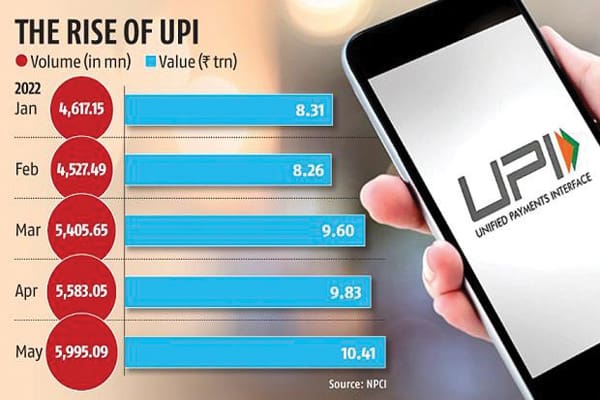 India recently touched the 100 Unicorns target. India has the third largest Fintech ecosystem globally, with an adoption rate of 87 per cent as against the global average of 64 per cent. A recent report from Boston Consulting Group suggests that India's digital payment market will grow threefold from the current $3 trillion to $10 trillion by 2026.
DIGITAL INDIA PROGRAM
Launched by Prime Minister Narendra Modi to transform India into a digitally empowered society and knowledge economy in 2015, the Digital India Program has radically transformed India in the last seven years. The launch of Digital India coincided with the JIO telecom revolution brought in by Reliance, which lowered the data tariffs to the lowest in the world and made communication almost free. As a result, the internet penetration density in the country is expected to reach 840 million users i.e. 60 per cent of its population. Besides this, India has 1.2 billion mobile users in India, of which 750 million are smartphone users.
Consequently, e-Governance and public service delivery have become easy, quick and convenient. It has helped in providing seamlessly integrated services across departments and jurisdictions.
Also Read | 2022: The Year Of e-Governance
And today, the government is all set to launch 5G services which will take the e-Governance part to the next level.
THE ROAD AHEAD
The condition in which India had found itself after independence belied the long-held myth that British rule in India was a blessing in disguise – a position that many intellectual nationalists of the late 19th century also supported. So, all notions that the British were trying to do their colonial enterprise out of enlightened despotism to try and bring benefits of colonialism and civilisation to the benighted, had fallen flat on their faces.
India, a fledgling democracy, got its pieces together and started standing tall and alone. Over the years, numerous initiatives have been undertaken by India to promote e-Governance holistically and improve the dissemination of public services to its citizens and optimise decision-making. People, process, technology and resources have been its key pillars.
Today, India is the third largest economy in purchasing power parity (PPP) and the fifth largest economy by nominal GDP. India has come a long way but it still needs to go ahead with renewed zeal and developmental pace. In this transformational journey of India, we must celebrate and take out a moment to compliment ourselves that this success story of ours is only seven decades old, and with time, it is destined to get better and better.