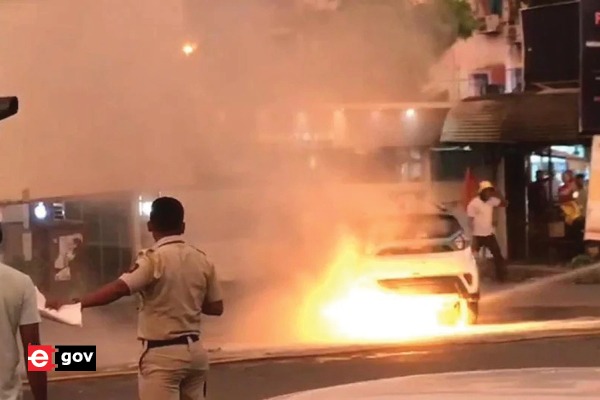 In reaction to the recent fire incident that saw one Tata Nexon EV caught fire in Mumbai, the government has asked for an investigation into the incident. Reportedly, the government has assigned the investigation task to the Defence Research and Development Organisation (DRDO). The same body was entrusted with investigating the earlier electric two-wheeler fire incidents by the Union Road Transport and Highways Ministry as well.
DRDO's investigation had revealed a slew of defects in the used batteries of these electric cars. The fire incidents took place because of the lower-grade material being used to cut cost-said the DRDO investigation report.
Coming back to the Tata Nexon EV fire, currently, Tata said a thorough investigation is going on to understand the fallout. In its statement, Tata said, "A detailed investigation is currently being conducted to ascertain the facts of the recent isolated thermal incident that is doing the rounds on social media. We will share a detailed response after our complete investigation."
The fire incident took place in Vasai West, in Mumbai late on Wednesday.
"We will share a detailed response after our complete investigation. We remain committed to the safety of our vehicles and their users," Tata statement added.
It is here to highlight that Tata Nexon EV is the highest selling electric car in India and reportedly, at least 2,500-3,000 cars are being sold every month in the country.
So far, Tata has sold more than 30,000 EVs, most of which are Nexon models.
"This is a first incident after more than 30,000 EVs have cumulatively covered over 100 million km across the country in nearly four years," Tata said.
With a series of electric two-wheelers catching fire, the government is looking to bring EV battery standards (BIS standards) for EV two-wheelers. Such BIS standards to be expanded to four-wheelers at a later stage.
As per reports, the BIS standards for EV batteries will evaluate "size, connectors, specification and minimum quality of cells, the battery's capacity".
Sharing its concern over the matter, earlier, government think tank body NITI Aayog too emphasised the need for BIS standards as the first step towards a national battery swapping policy, in its discussion paper.
In the meantime, Ola's Bhavish Aggarwal, sharing his views on the Tata Nexon EV, took to social media to comment. He tweeted, "EV fires will happen. Happens in all global products too. EV fires are much less frequent than ICE fires." His tweet came in the background of several Ola escooters fire incidents.
Also Read | Study predicts 30% of vehicles in India will be electric by 2030
Whereas the tracion around the Indian EV industry is not going unnoticed from all corners. The government in its different policies have made its intentions clear to support the EV infrastructure in the country. Just yesterday, Union Minister of Road Transport and Highways, Nitin Gadkari said India has the potential to grab the position of largest electric car exporter by the end of 2025.
Gadkari made this remark while speaking on Tesla's demands of selling cars as CBUs at lower tax rates after importing from its production facility in China. It is here to be noted that Tesla has already discarded its plans to start a manufacturing plant in India owing to the country's stringent policy and regulations.