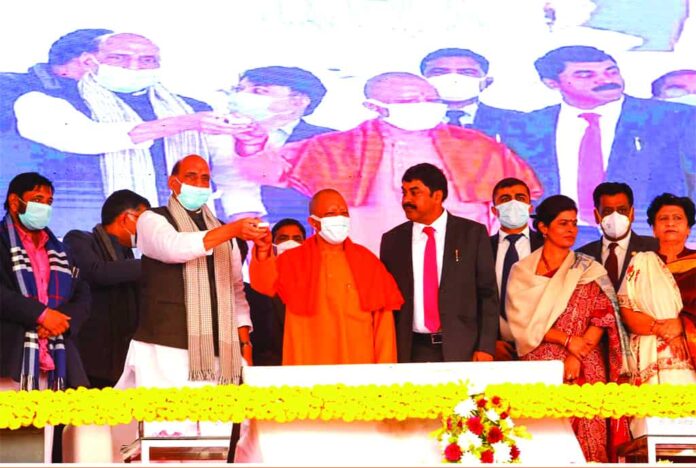 The Uttar Pradesh Defence Industrial Corridor (UPDIC) project, initiated by the state government following the announcement in the Union Budget 2018, is one of the biggest projects that promise to make India's defence services self-reliant. The Corridor aims at contributing significantly toward India's goal of AatmaNirbhar Bharat. Tarannum Manjul of Elets News Network (ENN) looks at the Defence Industrial Corridor which is all set to make the Indian Armed Forces self-reliant.
The Russia-Ukraine conflict clearly underlined the need for self-reliance in defence manufacturing for a country like India. It may be noted here that India is majorly dependent on countries like Russia, Israel and France for defence imports. Between 2017 to 2021, India accounted for 11 per cent of global arms imports. Russia was India's largest supplier of arms in both 2012-16 and 2017-21. However, the volume of India's imports from Russia fell by 47 per cent between these two periods. Meanwhile, India's imports from France increased substantially, making France the second-largest supplier of arms to India in this period. India is one of the largest importers of arms with a share of 9.5 per cent of world imports between 2014-18. The Union Budget 2020-21 has also allocated around $47.47 billion (excluding Defence pension) for Defence, out of which one third is dedicatedly allocated for capital expenditure.
Water insecurity plays a driving role in conflicts and famines around the world, while water pollution and scarcity pose long-term economic threats to developing and developed nations alike. And institutional investors around the globe have noticed: Water ranks among their top three environmental, social, and governance (ESG) concerns, according to the 2019 RBC Global Asset Management Responsible Investment Survey. All industries rely on water in some way. A company's water footprint can be seen in four key areas of its value chain: raw materials, suppliers, direct operations, and product use. As McKinsey's 2009 report Charting Our Water Future: Economic Frameworks to Inform Decision-Making made clear that climate change, population growth, and changing consumer habits are increasing water stress for many regions.
The recent McKinsey Global Institute report Climate Risk and Response: Physical Hazards and Socioeconomic Impacts notes that many of the world's basins could see a supply decline of around 10 per cent by 2030 and up to 25 per cent by 2050. By 2050, according to UN estimates, one in four people may live in a country affected by chronic shortages of freshwater. The World Bank estimates that the crisis could slow GDP by 6 per cent in some countries by 2050 as well. As the world embraces the importance of environmental sustainability, organisations must place a greater emphasis on addressing the global water crisis and minimising the impact on themselves ananagement continue the way it is, then India may become one of the top siements in technology, the rise in urbanisation will accumulate limited resources for unsustainable use. Hence, there is a pressing need to think and plan for a future urban India where cities are smart, sustainable, accessible, and livable4. Moreover, moving forward in smaThe Uttar Pradesh Defence Industrial Corridor has six nodes and it is a greenfield project. This is what makes it different from a similar corridor in Tamil Nadu. The state government has created each of these nodes from scratch, starting from identifying the area to creating suitable infrastructure for the companies to come and be a part of the project. These nodes are Lucknow, Kanpur, Jhansi, Chitrakoot, Agra and Aligarh. The cities were strategically chosen, keeping in mind their location on the Golden Quadrilateral and the infrastructure availability.
UPDIC Overview
During the Defence Expo 2020 that was held in Lucknow, 22 MoUs have been signed between Uttar Pradesh Expressway Industrial Development Authority (UPEIDA) , the implementing agency for the project, and private players, startups, industry giants and institutional organisations. Post the expo, 24 more MoUs were signed making it a total of 46. Further, 16 MoUs were signed during Aero India 2021 and six more MoUs after Aero India 2021 making the grand total reach 68.
The six nodes for the project vary in size. Aligarh is the smallest, with a procured area of 84 hectares. So far, the state has signed 73 MoUs worth of investment of Rs 4,000 crore in the Defence Corridor and allotted 55 hectares of land to 19 companies in the Aligarh node with a confirmed investment of nearly Rs 1245 crore.
Jhansi is the largest with an identified area of 1080 hectares. Beginning with the first phase and the basic necessity for development, basic infrastructure is being provided in each node, which includes boundary walls, roads, power supply and water supply. Infrastructure development work at the node in Aligarh is already underway while land procurement in Agra will be carried out as part of phase 2.
According to information, the state government has now soughty for thconsultancy for these works in the Jhansi, Kanpur, Chitrakoot and Lucknow nodes along with comprehensive architectural advisers. The Kanpur node is spread over 184 hectares, the Jhansi node over 1080 hectares, and Chitrakoot with 101 hectares and Lucknow over 141 hectares apiece. The projects will be aligned with the National Smart Cities Mission as five out of the six identified nodes are under the Smart City Project and it is recommended that the planning also imbibe the features of the mission.
The development plan will also factor in the environmental impact as the corridor will have a wide spectrum of industries like aerospace, weapons, explosives, metals, alloys, CBRN, fire-safety equipment and electronics such as radars and sensors. It is expected that the industries in the corridor will generate a lot of industrial waste. Further, owing to the nature of the sector, some of these units may generate waste materials that will be hazardous in nature. The environmental impact, therefore, will have to be factored in diligently and in close cooperation with all the stakeholders involved whilst formulating the plans. There is a provision for an Effluent Treatment Plant (ETP) in all the nodes for proper management of the waste.
Talking to Egov about the Defence Corridor project, Additional Chief Secretary and UPEIDA CEO Awanish Awasthi said, "The Government of India has clearly stated that they want to have defence items which are "Make in India". UP provides a fertile ground with ample landbank and it is the largest state in India when it comes to technical manpower and the best institutions in terms of research. We also have a history of defence manufacturing units as we have Kanpur Ordinance Factory and HAL. When the Prime Minister announced the Defence Corridor in UP, we made a giant flight with the UP Defence Corridor. The Brahmos project and Bharat Dynamics Limited project at Jhansi are going to be the major projects. All the six nodes will be developed fast and we will ensure that we have this project not only makes India AatmaNirbhar but also generates employment."