Being a part of the Ministry of Housing and Urban Affairs' (MoHUA) flagship programme Smart Cities Mission, Pune Smart City has taken a slew of initiatives to boost its quest for becoming not only safe, sustainable and liveable but also self-reliant and digitally empowered city, writes Puja Banerjee of Elets News Network (ENN).
In a bid to enhance its urban digital infrastructure to monitor the information in real-time and establish centralised information systems, Pune Smart City is working to develop better communication tools, an incident management hub for the city, a higher education centre, and an IT hub. Pune Smart City's approach highlights the importance of citizen engagement in projects ranging from traffic management to empowering disadvantaged youth.
" The smart cities mission's focus is on sustainable and inclusive development. The aim is to evaluate compact areas and create a replicable model, which would guide and inspire the entire city and even other cities across India."
— Dr. Sanjay Kolte, CEO, Pune Smart City Development Corporation Limited
Pune Smart City has implemented the following key projects that aim to improve liveability, urban mobility, and service delivery. The projects aim to improve the lives of the citizens and service delivery by the civic authorities. Also, technology is being leveraged to fetch real-time actionable information to aid day to day decision making by administrators, citizens, tourists, and businesses. It comprises smart elements that are strategically located across the city and form a network of elements that provide the data inputs in real-time. "Pune has evolved to become a technologically modern urban city that predominantly uses Information and Communication Technologies (ICT) to promote sustainable development of rapidly growing urban population with the active participation of the citizens. It is an innovative approach aimed at promoting economic growth and improving the quality of life," said Dr Kolte.
A Step Towards Sustainability & Effective Traffic Management
In order to cut down the carbon footprint of the city, the E-Bus project was envisaged by Pune Smart City and executed by Pune Mahanagar Parivahan Mahamandal Limited (PMPML). The Smart City supports the financial front of the project and PMPML works on the Technical Front. Meanwhile, Pune Municipal Corporation (PMC) provided the overall guidance and support for land parcels for charging infrastructure to the city's transport body.
Specific routes with more carbon footprint were identified with the help of Pune Smart City. In order to cut down the air pollution and noise pollution levels in the city, the Pune Smart City has ordered 150 e-buses, out of which 149 have been procured. Today, with 149 e-buses catering to 19 routes, the TCO2 has been cut down from 7 per cent to 4 per cent generated from public transport.
To handle the traffic issues in the city and streamline the operations, the Adaptive Traffic Management System is proposed. The technology intervention needed for proper implementation of the project includes:
● Adaptive Traffic Management System (ATMS)
● Establish Network Connectivity
● Set up Traffic Command Centre with a proper traffic monitoring software
● IT infrastructure including hardware and software at SCOC (primary) & TCCC (secondary), DC, DR
● Develop individual signal control strategies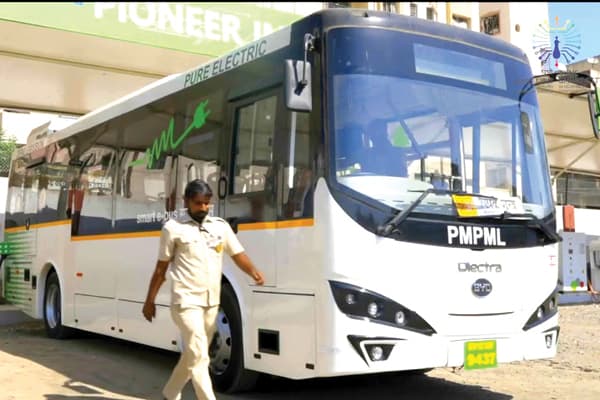 Technology in Education
The Digital Education System has been a game-changer, especially during the COVID pandemic. This education system involves providing online learning software and access to e-educational platforms. With this, Pune Smart City has taken the initiative to have a multi-media content-based education in Bal-Bharti (Maharashtra) syllabus for classes I to X and for all schools under the Pune Municipal Corporation. The move is exemplary and would possibly pose as a best practice that could be replicated in schools in other cities across Maharashtra. This helps in boosting the development of cognitive abilities among children.
Making Pune Smart & Liveable
Under the Smart City Main Proposal submission developed by the Pune Municipal Corporation – Reimagining Pune: Mission Smart City – Detailed plan to transform Pune into a world-class Smart City – the 9 km network of neighbourhood streets are designed giving preference to walkability, universal accessibility, and cycling. Road redesigning projects are being implemented for a total length of over 40 km where works on footpaths, cycle tracks, street lights, road painting and underground utilities will be undertaken.
Amenity spaces lying vacant and ignored have been selected as a space to be developed into recreational areas for the citizens. The objective of the placemaking project is to provide theme based facilities and open spaces that would be more innovative and dynamic than a regular garden. Each placemaking site would have theme-based design elements, furniture, and open green spaces, designed to be suitable for numerous activities. Also, these places pose as a platform for public participation. In this regard, some of the plans are as follows:
a) Defense/ Patriotic theme: The objective is to provide space for exhibiting information and inspiring stories of the Indian Armed Forces. The site will showcase information about the Army, Navy and Air Force through display boards, scale models, war trophies, and more. The site will be designed to allow citizens to utilise the space for various activities like jogging tracks, kids' play area, open green spaces, etc.
b) Fitness and Rejuvenation: The objective is to provide a dedicated facility for fitness training with guided and monitored schedules. It is envisaged to be utilised by the citizens residing in the near proximity on a regular basis. This will inculcate a fitness routine among the people and a healthy mind that will overall improve the citizens' health.
c) Park for Specially Abled: The objective is to provide a dedicated facility for the specially-abled with indoor and outdoor activities. The facility will have play equipment that will allow kids to experience movement irrespective of their disability; the soft-scape will stimulate the senses and spaces for social interaction.
d) Environmental parks: These parks will provide space for workshops, public gatherings, and installations demonstrating environment- friendly measures for energy generation, reuse of recycled waste/scrap materials, and more. This will help in sensitising people about energy generation and proper waste management. All the play equipment installed in the parks will be eco-friendly and demonstrate various methods of energy generation based on basic principles of science.
e) Community Farming: The objective is to encourage community farming as a hobby, learning and sustainable living with the following features:
●  Encouraging Urban Farming.
● Edible Arcade.
● Organic Landscape.
● Workshop Area for Group Activities.
● Community spaces
● Convertible Spaces for Citizen Engagement.
Senior Citizens, kids, NGOs, senior citizen clubs, organic food vendor organisations, etc. are some o the target audience for such an initiative.
f) Water Conservation theme: These open spaces under the smart city project aim to increase awareness among the citizens regarding water conservation. The place would have display models of various water conservation methods and also a display model of a 24×7 water supply scheme being implemented in the city.
g) Senior Citizen Park: The Senior Citizen Park's objective is to provide a dedicated facility for senior citizens where they can get involved in recreational and healthy activities like reading, exercise/ yoga, meditation, group interactions, and information communication. The facility will have spaces earmarked for indoor as well as outdoor activities. These spaces aim to provide most recreational activities for senior citizens under one roof so that the elders can keep themselves indulged in healthy activities for most of their day.
Conclusion
Leveraging its rich cultural and natural heritage, strong human capital and strong business environment as key strengths, Pune aspires to become one of the most liveable cities in India by enhancing its core infrastructure by making its neighbourhoods beautiful, clean, and green and promoting sustainable development practices to address growing urbanisation challenges.