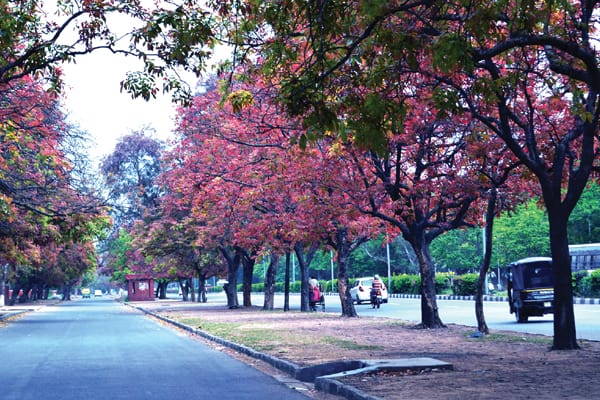 Sprawling at the foothills of the Shivalik range in North India, the country's most beautiful city, Chandigarh, is setting an example for other cities to follow as it strengthens its commitment to a greener and cleaner environment, writes Priya Yadav of Elets News Network (ENN).
Known for its thick sylvan cover, the city which is independent India's first planned urban-dwelling designed by world-famed French-Swiss architect Le Corbusier, is taking back to back initiatives to impact the environment positively.
Backed by its highly aware population, most of who passionately share their love for the planet, the Chandigarh Administration has launched a series of highly significant eco-friendly initiatives.
Dashboard for Climate Change
The city's administration launched the "Chandigarh Climate Change Monitoring Dashboard" on 12 April, which was developed by the union territories environment department in collaboration with Deloitte Touche Tohmatsu, India to monitor climate change resilience actions in the city.
Adviser to the Administrator, Dharam Pal, who launched the platform said that this platform will help in making climate- sensitive decisions for Chandigarh by highlighting actionable issues and areas that need to be worked upon to combat climate change.
The dashboard has been developed under the "Smart Urban Development in the Indian States (SmUDI)" programme funded by the Foreign, Commonwealth and Development Office, Government of United Kingdom.
Caroline Rowett, British Deputy High Commissioner, Chandigarh, said the platform would facilitate the development of a common reporting framework to enable effective decision- making in the domain of climate change resilience in the city.
UT environment secretary Nitin Kumar Yadav said that the need of the hour was to integrate data with information already available through other automated platforms developed by the administration, such as the Integrated Command Control Centre, SCADA and others, which may aid in taking more proactive actions and solutions to combat climate change.
Debendra Dalai, director, the environment, Chandigarh Administration, said this would greatly help the city administration align with global and national reporting requirements that include the United Nations Framework Convention on Climate Change (UNFCCC) and Climate Smart Cities Assessment Framework by the Ministry of Housing and Urban Affairs (MoHUA).
Chandigarh's Tryst With Green Commuting
Concerned over the overwhelmingly large number of vehicles plying on the wide roads, the city administration has been working for the past decade on introducing cycling as an alternate way of commuting.
"Promotion of cycling as a means of travelling is one of the policy tools that can contribute to sustainable urban travel. Cycling nowadays is attracting international attention as an environmentally friendly, clean, sustainable mode of transport, since the bicycle does not pollute or create noise and it has the potential to be an alternative to cars for short-distance travel in urban areas," as per the draft framed on cycling policy in the city.
For this, the city has developed a vast impressive network of cycle tracks that run the length and breadth of the city. To encourage people to pedal their way to work, special incentives like half-a- day earned leave credited for every seven days cycled, or half-a-day casual leave granted every week, commendation certificates, awards for using a cycle to commute, are some of the incentives being considered.
The policy focuses not just on incentives for employees cycling to work but also on upgrading infrastructure to encourage cyclists. It was stated that each government or private workspace must have a separate policy to encourage commuting to work by cycle. Facilities such as a cycle parking space with roof, shower rooms and space for drying cycling clothes, cycles for borrowing for short trips from the office, etc. should be offered.
The city will get 1250 new cycles and 155 more docking stations under the third phase of the public bike-sharing project in June. The second phase of the public-bike sharing project was launched in February when a total of 1250 new bicycles were added. At present, a total of 2,500 bicycles are being provided at 310 docking stations in the city.
There is a plan to take the count of bicycles to 5,000 and that of docking stations to 617 in a year. The project is being implemented and operated by Smart Bike Tech Pvt. Ltd, Hyderabad, for a period of 10 years on a public-private partnership (PPP) basis.
World's Most Sustainable Urban Development
In 2015, British Broadcasting Corporation (BBC) dubbed Chandigarh the "most ideal city in the world" that has stood the test of time. The city that was born out of the pangs of partition that India suffered at the time of independence has been preserved passionately by its administration.
An annual assessment as part of the government's Greening Chandigarh Action Plan shows that 1.6 lakh trees are planted annually over the last 14 years. This has made the city with the highest number of trees per hectare of a culturable non-forest area in the country.
Country's Most Disciplined and Modern City
In March 2022, Union Home Minister Amit Shah launched a string of initiatives that he said would make Chandigarh the "country's most disciplined and modern city."
He launched the state-of-the-art Integrated Command and Control Centre (ICCC) to oversee the management of traffic, and citizen services including e-governance, sewerage, waste, electricity, and public bike-sharing. It will be involved in
real-time surveillance of major landmarks like waterworks, parks, government hospitals, community centres, parking locations and schools. Nearly 1000 cameras have been installed around the city to maintain a record of all vehicles entering and leaving the city.
Chief General Manager of Chandigarh Smart City Ltd, NP Sharma said that the use of cameras will allow e-challans to be issued for traffic violations. Besides, it will also have adaptive traffic control systems to manage the timing of traffic lights as per vehicle flow.