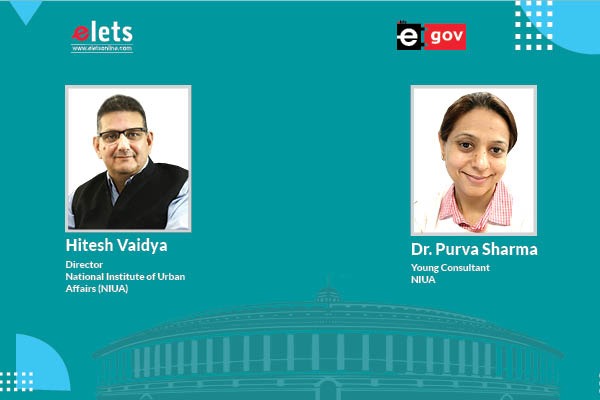 The ongoing COVID pandemic has revealed the fragility of cities and citizens to global risks. With its outbreak, it is estimated that six million cases were detected in urban areas1. It gradually emerged that cities have a low-risk perception and are poorly equipped to manage the heavy caseload of patients and deal with the fall-out of pandemic-induced lockdown. The 'reverse migration' phenomenon witnessed in India grabbed global attention and highlighted the housing and economic vulnerability of the urban poor, write Hitesh Vaidya, Director, National Institute of Urban Affairs (NIUA) and Dr. Purva Sharma, Young Consultant, NIUA.
The widespread pandemic-induced disruptions in the global economy have massively affected the production supply chains. This particularly impacted the availability of food products, industrial raw materials and medical products. Production and consumption supply networks have become highly disordered. It is estimated that among the 1000 fortune listed companies, 94 per cent have been affected during the crisis period. The prolonged lockdown period, stoppage of national and international flights for months, and closure of manufacturing units have largely contributed to disruptions in the global chain worldwide.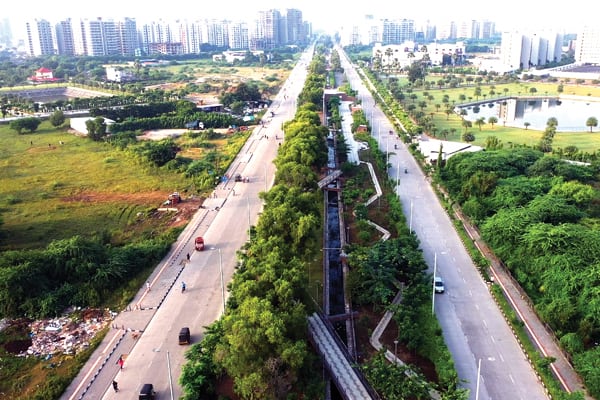 COVID-19 has made urban thinkers realise that growth must be both inclusive and sustainable in the long run. Faced with one of the most disruptive situations in recent human history, each country is trying to overcome the pandemic in their own ways. The crisis period has brought forth the limitations and inevitability of globalisation. This is the time when self-reliance is necessary.
Self-reliance refers to the principle that societies should be able to obtain their basic necessities. It encourages societies to use their limited environmental, economic, cultural, and human resources in the most efficient and sustainable manner. Self-reliance can be applied at different scales including household, neighbourhood, city, region, and country. Self-reliance in the context of a country can be defined as a condition of a country in which the internal demand gap of domestically produced goods and services is fulfilled by corresponding foreign exchange earnings through exports. A self-reliant city model emphasises solving a city's problem from within by building local economies and using local resources to meet the needs of citizens.
The current pandemic has opened doors toward reconfiguration and positive transformation for countries including India. The period marked the effective start of localisation. The economic lockdown situation compelled the policymakers to think about safe living giving high priority to the principles of sustainable development for a safe future for all.
While the urban local bodies in India are still struggling with low technical and managerial capacities, the COVID-19 pandemic has thrown up a series of socio-economic challenges making the city functioning even more challenging. This has brought the focus on urban local bodies' functions which now need to be strengthened to build a self-reliant urban society.
In response to the pandemic and economic slowdown, the call for making an Atmanirbhar India supported by the five pillars—economy, infrastructure, system, demography, and demand—will only be realised if our cities are sustainable and productive. There is no doubt that a self-reliant India will emerge from self-reliant cities. This endeavour will require a strong synchronisation between the national planning policies and the global frameworks. It is crucial that both are implemented locally. One of the most important implementation steps is to strengthen local economic development, i.e. building up economic capacity by delivering on the basic socio-economic needs. We must also shift from regulatory-based planning to strategic planning. Such planning will allow for stronger regional networks that enhance investments and develop spatial strategies that incentivise growth, and design enabling policies for people, production and productivity.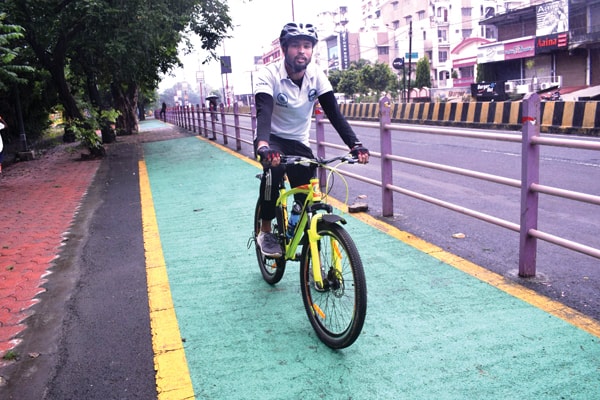 The National Institute of Urban Affairs in collaboration with the New York University drafted policy recommendations in a paper— Atmanirbhar Bharat: A Pragmatic Approach Towards New Urban India. The paper gives a checklist of policy actions for the Centre, States, and Urban Local Bodies in India that they could implement to move in the direction of becoming self-reliant. This article concludes with the policy actions for the Urban Local Bodies so that they can mobilise local resources to promote local economic development, generate employment opportunities, and enhance city planning. The policy actions are given as below:
Focus on Smart Urban Strategies & Effective Urban Governance Systems
a. Integrate local and regional economic growth objectives and plans with all urban-rural development plans.
b. Establish a 'Tiers' (Tiers 1,2,3,4, and 5) based benchmarking system for delineating targeted services for the tier of the city
i. Prioritise the quality of services to be provided in various cities based on their size, population, public services related infrastructure needs, administrative strengths, strategic importance, and geographical positioning along with the existing urban core and/or along the urban- rural periphery, and overall economic potential.
c. Strategically co-organise commercial, technical, and administrative structures for efficient delivery of urban objectives.
i. Establish 'Metropolitan Regional Development Authorities' (MRDA) with clear demarcation of operating authorities and accountability structures.
ii. Design flexible and dynamic organisational architectures at MRDAs to deliver effective urban solutions efficiently.
iii. Proactively consult with private sector players and engage their leadership in helping achieve delivery targets.
iv. Design programs and inter-program linkages to minimise financial and administrative conflicts.
v. Develop inter-and intra-institutional incentive structures to reward commitments to important Government of India initiatives, such as 'Ease of Doing Business,' 'Swachh Bharat Mission,' 'Digital India,' 'Sustainable Development Goals related to Urbanisation and Housing,'
vi. Ensure collaborative and integrated urban-rural governance mechanisms to manage urban sprawl resulting from cities that are expanding and overlapping with agricultural lands on the urban periphery.
Replenish Existing Budgetary Shortfalls for Urban Revitalisation
a. Map the existing sources of funding presently available from all sources, for each city, delineated by each
service provided and benchmarked to specifically identified costs.
b. Quantify the gap between financing needs (relative to the respective 'Tier-based' benchmarks) for the provision of public services and the funding actually provided to the municipalities.
i. Identify the specific reasons for the funding gaps.
ii. Estimate funding gaps for the current year and three years thereafter.
iii. Collaborate to develop a strategy to bridge each funding gap within reasonably articulated timeframes.
iv. Establish City-level fiscal responsibility and budget management plans.
c. Implement outcome-based budgeting processes for all upcoming and future projects and programs.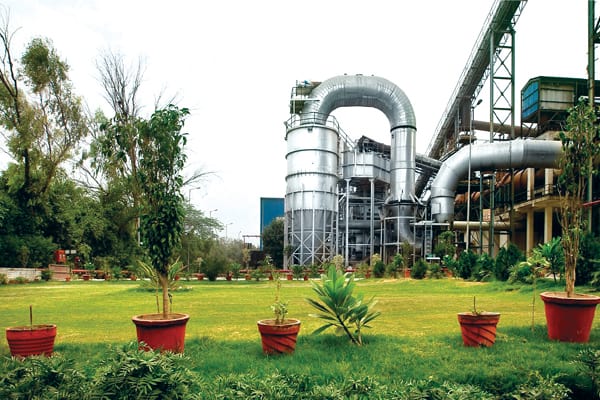 Develop New Financial Capacities to Fund Future Urbanisation Plans
a. Prepare 5-year, 10-year, and 15-year growth plans for all Tier 4 and Tier 5 cities.
b. Prepare city development plans linked to their economic growth plans.
i. Identify the list of all emerging towns and cities within India that would qualify to enter the ranking of Tier 4 and Tier 5 cities over the next 10 years, for planning resource monitoring purposes.
c. Identify those existing services that need to be upgraded and those new services that will need to be provided to meet the service requirements of the next tiers.
d. Develop integrated industrial cluster, commercial, urban, smart technology strategies focused on SDGs and economic productivity and growth for existing and new cities.
e. Establish eco-industrial parks at the perimeter of urban areas and in strategic locations to strategically support cluster formations.
f. Identify 'New City' development projects and plans.
g. Design city services using platform structures for efficiency, resilience, and redundancy.
h. Ensure that all approved plans are adequately budgeted and budgets are fully funded through diversified sources of public and private sources.
i. Allow and manage city level bond borrowing from domestic sources to fund urban infrastructure development and growth.
j. Ensure a regulatory framework that allows large domestic capital institutions (insurance companies, mutual funds, provident funds, etc.) to invest in the municipal bond offerings.
Harness World Class Technical Talent & Build Domestic Capacity
a. Establish Urban Development, Management, and Policy State Institutes in every state and in every Tier 1 and Tier 2 city.
b. Organise thematic bi-annual urban development and management conferences in India to showcase the progress in India's urbanisation.
c. Establish other channels to deepen the exchange of ideas and research with professionals and institutions from around the world, especially from regions and countries whose urban models, approaches, and experiences could be informationally instructive for India's policymakers and urban governance institutions.
d. Create digital and public forums for the open exchange of ideas on various urban issues and integrate these forums with leading social media platforms for nationwide and international reach.
Leverage Private Sector Expertise, Technical Knowledge, & Capital for Public Good
a. Integrate private sector partnerships and partnership potential with all new urban development strategies and programs.
i. Proactively collaborate with the
private sector as it is positioned to uniquely benefit from the improvement in the quality of urban life in India and can be valuable partners in economic development at the local levels.
ii. City-level planning and master planning of parts of existing cities and new cities should be crafted to include specific private sector participation strategies.
iii. Revenues generated from such partnerships can be used to support public commons.
b. Channel private capital to participate in the provisioning of public amenities in each master plan within cities in exchange for branding opportunities and corporate naming rights, etc.
c. Develop city-level thematic programs to market tourism and comparative advantages worldwide.
d. Encourage and incentivise private and public sectors to jointly develop Circular Design Principles and Protocols for manufacturing of all new products and services workflows.
Unfreeze Trapped Capital & Unleash New Forms of Capital in India
a. Create new urban programs based on tradeable development rights.
b. Encourage trade in development rights to achieve targeted urban development objectives.
c. Tax non-development and also under- development to restrict urban sprawl.
d. Design tax incentives for development improvements such as 'Opportunity Zones' and 'Tax Incremental Financing' programs.
e. Facilitate land title documentation and settlement dispute resolution mechanism.
f. Incentivise land title consolidations to achieve planning objectives and rapid mixed-use developments feasible.
g. Deepen the market for property transactions supported with new channels of development financing,
streamlined and reduced stamp duties.
h. Support rent-to-own programs for urban residents and support institutional (and private) capital to expand urban housing opportunities.
i. Encourage mixed-income housing developments in the planning process to diversify pockets of value equitably across the urban platforms.
j. Make urban resource allocations more efficient and effective with effectively designed 'Smart City' initiatives that utilise the value hidden in the exploitation of data while ensuring citizens' privacy.
Utilise PPP for All Major Urban Projects
a. Mandate the exploitation of PPP strategies for regional and city infrastructure, urban services, waste-management, smart-city, master-planned and large mixed-use developments, and integrate these
strategies with every regional and/or master plan before approvals.
Harness Data & Technology for Urban Policy Design & Management
a. Institutionalise the use of data in urban-governance decision making.
i. Use the Smart Cities Mission strategy template of People- Process-Platforms* in all cities to create an ecosystem conducive to data-driven governance.
b. Benchmark the social and economic impact of technology infrastructure projects exceeding Rs 25 crore.
c. Create city performance dashboards – identify the metrices to measure performance effectively.
d. Encourage the application of emerging technologies – forge quadruple helix relationships** to develop urban applications in the emerging technologies such as Artificial Intelligence, Machine Learning, Blockchain, Remote Sensing, IoT, etc.
e. Run awareness/ capacity-building programs for city and state government officials to familiarise themselves with and fast-track the development and integration of these applications in the governance processes.
f. Establish a central authority for ethical use of data and metadata extraction for policy design.
g. Identify the specific datasets and information to be collected, establish privacy protocols for the use of the data collected, and establish control for the sharing of the information collected.