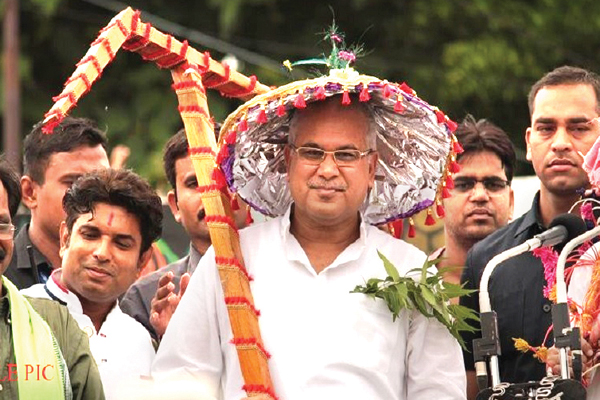 Mahatma Gandhi's 'Gram Swaraj' (making villages self-reliant) was the centrepiece of his vision of economic development in India. Taking a step ahead on the path shown by him, Chhattisgarh Government has implemented a unique rural-centric development model hailed as the 'Chhattisgarh Model of Development' relying on strengthening the rural economy, making villages self-reliant and empowering common people, farmers, tribal people and weaker sections of society.
'Chhattisgarh Model' has become a 'buzzword' and is being hailed across the country as a great success story in boosting the rural economy. The state has witnessed a paradigm shift in the last 3.5 years with a balance of social, economic and infrastructural development. The state government has not only made equitable arrangements for farmers, tribals and labourers but also made efforts to benefit forest dwellers, people living in remote areas, and encouraging youth and budding entrepreneurs. The Government has paid special attention to strengthening the rural economy, increase the sources of rural self-employment, women empowerment, and economic expansion, ensuring that economic prosperity and growth must reach every section of society.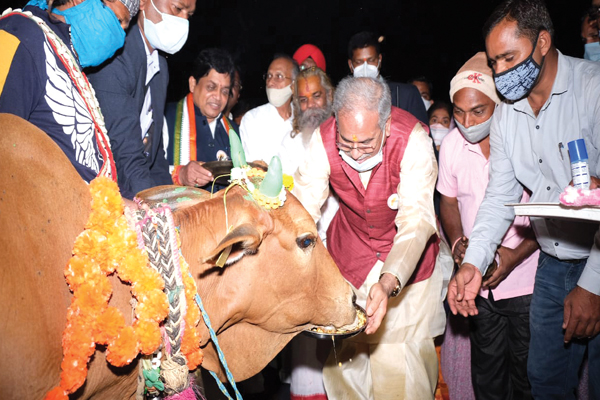 Restoring Dignity of Farmers
'Honour and Dignity' are prized possession of a small-scale farmer who doesn't own much but a piece of land to earn his livelihood. Taking a step ahead toward restoring the dignity of farmers, addressing their issues and preventing debt creation the state government undertook major decisions. This includes procuring farmers' entire produce at a fair and dignified price and a comprehensive farm loan waiver. This is not it; the Chhattisgarh government also launched a tailored version of 'Nyuntam Aay Yojana' (NYAY) or minimum income scheme, with an inherent goal of providing justice to all the sections of society including tribal people, farmers, labourers, and people in need. As a part of this, a unique and first-of-its-kind scheme in the country has been started by the state government like the Godhan Nyay Yojana for procuring cow dung from cattle rearers and promoting organic farming, Rajiv Gandhi Kisan Nyay Yojana to provide input subsidy to farmers and promote crop diversification and the recently started 'Rajiv Gandhi Gramin Bhoomiheen Krishi Mazdoor Nyay Yojana' to provide financial assistance to landless agro-labourers of the state.
"The works being done in Chhattisgarh for the development of farmers, forest dwellers, and villages have been appreciated across the country. We are focusing on innovation for sustainable rural development in Chhattisgarh."
—Bhupesh Baghel, Chief Minister of Chhattisgarh
Also Read: Chhattisgarh ranks 4th among the states with lowest unemployment in India: CMIE
Nearly Rs 11 thousand 180 crore 97 lakh has been pumped into the rural economy and directly into the hands of more than 20 lakh farmers in the last two years under Rajiv Gandhi Kisan Nyay Yojana. Besides, so far, a total of Rs 226.18 crore has been paid by the state government to the cattle rearers, self-help groups (SHGs) and Gauthan committees under the Godhan Nyay Yojana. This has created an environment where the farmers are not forced to abandon farming and migrate to other states in search of employment.
Welfare of Tribals & Forest Dwellers
Besides, the government is also working for the welfare of tribals and forest dwellers. The Tendupatta collection rate has been revised from Rs 2500 per standard bag to Rs 4000 per standard bag. This has resulted in boosting the income of about 13 lakh Tendupatta collectors across the state. Similarly, the number of Minor Forest Produce (MFP) purchased by the state government on support price has been increased from seven to 65 now. Forest dwellers are now getting better employment opportunities and decent income than before with the value addition of these Minor Forest Produce (MFP). "The state government has lived up to its promises and made every possible effort to restore all that the voters— who placed their trust in us—had been dispossessed of. The works being done in Chhattisgarh for the development of farmers, forest dwellers, and villages have been appreciated across the country. We are focusing on innovation for sustainable rural development in Chhattisgarh. With a fresh vision for the industrial development of the state, small-scale industries that use indigenous resources are being set up in villages. Going back in time, villages were the main production centers while cities were the sales centres. By promoting small-scale industries and entrepreneurship, there will be no dearth of employment opportunities in the rural areas. This will also minimize rural-urban migration," said CM Bhupesh Baghel.
Gauthans Making Villages Self-Dependent
In a bid to generate sufficient employment opportunities, Gauthans are being constructed in every Gram Panchayat, which is further being developed as 'Mahatma Gandhi Rural Industrial Park'. Meanwhile, numerous employment generating activities including manufacturing of vermicompost, soap making, incense sticks making, honey production, poultry farming, and fish farming are being conducted in each Gauthan. Besides, the work of generating electricity out of cow dung has also been started in the Gauthans. This has transformed villages into a 'production centre' today. As many as 10,590 Gauthans have been approved so far, out of which about 8,120 Gauthans have already been constructed and started functioning. The state government also plans to support the local youth in the establishment of small and cottage industries based on bamboo and wood crafts, metal crafts and other handicrafts. Chhattisgarh's unemployment rate drops to 0.6 per cent in March 2022, the lowest so far.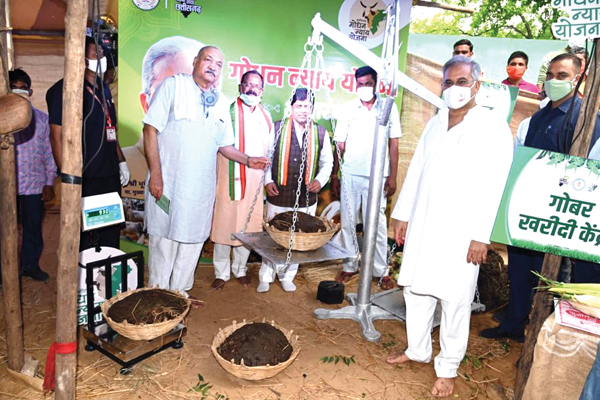 The state government believes in putting money in people's pockets, especially the ones belonging to the weaker sections, to bring about a significant change in the economic condition of the state and alleviate poverty. This is why the state managed to efficiently deal with the COVID-19 pandemic situation bringing the economy back on track besides managing to have the lowest unemployment rate in the country. The State Government has also formed the "Chhattisgarh Employment Mission" with an aim to create around 15 lakh new employment opportunities in the coming five years.
According to the latest data released by the Center for Monitoring Indian Economy (CMIE), the unemployment rate in Chhattisgarh has fallen to 0.6 per cent in March 2022, which is the lowest so far and the state ranks first in the country with the lowest unemployment rate. Meanwhile, the state registered an unemployment rate of 3.4 per cent in April 2020.
Health facilities being expanded in rural areas
Health facilities are being expanded in Chhattisgarh mainly in the rural areas even before the coronavirus pandemic. Chief Minister's Haat- Bazaar Clinic Scheme, Chief Minister's Urban Slum Health Scheme and 'Dai-Didi Mobile Clinic' have made the health system accessible to the masses even in rural and far-flung areas of the state. It has strengthened the backbone of the healthcare system of the state.