AMUL, Delhi Metro, Reliance Jio Platform, COVID-19, Maruti, 1991 Economic Reforms, App-based business like Paytm, Digital aggregators, … have two common factors across all of them, i.e. (a) 'Disruption of different nature' and (b) 'Success', writes Devpal Singh, Sr Vice President – Agribusiness, Smart City & ICT Services, Niveshan Technologies India Private Ltd.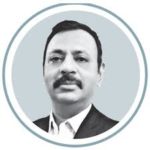 Agriculture and its allied Sectors need interventions like these, nothing less. Agriculture is very-very vast and diverse subject to deal with. The stakeholders under Agriculture are too many and too diverse in nature. Agriculture is one subject, everyone in the country is directly and/or indirectly connected and relates to.
To set the context, a case is being built here for a National Level initiative with building blocks and modular in nature with the purpose and objective to consolidate isolated efforts as a part of a Big Picture. The scale is something missing in building the big transformational movement. In the times of the technology-led disruptive world, optimal leverage of emerging technologies to conceive new storyline and achieve unimaginably.
It may be critical to look at some of the pointers to draw attention to the severity of the current agriculture situation in India, i.e.
 Lately, agriculture contributes around 15 percent to India's GDP and going south YoY (Year on Year), while around 50 percent of the population is still dependent upon agriculture.
Agriculture is one of the sectors under the extreme influence of Natural factors like rains, natural disasters, pests, weather, …
10th agriculture census 2015-16
Socio-economic-geo-political factors greatly impact Agriculture
Agriculture data in India is scary, this is just one set of data. This is quite a serious concern; the ratios and proportions are getting bad to worst; hence, it calls for disruptive transformation on yesterday basis with most urgency to keep Agriculture relevant and bring in the midst of economic growth.
It is not a matter of choice; it is compelling and a compulsion. I would like to make a bold statement, can we achieve with 'Agriculture', what India has done to IT and IT&S!!!
Agriculture has a huge potential to achieve higher yield if concentrated, holistic, and comprehensive efforts are made with optimal technology interventions. To a large extent in India, it is also a matter of scale; hence, the role of technology interventions with the consolidated focus can make a BIG difference.
Also Read: Technology Driving India's Transformation: Kumar Bachchan
I would like to make another bold statement, 'Urbanisation of Rural'. It is not about commercial malls, multiplex cinemas, multi-storey luxury apartments, … It is about taking the demand side to supply end, create employment opportunities, spread affordable education and healthcare infrastructure, enhanced inclusiveness; basically 'reach the un-reach'.
At any point in time, multiple initiatives are conceived and persuaded by different stakeholders with certain defined objectives. These groups do achieve a certain level of success too. In a larger and National context, all of them still fall short of expectations and aspirations. Scale, Persuasion, Sustained efforts, … are among the key challenges.
Here is a proposal for a National level multi-stakeholder, multi-level, multi-discipline, multi-dimension, … collaborative initiative. Such an initiative has to be owned and run by Industry with Academia, Government, entities like CSC (Citizen Service Center) – very relevant for Agriculture as India would still need an assisted model, Researchers and Innovation fraternity, … Two critical pointers to re-emphasis and reiterate, Farmer, Land, and Produce have to be in the midst of it and everything needs to revolve around Technology.
Technology interventions shall be the game changer to evolve new propositions, new business models, new engagement models, new products, new inputs, new ways of doing things, new financing models, new capacity building, new stakeholder mapping and bringing them on-board, and many-many new perspectives. Productivity Enhancement and Enhanced Yield can do wonders by not alone doubling the Farmer's income, maybe multi-fold and larger inclusiveness.
Appropriate International cooperation and interventions shall be one of the critical success factors. Purposeful sustained Collaborations, repeatability & replicability by design, working on Big Picture in a modular manner basis Loosely Architected and Tightly Integrated approach, running … towards focused Outcome.
To protect the interest of small farmers and other such stakeholders, I would think learning from AMUL and the Auto Sector (developing suppliers and partners) be the key. A multi-layered formal structure shall be built on 'Mutual Trust – Mutual Respect', as the target beneficiary shall remain farmer and ultimate RoI (Return on Investment) shall be paid back to Industry through the supply chain.
Also Read: COVID-19, A true test of Indian Leadership
Andhra Pradesh Chief Minister, Chandrababu Naidu was working on a very interesting model on land acquisition for developing New Andhra Pradesh with focus on joint-ownership/ partnership. Here, the question doesn't arise of land acquisition, however, Farmers and such an Institution shall be a mutual beneficiary.
To reiterate, Biggies of Industry shall be integral to such an initiative, led by highest offices at Corporate Offices, No Charity, No CSR possibly, very objective in anything & everything, … Basically meaningful organisation building with short terms to medium terms objectives with a focus on long term achievements. I am confident, one decade of sincere and committed efforts (on the higher side) shall help us turn around the Nation, and serve for next few generations as the entire initiative needs to be an ever-evolving and like a never-ending journey.
A word of caution on execution as the success or failure lies in Execution, the implementation, monitoring, course correction, and reinforcement has to be tightly managed with the highest level of objectivity, integrity, communication, and commitment by all. Look for any weak chain, tap it, and set it right, considering multiple stakeholders with different interests & backgrounds.
Agriculture being a vast sector, and technology spread – a matrix structure would be needed. Good news, technology is the answer to this and technologies like AI/ ML (Artificial Intelligence/ Machine Learning) shall make it simple.
This is a prelim, a fundamental thought raising effort. This is still from a 35,000 ft perspective, but rest is all a matter of detailing. All current and ongoing efforts shall continue BAU (Business As Usual), though some may merge and/or align with Big Picture.
On a concluding note, for now, I must mention with the decent understanding that funds and investment platforms are less of a challenge. As recently as early Aug' 2020, the Prime Minister has announced 1L Crore support for the Agriculture Sector.
Follow and connect with us on Facebook, Twitter, LinkedIn, Elets video