The world today is going through an unprecedented time. The COVID-19 outbreak has led to a completely new orientation about all aspects of services, supply chain, manufacturing, logistics and retail etc. It has also led to new employee management and engagement paradigm. There is a strong need advocated by management professionals to reengineer the operations and business models. The possibility of redistribution of global wealth as a consequential impact of the epidemic might become a reality in the future writes Dr Lovneesh Chanana, Vice President, Government Affairs, Asia Pacific and Japan, SAP.
The first of a kind unique public health and related efforts by the Indian Government have indeed been path-breaking and led to a completely new path of reshaping India's digital agenda. The next wave of digital agenda for organizations and governments is likely to cover a new set of products and services catering to new dimensions of business, governance combined with technology capabilities. For example, one definite impact could be that most processes will now require remote capabilities, there could be rostering of the workforce, work from home may become a new normal and we will surely see a digital upsurge in the coming years. Maintaining a track of citizen and customer pulse digitally may soon become a competitive differentiator.
That brings us to the dimensions of change which will shape the digital governance agenda going forward. The dimensions of change are likely to be categorized by four aspects namely – Unification and Integration; Collaboration; Stakeholder maturity and awareness; and Increased and diversified penetration of emerging technologies.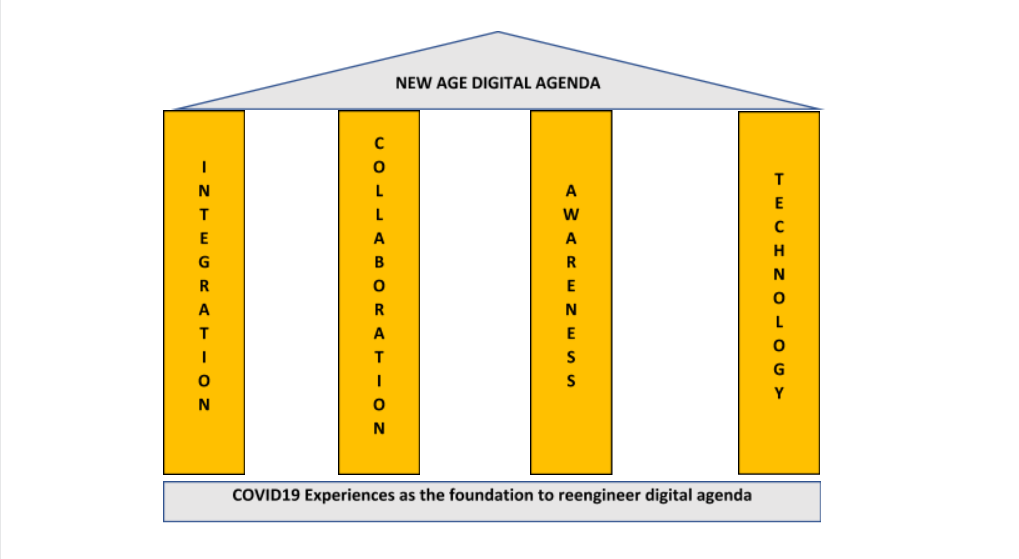 Unification and Integration
The new-age digital agenda will be characterized by unification and integration of data and functional silos. The process of technology as a horizontal will now gain acceleration.
Talking about the Government, we have now got the experience of multi-stakeholder unified management of a public health disaster and crisis management has been the binding thread to this integrated planning and execution. The supply chain integration during the crisis across the Ministries and organization has led to the potential of process integration. Going forward, this is likely to become a benchmark in the functioning of Government in normal times too. One Government and data-based decision making will be asked for more than ever before. Need for backend data integration for citizen-facing decision making is likely to guide the policy decisions.
Also, experience management for citizens as a result of this integration will become the guiding factor. Use of technology to offer and manage the experience in an integrated manner leading to real time actionable feedback will become a necessity and policy planning will need to take care of this. The need for experience management as a discipline in academia and research is likely to gain recognition. In short, there will be a need for integrated communities.
Collaboration
The Government – Industry collaboration may change in nature from being voluntary and optional to mandatory. We are now witnessing the evolution of new government-industry synergies and approaches to collaboration. The willingness of each stakeholder group to reach out to the other is likely to continue. During the crisis management, the experience of speed and effectiveness of a coordinated government-industry response is likely to set the foundation for the emergence of new integrated missions wherein the Government and industry work together with the clearly identified scope and outcomes. The role of industry associations is going to widen in terms of structuring and facilitation of such engagements. In fact, if one observes closely, this has already begun, though a structured approach is yet to evolve. The structure may shift from a current awareness-based role of industry to a practitioner's one.
Maturity and Awareness
Life went digital overnight with the lockdown and highlighted two areas of concern viz., access to digital and maturity of awareness about digital. The importance of source verification before forwarding social media content is relevant now more than ever. The multiple social media platforms are likely to continue and hence the challenge of jumbled up sources of information is going to become even more complex.
The issues of privacy, security and fake news will drive the awareness agenda and gradually the case for digital education may soon gain firm ground.
Emerging Technologies
We are now able to leverage and explore a number of potential cases of emerging technologies. Drones are being used for surveillance and sanitization, Artificial Intelligence is being used for predicting hot spots for COVID-19 spread, Sensor-based sanitization, GIS-based mapping and management dashboard integration, realtime decision making are some of the examples. This has indeed pushed the cyber-physical agenda into the next orbit and the acquired maturity will surely lead to more and more application of emerging technologies.
To summarise, few action items for catering to renewed expectations in the post COVID era have been listed below:
Government agenda needs to be accelerated. Initiatives like the national data analytics platform need to be strengthened.

To ensure the realtime dashboarding, the backend operations covering Government to Government (G2G) and Government to Employee (G2E) applications need to be digitized. The comprehensive financial management system of Andhra Pradesh is a good reference point for the same.

Horizontal replication of project experiences needs to be mandated to ensure quick turnaround of new projects.

Industry participation in project conceptualization needs to be mandated.

'Digital Awareness' needs to be incorporated into the academic, technical and skilling curriculum.

The cyber-physical mission needs to be augmented and strengthened.

A horizontal component of technology needs to be mandated in all future policy prescriptions.
It might be difficult to see the light at the end of the tunnel in these times, but I am certain that there will be a 'new normal' and we will be more resilient than ever.
Follow and connect with us on Facebook, Twitter, LinkedIn, Elets video