Although we are just a two-and-a-half-year-old university, we have initiated the affiliation process. Currently, we are present in 23 districts of Rajasthan out of 33. As many as 3,200 students are enrolled in our university, says Lalit K Panwar, Vice-Chancellor, Rajasthan ILD Skills University, in an exclusive interview with Shivani Babbar of Elets News Netowrk (ENN). He also shares the institute's vision an plans in the pipeline for the upcoming years.
What is the vision of RISU that makes it an engine of social growth in Rajasthan?
RISU was established on March 30, 2017, by the Government of Rajasthan. It is the first university on skill development established by a state government in the country. The vision of the university is to make youths employable, by imparting relevant skills. Our objective is to impart employment skills to school students, studying in the 10+2, as well as the college students so that they are industry-ready from the very first day. We are offering concurrent Diploma and Certificate programmes in skill training. At present we are offering 118 courses, of which most popular courses are of Hotel Management, Fashion Design, Yoga and Wellness, and Fire Safety and Disaster Management among others.
Education is evolving rapidly to keep pace with the needs of the market. In view of this, how often is the curriculum updated?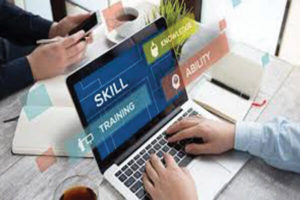 Our courses cover new-age technologies like the Internet of Things (IoT), Artificial Intelligence (AI), Animation and VFX to name a few, which are considered to be promising fields and 100 percent placement is assured. Mechatronics is the latest course that we have introduced. Our courses are a blend of traditional and new-age courses, which have a demand in the market.
Does the industry provide any inputs in terms of the course curriculum or other aspects?
Yes, of course. We have two industry members on our Academic Council and under the chairmanship of Industries Commissioner, there is a Standing Committee where I am one of the members in the capacity of ViceChancellor of RISU. The members of this Committee include employers and industrialists. In this way, an Academia Industrialists Matrix has been built. All the members and stakeholders of the Committee meet regularly to set the agenda and receive feedback from the employers and industrialists.
Has RISU taken any special initiative to attract youths from the rural areas of Rajasthan and improve their livelihoods?
Although we are just a two-and-a-halfyear-old university, we have initiated the affiliation process. Currently, we are present in 23 districts of Rajasthan out of 33. As many as 3,200 students are enrolled in our university. Even in the remotest of areas, such as Jaisalmer, Ganganagar, Dungarpur, Udaipur, Swai Madhopur, Kota etc. our courses are being pursued by students.
Also Read: RSLDC – Empowering Youth to Contribute to Nation Building
Is RISU engaged in any research and development activities or initiatives?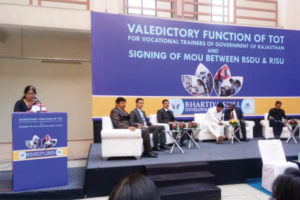 We have not started with research activities yet as we do not have our campus yet. Government has allotted us land in the Sikar Delhi Bypass road but the construction process and recruiting faculty members are still in process. At present, we are focussing on affiliation, development of skill development courses, which include six months certificate courses and one-year diploma courses, two-year advanced diploma courses and three-year degree courses. The Bachelor's and Master's degrees are called Bachelor of Vocation (B. Voc) and Master of Vocation (M. Voc) respectively. Right now we are engaged in curricular development, conducting exams and providing placement support to the pass outs of RISU.
Is RISU collaborating with any global organisation or institute?
Right now we have signed Memorandums of Understanding (MoUs) with leading institutes like Malviya National Institute of Technology (MNIT), Bharatiya Skill Development University (BSDU) among others. We aim to attempt international collaborations from next academic session, once we set up our campus and start offering regular classes and research & development facilities.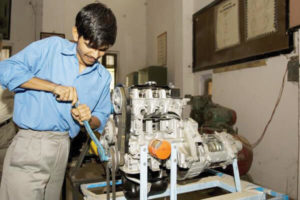 We have taken up some academic innovations. Concurrently, the students to pursue BA, B. Com or B. Sc. can opt for Skill Development Certificates and Diploma at our university for up to two years, simultaneously, while opting for their regular courses. This improves their chance of employability. For instance, it is difficult for a regular B.Com student to get the desired job, but a B.Com with a two-year Diploma programme in entrepreneurship, or a B. Sc. with a Diploma in AI or BA degree with Diploma in Event Management increases their chance of employability in an organisation of their aspiration.
Some of the leading private colleges such as Agrawal College, Subodh College, Bhilwara Mahila Ashram etc. have come forward to collaborate with us for the impartment of relevant courses to the students.
Also Read: RSLDC: Imparting Relevant Skills to Youth for Better Tomorrow
Next year onwards we aim to grant free affiliations to almost 300 government colleges which are offering undergraduate and postgraduate programmes for skill development courses. We will also help these colleges in the faculty development process so that students can acquire the relevant and in-demand skill sets which will make them employable once they complete graduation or postgraduation.
Also Read: Strengthening Skilling Avenues for Youth in Rajasthan
Follow and connect with us on Facebook, Twitter, LinkedIn, Elets video