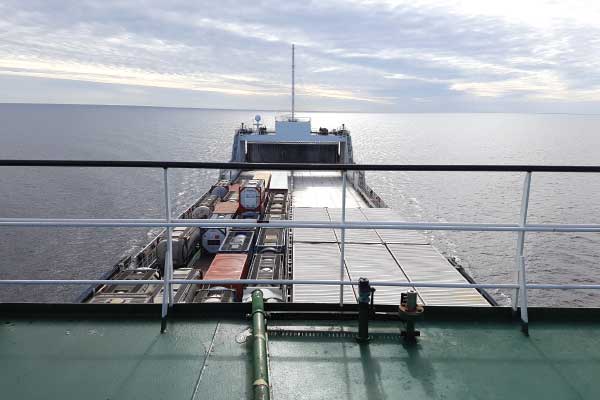 Having the potential to emerge as the leading logistics artery for northern India, development of waterways infrastructure has been identified as a key enabler to drive trade. With proven expertise in shipbuilding industry and port development, Russia can play a bigger role in helping India realise its dream, even as the former stands to benefit from the huge economic opportunity on the anvil.
By Poornima Bajwa Sharma, eGov Bureau

Waterways provide multiple economic, social and environmental benefits. In addition to providing green and sustainable mode of transport, they also provide ample opportunities for leisure, recreation and tourism. India has about 14,500 km of navigable waterways which comprise of rivers, canals, backwaters, creeks, etc. About 55 million tonnes of cargo is being moved annually by Inland Water Transport (IWT), a fuel-efficient and environment -friendly mode.
Realising the socio-economic benefits of waterways, India has embarked on a massive waterways development program. "Waterways transport in India is all set for a revolution and has potential to bring down logistics cost by 4 per cent propelling exports by 30 per cent", Union Minister of Road Transport and Highways Nitin Gadkari, recently said. Until about a hundred years ago, the Ganga River used to be a busy waterway. But with the advent of railways, this watercourse fell into disuse. The Government of India is now reviving the Ganga watercourse – known as National Waterway 1 or NW1- to ferry cargo from the eastern seaport of Haldia to Varanasi, some 1,360 km inland. The waterways have the potential to emerge as the leading logistics artery for northern India. For this project, Russia lent its technology where four of its aeroboats were used for a pilot run on the Ganga. These aeroboats could run on water, mangrove and land.
Cochin Shipyard (CSL), an Indian public sector enterprise, inked a pact with Russian firm United Shipbuilding Corporation (USC), which has played a key role in the growth of inland waterways in Russia, to boost water transportation in India. As per the MoU between the two entities, USC will engage in development of the state-of-the-art vessels for inland and coastal waterways in the country. CSL and USC aim to develop high speed vessels, river-sea cargo vessels, passenger vessels, dredgers, and other watercraft for inland waterways and coastal shipping in India. The MoU will push Government of India's 'Make in India' programme, as it also plans to develop eco-friendly and economic transportation under Sagarmala, a port-led development project.
Both firms will collaborate and engage in design, development and execution of contemporary, state-ofthe- art vessels for Inland and Coastal Waterways. It will mainly include development of high-speed, passenger and river-sea cargo highvessels, besides dredgers and other watercrafts for inland waterways. The two sides, at the India-Russia Strategic Economic Dialogue in February 2019, highlighted the possibility of participation of Russian investors in projects for development of waterways, roadways, railways and, airports in India in collaboration with National Investment and Infrastructure Fund (NIIF), India, and Russian Direct Investment Fund (RDIF), Russia. The two countries agreed to explore the possibili ty of construction of shallow draft vessels and development of engine technology, as well as to focus on shipbuilding and establishment of special technopark/ industrial corridors.