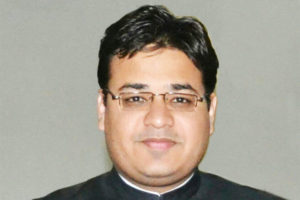 Varanasi, called the spiritual capital of the country, has also earned the distinction of being Prime Minister Narendra Modi's constituency. Set for a big smart city makeover, the city is implementing Smart City projects in a mission mode to transform the city into a modern livable world-class tourism and pilgrimage destination without losing its ancient and spiritual characteristics, says Dr Nitin Bansal, Municipal Commissioner, Varanasi Municipal Corporation & Chief Executive Officer, Varanasi Smart City Limited in conversation with Arpit Gupta of Elets News Network (ENN).
Please give us an overview of the Smart Cities Mission in Varanasi, the nature and scope of development work under it.
The total estimated cost of the projects proposed under the Smart Cities Mission in Varanasi is Rs 2,520 crores, which will be spent on developmental works like rejuvenation of Ganga ghats, building smart infrastructure and e-governance. While a budget of Rs 1,659 crores has been allocated to the area based development projects, for pan-city solutions there is a budget of Rs 618 crore. Out of this, various projects worth around Rs 1126.45 crores are at various stages and, as per the government guidelines, have to be completed by 2020. As on November 22 this year, a total of 13 projects worth around Rs 293.70 crores have been awarded; eight projects worth around Rs 70 crores have been tendered; and 12 projects worth around Rs 763 crores are in the DPR stage.
What are the key focus areas for Varanasi Smart City Limited?
There are six key focus areas which will form the basis of smart city development work in Varanasi.
These include:
SURAMAY KASHI – To leverage the Old city's rich cultural, spiritual, religious and heritage component.
NIRMAL KASHI – Making the city clean, green, livable and environment-friendly to provide healthy and quality life to the citizen.
SURAKSHIT KASHI – To ensure safety and security to all (especially children, women and the elderly).
SAMMUNNAT KASHI – To promote local entrepreneurship, ease of doing business and employment for various skilled, semi-skilled and unskilled groups.
EKIKRIT KASHI – To provide SMART (Simple, Moral, Accountable, Responsive, Transparent) services for citizens and tourists through use of ICT.
SANYOJIT KASHI – to provide seamless mobility to all. The aim is to develop the city as a world-class pilgrimage and tourism destination to enrich the experience of the visitors and citizens alike.
To transform Varanasi into a livable and modern city, rejuvenation of ponds, temples, river ghats is underway. Creation of green spaces, stadiums and makeover of heritage structures is also being taken up. Varanasi Smart City Limited is committed to creating smart, sustainable infrastructure and providing clean energy options to the residents.
How do you plan to decongest the narrow lanes of Varanasi which has a very high population density?
To reduce traffic congestion and travel time in the city, Area Based Development (ABD) has the provision of smart bus shelters, e-rickshaw, cycle-sharing while the pan city development plan will have multi modal public transport system supported by Intelligent Traffic Management System unified with Integrated Command and Control Centre for city surveillance. To address the issue of stray cattle, the development and construction of Kanha Upvan (Gaushala) at Chhitauni village has been undertaken. The Rs 10.58 crore project, which was awarded on April 17 this year, has been making swift progress with 55 percent of work already completed.
A Rs 19.91-crore project for improvement and upgradation of 8 road intersections, which is scheduled to be completed by May 2019, has also been awarded. A public bike sharing project, construction of multi-level two wheeler parking at Godowlia Chowk and the Urban Revitalisation of Road and Junction improvement Project in ABD Area (Phase-II) at a cost of Rs 159.27 crores are also under different stages of implementation.
What are your plans to retain the spiritual and ancient characteristics of the city while doing the smart city makeover?
Varanasi needs to retain its ancient and spiritual characteristics as tourists mainly visit the city because of the Kashi Vishwanath temple and world famous Ganga ghats. Varanasi being a heritage city, efforts are being made to promote Banaras Gharana's cultural legacy. Development and rejuvenation projects for Old city and Sarnath areas and river front development along the Ganga and Varuna rivers have also been taken up to enhance the experience of living in the city.
Which key initiatives have been taken in the area of e-governance?
Ekikrit Kashi is an ICT-based citizen services solution by use of portal and mobile app integrated with multipurpose smart card. Digital Wallet – Kashi Card Platform integrated with PayGov of Government of India is already in the conceptualisation stage. The portal and mobile App will have services for the citizen with key features to facilitate tourists and pilgrims. This initiative will help users in following ways:
• Utility bills can be paid online and anytime by citizen, it will reduce the hassle to visit the government offices.
• Citizen can lodge their complaint and grievances online and check the status of its resolution. Social Media integration can used to lodge and provide resolution online.
• Tourist will benefit as all the information regarding places interest, hotels, shops and booking can be done online.
• The central portal/mobile app will give all city related information and services to citizen.
Follow and connect with us on Facebook, Twitter, LinkedIn, Elets video