Our efforts are to computerise all the aspects of the housing scheme such that all the property information is online. We will facilitate every segment so that everybody can fill up the form online and no human intervention or the error in data feeding will be eliminated. The fees will also be collected online, says Prabhu N Singh, Vice-Chairman, Lucknow Development Authority (LDA), in conversation with Arpit Gupta of Elets News Network (ENN).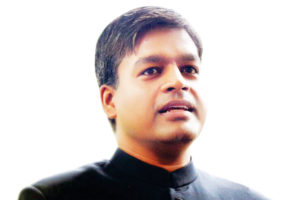 Which key initiatives have been taken up by the Lucknow Development Authority (LDA) for the development of the city?
LDA has taken a number of steps for the development of the city. We have acquired land, developed residential colonies with proper amenities like community centres, sports infrastructure, sports stadium, etc. We have planned and developed electricity sub-stations. We have also developed sewage treatment plants. We have developed a water supply network and a drainage system. As far as the infrastructure projects are concerned, there are some big projects undertaken for the development of Lucknow city as a whole. Chak Ganjaria City (CG city) is a project where we are developing a whole new city on modern lines on the government land. We have also developed sports complex on Public Private Partnership (PPP) mode. A cricket stadium and a football ground are part of this complex. It also has a multi-sports activity centre.
There is also a sports academy proposed to be built in the same sports complex. The cricket stadium is complete and one T20 match has already been organised on this ground besides, Ranji matches. We have also developed group housing plots in our various projects, which have been auctioned to the private players. Some projects have also been developed by the LDA on the group housing plots like Riverview apartments, Parijat, Janeshwar enclave, Smriti apartments, Srishti apartments etc spread all over the city. We have developed another sports complex under the Kanpur Road Yojana. We have developed a mini stadium in Gomti Nagar area which is housing tennis and lawn tennis courts etc besides the badminton academy. We are also providing commercial spaces. A lot of malls have come up at these places.
We have also provided land for building hotels and office complexes for mixed land use. The Vibhuti Khand area is one such area. It has been developed as a commercial pocket. We have also developed Indira Gandhi Pratishthan which is basically a convention centre. It has air conditioned halls and auditoriums. All the infrastructure of these centres are being maintained by the LDA. Keeping in view the demand of people in Gomti Nagar Scheme, and development of 'Amar Shaheed Path' joining the Faizabad Road and Kanpur Road by the Central Government, LDA introduced an ultra modern scheme – Gomti Nagar Extension.
Please throw some light on the progress of Riverfront Development project and the heritage zone of Lucknow.
We are entrusted to work on the Riverfront Development project, which was being maintained by the Irrigation Department earlier. We have been providing special incentives to those farmers whose lands have been acquired by LDA for various projects. We are giving them 2X3, 3X3 Chabutaras through which they can earn their livelihood. We are developing Old Lucknow and some other locations as heritage sites. The development of Qaiserbagh Heritage Zone in the heart of the city near Qaiserbagh Baradari with beautification of Begum Hazratmahal Park, Subhash Park, Laxman Park and Parivartan Chowk is underway.
We are working on the Jai Prakash international Convention Centre comprising of facilities like sports centre, aquatic centre, museum and a hotel. We have also developed the heritage zone of Lucknow. Husainabad is one such example. Many parks along the Gomti River have also been developed by LDA. Hathi Park, Nimboo Park and Buddha Park are already very popular with the citizens. We have developed Asia's largest park, Janeshwar Mishra Park, in Gomti Nagar Extension, Lucknow. Lohia Park was also developed in the Gomti Nagar on the similar lines.
What is the scenario of demand and supply of housing in Lucknow and how LDA is contributing to the Pradhan Mantri Awas Yojana (PMAY)?
The demand has been accessed by the Government itself. We have a good inventory of multistory housing projects in the city. Our devout schemes have houses for every segment like Economically Weaker Section (EWS), Low Income Group (LIG), Middle income group (MIG) and High Income Group (HIG). Some of the HIG and MIG houses are still lying vacant which shows that there is a huge demand for EWS/LIG houses. We are soon going to start the housing scheme under PMAY whose booking and registration will be completely online.
We will facilitate every segment so that everybody can fill up the form online and no human intervention or the error in data feeding will be eliminated. The fees will also be collected online The biggest target for constructing houses under the Prime Minister's scheme in Uttar Pradesh has been assigned to Lucknow Development Authority. Here 48,000 houses are required to be constructed under the Pradhan Mantri Awas Yojna – Housing For All (Urban) scheme in coming four years. Also, more pace is given to planned development by engaging private builders like Ansals, Unitech, Eldeco, Omaxe etc by inviting them as a high-tech / integrated developer.
What digital innovations have been introduced by the department online and how it is enhancing the efficiency of the department?
The property segment of LDA is already digitised. Most of the properties are registered online with us. Now for the first time we are going to start online booking of the property which will be integrated with our property database. LDA has taken the initiative of registration of its properties —freehold, mutation, old documents, receipts, everything is going to be online. We want our every process online so that people don't have to visit our offices for every work and the working / data of LDA becomes transparent to the public. To extend the public facilities, the multidimensional website has been launched which provides a brief of all the departmental functioning as well as online facilities like enquiry of registrations/ allotments/dues/ deposits/ lotteries/ tenders/ press releases, etc.
Follow and connect with us on Facebook, Twitter, LinkedIn, Elets video