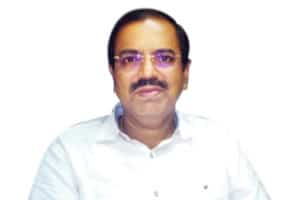 Customer value creation being the cornerstone of its policy, Container Corporation of India is innovating fast to provide desirable services to its customers despite multitude of logistics challenges, Kalyana Rama, Chairman and Managing Director, CONCOR, shares key achievements and targets the Navratna PSU has set for future in conversation with Gautam Debroy of Elets News Network (ENN).
What are the role, responsibilities and main objectives of Container Corporation of India (CONCOR)?
We call ourselves multi-model logistics professionals, providing pan India logistic solutions predominantly using railway transportation. Of all the businesses we do, 94 percent is done through railways. We provide the first mile and last mile connectivity but not to all containers. However, we are currently working on certain things for better customer satisfaction. By doing that, we want to first become a complete end-to-end solution provider and then, as we progress, enter into three pair logistics. We are developing a distribution logistics centre and have already started working on that.
Indian Railways' strategic initiative to containerize cargo transport put India on the multi-modal map for the first time in 1966. Though the first ISO marine container had been handled in India at Cochin in as early as 1973, it was in 1981 that the first ISO container was moved inland by the Indian Railways to India's first Inland Container Depot (ICD) at Bengaluru, also managed by the Indian Railways. Expansion of the network to seven ICDs by 1988 saw increase in the handling of containers, and along the way, a strong view had emerged that there was a need to set up a separate pro-active organisation for promoting and managing the growth of containerisation in India.
CONCOR commenced operation from November 1989 taking over the existing network of 7 ICDs from the Indian Railways. Now we are operating in 72 locations, and these are multi-model logistics parks. These can be understood as ICD plus. Along with ICD, there are Private Freight Terminals (PFTs), commodity aggregation and distribution which require lot of warehousing and special tanking, and automobile hubs wherever required, among others. So, in a multi-model logistics park, size is increased. We used to operate in a typical 35-acre size area, but now we have some of them much bigger that are developed in a 285-acre area. We are also progressing in distribution logistics, which is three pair logistics with emphasis on industrial products and products from the agricultural sector because it is one sector which has been deprived of logistics support.
Container Corporation of India is growing rapidly. What are your major achievements as per the last year's statistics?
Last year, we started giving a lot of emphasis on running double stack trains. So, we ran around 2,300 double stack trains that gave a better throughput to CONCOR, faster clearance to the customers, and also faster evacuation of containers from the ports. With same resources, we were able to handle more volumes. We have set a target of having 100 projects in ICD and MMLP arena. Last year, we commissioned six projects to take the number of projects to 72. This year, we will be doing another 11 projects and we are having exclusive tie ups for seven projects. So, we will reach a figure of 90 projects against the set target of 100.
Along with this, we will be developing 20 distribution logistics centres. Last year, we started working on a three-year programme. So, by 2020 we will be having 100 locations plus 20 distribution logistics centres to reach a total of 120. Last year, we also started an Integrated Logistics Manufacturing Zone (ILMZ). It will offer specialised service of managing the entire in-bond and out-bound logistics requirements for raw materials and finished goods.
Recently, you have signed an MoU with Port of Singapore Authority. Can you tell us more about this partnership?
The Port of Singapore Authority (PSA) started operating a terminal in Mumbai. For evacuation of containers from there, they were looking at faster evacuation models. At Jawaharlal Nehru Port in Mumbai, there are four terminals. One of the main issues at these four terminals is that of delay in loading containers on train due to inter-terminal transfers. One of the solutions which we offered to PSA was to operate an extension gate, one in Gujarat and one may be somewhere in North India. So, we suggested two locations. In Gujarat, we have an association with a private developer in Ahmedabad and the North India location is CONCOR's Multi Modal Logistic Park in Khatuwas.
The extension gate is a very good and successful concept in other countries like Thailand. The model ensures faster evacuation of containers from ports, moving them faster nearer to the customer, and from there the distribution can take place.
What are your major challenges?
ur first challenge is to provide top quality services to our customers. The quality policy of our company is customer value creation. So, we want to create value for our customers who walk into CONCOR. However, to fulfill this goal is not easy. We have to take care of a lot of things. We have to provide the desirable service to customers in time. We have to see that the cargo moves as per the desire of the customer. So, there are many constraints. For instance, there are infrastructural constraints that have to be taken care of. Road transport is a major competitor for us because it has got certain advantages despite unethical practices that go on road. But being a PSU, everybody knows that we are very good at our job.
Follow and connect with us on Facebook, Twitter, LinkedIn, Elets video