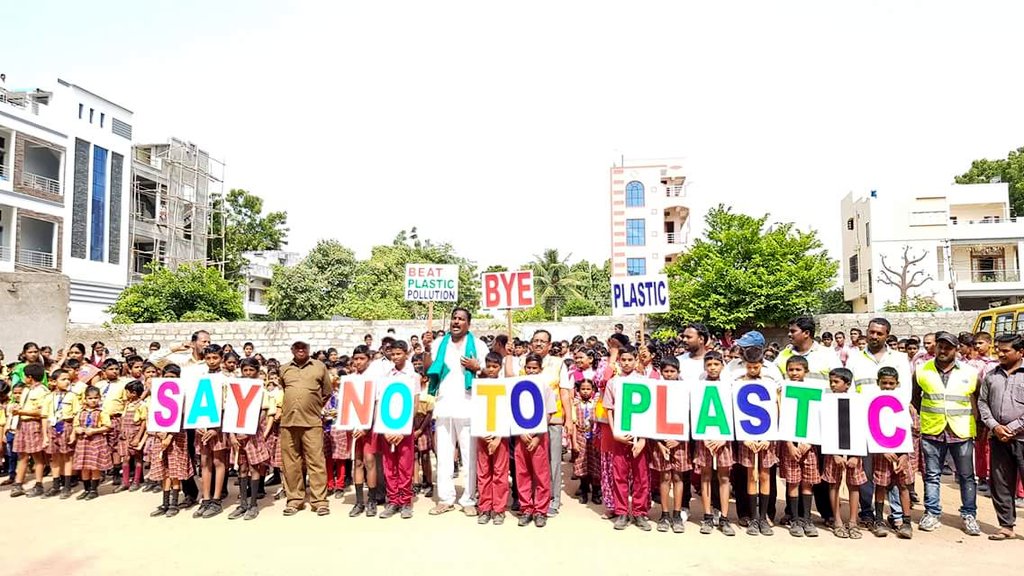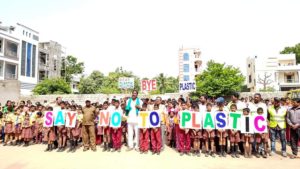 Telangana, the youngest and 29th state of India, has been setting trends in various sectors through its proactive and innovative initiatives showing the way to other states. Cleanliness and holistic waste management have been the state's foremost priorities to improve citizen's quality of life, writes Sudheer Goutham of Elets News Network (ENN).
Swachh Hyderabad
Positioning its capital city Hyderabad as a global city has been one of the top priorities of the Telangana Government ever since it was formed, and high standards of sanitation was on its agenda right from the beginning. Towards effective implementation of solid waste management, the Self Help Group (SHG) members have been designated as 'Swachh Doots' and are spreading awareness about Swachh Hyderabad through a door-to-door campaign.
As on December 12, 2017, Swacch Doots have helped 9,32,520 households segregate waste at the doorstep. Greater Hyderabad Municipal Corporation (GHMC) attained Open Defecation Free status for Hyderabad on January 2018. The city has bagged the National Award in the category of India's Best State Capital/Union Territory in Solid Waste Management in Swachh Survekshan, 2018. Various activities and new policy initiatives have been taken up for Swachh Hyderabad -Swachh Telangana under the Swachh Bharat Mission.
Distribution of 44.04 lakh twin bins to 22 lakh households (blue and green for dry and wet garbage) l 1,116 garbage vulnerable points (GVPs) eliminated and sustained since March, 2016
To encourage the staff, Best Practices Day is observed every month, where the best employees in the field of sanitation and solid waste handling are felicitated
Launch of Parichayam, an initiative of the Municipal Corporation to build a strong public relationship and ensure accountability among functionaries. Contact details of sanitation workers are displayed in the local streets
Modern Electronic SHE toilets (toilets exclusively for women) are being provided at prominent locations, especially at locations with high footfall of women. The funds for installations are being The official launch of Twin Bins raised through Corporate Social Responsibility (CSR) from various organisations. So far, 32 SHE toilets have been installed and 19 are open to public for use.
Fuel station and hotel owners were persuaded through Gandhigiri to allow public to use their toilets. About 257 fuel stations and 259 hotels and restaurants have given consent for the public to use their toilets.
With an aim to sensitise and create awareness, thematic drives are being carried out based on the schedule notified by the Swachh Bharat Mission portal on January 3, 2018
Attained Open Defecation Free status for Hyderabad and updated on Swachh Bharat Mission portal on January 3, 2018
The 'Laathi-Seeti' programme has been adopted by GHMC for arresting open urination and defecation in public places
Several awareness campaigns with the slogans – ' Manam Marudam – Mana Nagaranni Swachh Nagaranga Maruddam' 'Lets Change – Make Our City A Clean City', My Hyderabad- My Responsibility have started
Awareness Programmes on 'Say No to Plastic' are being taken up. Further, banners are erected at meat shops for carrying meat in Tiffin boxes and jute bags
Zone-wise Swachh ranking have also been awarded for hotels, hospitals, schools, RWAs ( Residential Welfare Associations ) and markets based on their self-assessments Propagated the greetings 'Swachh Namaskar' and slogan of 'Unite the Family' – Divide the Waste' through which the importance of segregation of waste and unity of families among citizens are spread.
Swachh Namaskar
'Namaskar /Namaste' is still the most prevalent and widely practiced form of greeting in India. GHMC is making better use of this cultural practice by introducing the greeting "Swachh Namaskar". The initiative was started among the 30,000 functionaries of GHMC. Further, 10,000 among them are provided with official mobile services and all these phones have "Swachh Namaskaram" as their caller tune. Many a times, the general citizens are perplexed about hearing this type of greeting, and invariably show curiosity to know the reason behind the new concept. It is well received among senior citizens, environmentalists, colony welfare associations, NGOs and so on. This has proved to be simple initiative with scope for widespread escalation among communities with a positive outcome. The same is noticed by the Swachh Bharath Mission (SBM) which communicated this as best practice for other cities in India.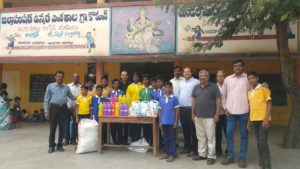 Loo Cafe
GHMC's Loo Café is first of kind luxury smart toilet with classy cafes, live monitoring systems to know the details of energy consumption, air circulation, stink and usage footfall. It is built on the famous "Swiss Knife" concept maximising space and enhancing utility with technology. It is equipped with automatic sanitary dispenser and CC Cameras outside the toilets enhancing safety and security of the women. Arvind Kumar, Principal Secretary, Municipal Administration and Urban Development, The first ever "Loo Café" was installed near Shilparamam, the premium tourist location of the city.
100 Loo Cafes are coming up manned by the differently– abled to create a livelihood for them.
Capping of Legacy Dump Site at Jawaharnagar
About 10-12 million metric tonnes of mixed solid waste was deposited at Jawaharnagar dump site spread over an area of 339 acres since 1994. After commencement of its operations, M/s HiMSW Ltd., has shifted to the old waste to one location restricting it to an extent of 103 acres which is called as old dump or legacy dump. This legacy dump is a concern, as it results in: Contamination of water bodies and land pollution as the Lechate flowing with the storm water contaminate water bodies as well as the soil.
Fire and consequent smoke hazards resulting in air pollution especially in summers Odour around the vicinity as the old dump sites emit landfill gases consisting of Methane and CO2 Capping is considered as the only viable option with an estimated cost of Rs. 144 crore. The Government has ordered for revision of sharing the capping cost at the ration of 50:50 by GHMC and the Concessionaire with timelines to complete clay cover by June 2018 and other layers by April 30, 2019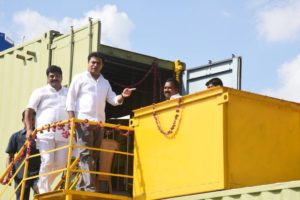 Introduction of Mini Sewer Jetting Vehicles
Sewerage management is a critical issue in cities. Often it involves manual worker operating in dangerous and inhuman conditions without any protective gear compromising their health and at times their lives. Unplanned vertical growth of cities leave unprecedented burden on sewers, which often gets choked. Earlier, Hyderabad Metropolitan Water Supply & Sewerage Board (HMWSSB) engaged normal sewer jetting vehicles to clean sewer. But as these vehicles could not move conveniently in narrow sublanes of cities, manual cleaning continues to persist. As a way forward, the HMWSSB procured specially designed 70 Mini Sewer Jetting Machines. The Minister for Municipal Administration and Urban Development K T Rama Rao launched them in June 2017, which proved to be a major and long-lasting initiative towards elimination of manual scavenging. HMWSSB moved closer to the elimination of manual scavenging by waiving water cess for effective compliance and implemented Rs 1 tap connections to achieve 100 pecent piped water.
Warangal Sludge Treatment Plant
Warangal is one of the first cities in the county to operationalise Faecal Sludge Treatment Plant (FSTP). Greater Warangal Municipal Corporation (GWMC) in collaboration with Administrative Staff College of India (ASCI) and Bill & Melinda Gates Foundation (BMGF) has established FSTP of 15 KLD capacity in Warangal. The treatment technology used in the plant is based on Pyrolysis. The plant has been functional since December 2017.