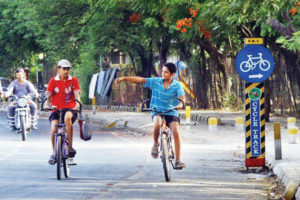 The Public Bicycle Sharing initiative in Pune aims to ease public hardship caused due to being over reliant on public transportation over the years. It is also hoped to bring solace in terms of last-mile connectivity problem, writes Poulami Chatterjee of Elets News Network (ENN).
Mobility has always been a crucial enabler in the growth and progress of communities, but ensuring it has become increasingly challenging, as cities expand at a rapid pace. Traffic congestion and vehicular pollution have escalated into critical problems, especially in developing countries.
These concerns threaten the economic growth and health of any city while compromising its livability. Globally, cities are trying to tackle this challenge by experimenting through novel ways. They are trying to ease the mobility challenge through establishing the infrastructure that enables last-mile connectivity, introducing alternative fuels to lower the carbon footprint and, of course, reducing the number of vehicles on the road to reduce congestion. Non-Motorised Public Transportation Non-motorised and free public transport has emerged as a popular solution in many European cities. Besides investing in public transport, the city governments are creating and upgrading infrastructure to encourage pedestrians and cyclists, which in turn keeps more cars off the road.It allows easy flow of traffic, integrates healthy activities in daily lives of citizens and cities to grow sustainably.
Future proofing Pune from mobility challenges
Public opinion polls ranked mobility as one of the most significant problems of the metropolitan life in Pune. Public transport forms a mere 19 percent of modal share by trips in Pune. It is the only Indian city of its size with no Mass Rapid Transport System (MRTS). As in many parts of India, first and last-mile connectivity is poor and public transport users finding it difficult to reach their origin and destination points from bus stops or stations. Buses are, therefore, perceived as a last resort— poor man's transport or for those with no other alternative. Nearly half (47 per cent) of commuters use their own vehicles. Naturally, traffic congestion is one of Pune's most pressing concerns. The constant influx of people to urban hubs like Pune will aggravate the situation, unless the city embarks on a well-integrated mobility plan. As part of the Smart Cities Mission, Pune is constantly striving towards its goal of becoming the most livable city in India.
This requires it to resolve its core mobility issues in a future-proof manner. Recognising the urgency, the city has outlined a comprehensive mobility plan and is working towards addressing these challenges in a future-proof manner. They aim to: l Reduce two-wheelers and cars on the roads, from 47 per cent to 10 per cent l Increase use of non-motorised transport (walking and cycling) to 50 per cent of modal share by 2031 l Ensuring greater penetration and use of public transport, guided by the comprehensive mobility plan co-designed with recognized transport and mobility experts
Reviving Pune's bicycling DNA and adopting best practices
Cycling has emerged as an ideal solution for Pune's future-proof mobility needs. So, while efforts continue to deepen the penetration of public transport by introducing metro rail, enhancing the number and quality of buses (long routes and feeder) and employing data analytics to increase bus service on high demand routes, Pune is on a mission to rediscover its cycling roots. Pune city's plans to enable cycling To realise the vision of a cycling haven, Pune Smart City Development Corporation Ltd (PSCDCL) launched the public bicycle sharing programme at Pune University and in Aundh (ABD of Pune Smart City) in December 2017. The Pune Bicycle Plan approved by General Body (GB) includes creating a city-wide cycle track network, a public bicycle sharing system, design guidelines for cycle-friendly infrastructure, bicycle parking facilities and strategy for awareness campaigns.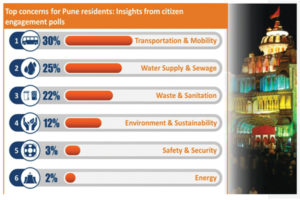 Understanding Public Bicycle Sharing
Public Bicycle Sharing (PBS) makes bicycles available to the public at a nominal cost for the short-term use. The two-wheelers can be picked up from closely-spaced stations at central locations. The user checks out a bicycle from one location, rides to their destination, and drops off the bicycle at a conveniently located nearby station. The operator coordinates the redistribution of bicycles and ensures their availability at locations with the highest demand. The formal launch of PBS in Pune is now being replicated by PMC across the other areas of Pune, with both the bodies working in tandem.
Progress and plans ahead
The Public Bicycle Sharing initiative aims to ease the pain of people reliant on public transport and facing last-mile connectivity as a challenge in Pune. Bicycle plan has been created for the entire city and work is progressing rapidly towards creating the infrastructure for the initiative— dedicated cycle tracks and sourcing the highest number of bicycles (over 3,000) deployed in any Area based Development (ABD) of a smart city. To ensure the effectiveness of the program, some strategic decisions were taken by Pune Smart City:
Proof of concept: Using a project pilot with an established vendor, enabling quick learnings and identifying potential process and on-ground bottlenecks in varied conditions over a sustained period before launching a request for proposal (RFP) on a large scale for the entire city.
Optimising Capital Expenditure (Capex): Narrowing down to a technology and process that optimize capex investment and provide large scalability choices. Pune opted for the globally recognized dock-less system which limited the infrastructure required to lock and parking docks.
Attractive promotional pricing: This encourages citizens to try the service and form an opinion on convenience and quality. Phase One of the Pune Bicycle Sharing project includes study of the solutions available in the market.
After detailed analysis, PSCDCL decided to launch PBS scheme across:
Enclosed area of Savitribai Pune University; and
Open area of Aundh, Baner, Balewadi(ABD of Pune Smart City)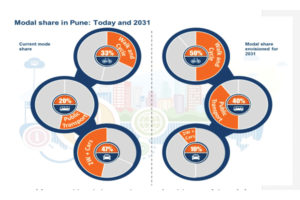 This allowed PSCDCL to understand the response and user behaviour, in both open and enclosed environments as well as test the technologies in different environments. In the first phase, 100 hightechnology bicycles were made available for rent at a nominal rate—Re 1 for 30 minutes.
The 0.75 km stretch of the pilot Smart City road in Aundh was selected as the launch site for the project. People can log on to the web portal of the technology provider (PEDL) and make cashless payments from their smartphones, locate the bicycle at their nearest station, and unlock a bicycle by scanning a QR code on its body. Phase Two: It hinges on the initial success of the project in terms of ridership. The PBS scheme was launched in the campuses of College of Agriculture, Pune. Up to 50 bicycles are available within the campus for the use of students, faculty and visitors. Furthermore, the service was also launched on Jangli Maharaja Road, Fergusson Road and in other parts of Shivajinagar, which are the busy retail and education hotspots of the city. Another bicycle sharing service (Chinese provider) was launched on 9 March, 2018 with 500 bicycles at Magarpatta City, which is the first smart township in India. Part of the PSCDCL's implementation program for the Pune Smart City Mission, this model is unique and a successful collaboration between a government agency (PSCDCL) and private operators who provide the bicycles and technology infrastructure.
Early results and emerging best practices
A six-month report card of the scheme suggests that this initiative is timely and has been well-received by the citizens. The first week saw huge bookings. Until the end of March 2018, the combined trips undertaken by Punekars were enormous, making it a successful intervention in the area of mobility by PSCDCL. PSCDCL has already allocated a budget to develop the necessary PBS infrastructure, such as dedicated/ shared cycling tracks, parking locations, signage boards, advertisements to create awareness, and citizen engagement program. This is all aimed at boosting adoption of this unique scheme. Other cities like Varanasi, Kakinada, Chandigarh, Faridabad, Dharamsala, Chennai and more seeking a similar shift are in touch with Pune Smart City for the Public Bicycle Sharing programme. Discussions with the city of Varanasi are already at an advanced stage. Cognizant of the government's 'Make in India' programme, PSCDCL is working with the operators in Varanasi Smart City to ensure that the cycles to be deployed in Varanasi and thereafter in other cities would be Make in India.
Follow and connect with us on Facebook, Twitter, LinkedIn, Elets video