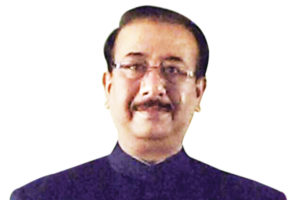 Skill training is being provided in all 44 Urban Local Bodies (ULBs). Approximately,one lakh beneficiaries have completed training till date. Job fairs and Continuing Professional Development (CPD) are being organised for Wage-Employment of trained beneficiaries, says Arun Kumar Singh, Principal Secretary, Urban Development and Housing Department, Government of Jharkhand in conversation with Rajbala of Elets News Network (ENN).
What initiatives have been taken by the Urban Development and Housing Department, Jharkhand to provide civic amenities in urban areas and for the deprived sections of society?
The Urban Development and Housing Department, Government of Jharkhand, is committed for comprehensive urban development in the State. Accordingly, a number of initiatives have been taken by the department to provide civic amenities in urban areas and for the deprived section of the society which are:
Pradhan Mantri Awas Yojna- Urban
Providing houses to urban poor through
Slum redevelopment
Credit linked subsidy scheme
Affordable housing in partnership
Beneficiary led-construction
Swachh Bharat Mission- Urban 
Proving IHHL (Individual House Hold Latrines),
Community Toilets and Public Toilets
Solid and liquid waste management system AMRUT
We were the third State in the country to implement these reforms
Drinking water to all through water supply system
Drainage and integrated sewage system
Development of children parks
How have you implemented the 74th Constitutional Amendment to provide urban activities and services in the State?
Incorporation of the 12th schedule in the constitution through 74th Constitutional amendment has brought various urban activities and services hkrfyjsuch as urban planning including town planning, regulation of land use, planning for economic and social development, safeguarding the interests of weaker sections of society, providing civic amenities, promotion of cultural, educational and aesthetic aspects etc, within the purview of urban local bodies. Urban Development and Housing Department has a crucial role to ensure rapid implementation of urban development initiatives.
Also Read: Jharkhand Augments Food Supply Chains to Combat COVID Challenges: Arun K Singh
To undertake these tasks successfully, the department has taken many initiatives. Presently there are 45 urban local bodies consisting of 9 Municipal Corporations, 20 Nagar Parishads, 15 Nagar Panchayats and 1 Notified Areas Committee (NAC) in addition to 2 development Authorities (RRDA & MADA) responsible for implementation of the urban development activities in their respective areas in Jharkhand.
Governance through electronic medium is proposed for prompt, transparent, leakage free and effective delivery of services particularly in the field of licensing, certification, revenue collection, expenditure, resource mobilisation etc. It requires introduction of software based computerisation and networking of the department with the end delivery point at Urban Local Bodies (ULB) level.
This department covers the following services/management functions, being performed by municipal bodies;
Registration and issue of Birth/ Death Certificate
Payment of Property Tax, Utility Bills
Grievances and Suggestions
Building Plan Approvals
Procurement and monitoring of projects
Accounting System l Personnel Information System
A dedicated web page has been developed for each of the ULBs in which all the necessary information has been captured made available to the citizen.
Urban Reforms: Decentralisation of power has been ensured through the recent enactment of Municipal Act. Now the urban local bodies may take appropriate decision in all spheres of activities which necessitate improvement of their administration skill and ability to take correct decision. Accrual based double entry accounting system, instant transfer of fund to functionaries, e-governance, rewards and others etc, are the part of the reform agenda need to be strengthen in the State. This provision would facilitate in achieving the goal of ULBs self sustainability.
Property Tax Reforms: To bring professionalism in the assessment and collection, the State Government has appointed tax collection agencies to increase tax collection from own sources covering holding tax, water user charges, license fee and advertisement tax. To ensure that work is being carried out efficiently, the State Government has also appointment PMU for revenue augmentation to ensure that own tax is increased and new innovative mechanisms suggested to increase the revenue are being implemented. This has lead to increase number of assessed household from 3.43 Lakh to 4.63 lakh, at an average of 35 per cent till 31st December, 2017. This has further lead to increase the collection from own revenues from Rs 140 crore to Rs 189 crores. In the financial year 2017-18, total collection from own revenue will increase off to at least Rs 255 crores primarily due to increase in number of assessed household and new innovative sources like revenue from mobile tower and OFC and many other interventions like tapping of sources not explored till date.
Mango (Jamshedpur) Water Supply project
The Jharkhand Government has a vision to ensure safe drinking water and its equitable distribution to the citizens. The aim is also to bring continuous improvements in the level of service to upgrade conventional water supply system into superior 24×7 water supply system. The Urban Development department has taken initiatives in this direction and working on the project feasibility to evaluate the project from various perspectives. Feasibility and project sustainability are key aspects in the success of PPP water supply project and therefore capital and operation and maintenance investments estimates and their recovery mechanism is under progress and evaluation.
Like other successful projects in India, revenues will be generated through central, State, other funding options and a suitable and comfortable tariff structure for consumers will be developed. The Government intends to implement it on PPP mode and is working in this direction.
What are the key elements to develop any state into a 'Smart State'?
What planning and schemes have been adopted by your department to achieve as well as improve living conditions of the State? Key elements to develop any State into a 'Smart State' are:-
Adequate water supply.
Assured electricity supply.
Sanitation facilities, including waste management.
Efficient mobility and public transport.
Affordable housing for poor.
Robust IT-connectivity and e-governance.
Environment friendly policies.
Safety and security of citizen particularly children and elderly.
Adequate health and education facilities.
Leveraging technology to ensure good governance.
We are on top position to execute Smart City projects in India.
Share with us the schemes and initiatives executed to uplift the conditions of urban poor.
Skill training is being provided in all 44 ULBs. Approximately,one lakh beneficiaries have completed training till date. Job-fair and Continuing Professional Development (CPD) are being organised for Wage-Employment of trained beneficiaries. As part of the social mobilisation and institution development component, 4554 Self Help Groups have been formed till date.
Total 27,779 street vendors have been identified and 22,012 identity cards have been distributed. Capacity building to street vendors, their linkage with social security schemes and development of vending zone is being undertaken. Under scheme of shelter for urban homeless, 26 shelter homes are made operational, 18 shelter homes are under construction and 8 new shelters have been recently sanctioned.
What initiatives have you undertaken vis-a-vis Smart City and Swachch Bharat drives?
For Ranchi, the greenfield area also called ABD site, is being developed in a separate part of the city within an area of 656.3 acres. For pan-city also, we have undertaken various initiatives. Together, these are known as "Impactful Projects" – Overall, we are currently under process for executing projects worth approximately Rs 3,000 crores for various initiatives under Ranchi Smart City.
Swachh Bharat Mission
In Swachh Survekshan, 2017, 434 cities participated in which Jamshedpur was awarded the cleanest city in East zone with a population less than 10 Lakhs and Chas was awarded cleanest city in East zone with a population less than two lakhs. Results of the survey and current progress confirmed that a major transformation in respect of sanitation is taking place in Jharkhand. All urban areas of Jharkhand have been self-declared Open Defecation Free (ODF) on 2nd October, 2017, which is two years before the target set by Government of India, i.e., 2nd Oct 2019. We are third after Andhra Pradesh and Gujarat to declare all urban areas as ODF. Total 2,10,081 Individual Household Latrine (IHHL) has been constructed in mission period against the target of 1,61,713.
Initiatives taken up in Swachh Bharat Mission
Sanitation Committee: Ward Sanitation Committees formed in all ULBs for proper planning and implementation of sanitation at ward level.
Integration with other Schemes: State has done an innovation thereof sanctioning community toilets consisting of 4,050 seats from 14th FC (with a unit cost of 2.5 Lakhs per seats)
Self-sustainable Community Toilets Model: A self-sustainable model consisting of Skill training centre, shops and community toilet has been designed and developed by the State Government for all ULBs.
Google mapping of Community/ Public Toilets: All Community Toilets/Public Toilets are mapped in Google for easy accessibility of citizens.
Grievance Redressal: We have a public grievance management system. Toll for Grievance Redressal "Swachhata App" developed by Mnistry of Housing and Urban Affairs (MoHUA) implemented successfully in all ULBs. Till date 1,33,947 citizens are registered in Swachhata App and 3,01,773 complaints are resolved under SLA(Service level agreement) out of 3,54,817 complaints.
Citizen Feedback Devices in Community/ Public Toilets: ICT-based feedback polling station for gathering public feedback on public and community toilets Installation in all major cities.
Smart Bins: One reverse vending machines for process of solid PET and aluminum/steel waste installed in Ranchi as a pilot.
Vehicle Tracking System: All Soild Waste Management vehicles are under Vehicle Tracking System for proper monitoring installed in (534) of all ULBs.
Swachh Competitions: Various competitions like Swachh Hotel, Swachh Dharmik Parishar, Swachh Hospital, Swachh RWA/Muhalla, Swachh Super Market/Market/ Hat, Swachh School are organised to promote competition in sanitation.
Jharkhand Shahri Swachhata Purskar: Jharkhand Shahri Swachhata Purskar is announced for ULBs to create awareness and competition among stall sanitation sector.
Sanitation Book: Book on Sanitation for class 1 to 5 are prepared for sanitation awareness among children.
Success Stories: Coffee Table Book prepared on success stories of IHHL beneficiaries.
Follow and connect with us on Facebook, Twitter, LinkedIn, Elets video