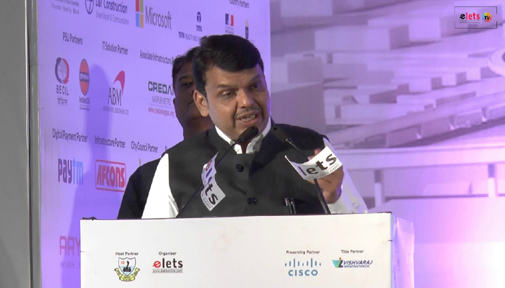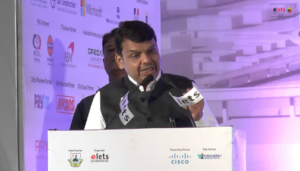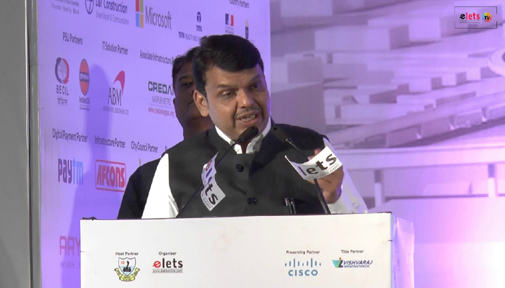 Maharashtra Government is in the process of laying fibre network in Nagpur, with a plan to cover 1,200 km stretch with it, Chief Minister Devendra Fadnavis announced recently while inaugurating the Elets Smart and Sustainable Summit in Nagpur. Praising the Nagpur Municipal Corporation's Smart City work in the city, he emphasised that Smart cities initiatives should be planned in such a way so that development of common people could be accomplished while solving the challenge of urbanisation.
The summit was organised by the Nagpur Municipal Corporation (NMC) in association with Elets Technomedia Pvt Ltd. Also, present of the occasion was Minister of Road, Transport and Highways, and Shipping Nitin Gadkari.
Watch full speech of Maharashtra Chief Minister Devendra Fadnavis here https://goo.gl/nqUQ7j
"Whatever Smart City initiatives we are taking up, it should have the quality to enhance other people's life. The basic essence of a smart city is public participation. Every single technology can change the landscape of the city. Authorities should try to engage people using the technology. In that way, we can have a larger wisdom through which we can make the city smarter at a larger speed," said Fadnavis, adding that the ICT backbone infrastructure of the city should be planned to reach people fast.
Also present at the summit were NMC Commissioner Shravan Hardikar, Mayor Nanda Jichkar, Maharashtra government officials, central government officials, officials from other State and dignitaries from countries like Sweden, France, and Spain.
Launching a special issue of the eGov magazine, the chief minister said: "The basic motto of Smart City is accessibility and affordability. Without them, a Smart City cannot be created. Every programme of Smart City should work towards increasing the efficiency and transparency of services, which in turn should benefit the poorest of the society." As the capital city of Maharashtra has already been selected in the Smart City Mission, he said, the State Government is developing metro network covering 200 km of the city.
Stating to make Mumbai a safe city, the State Government has installed 6,000 cameras across the city, Fadnavis said, through these cameras, smart traffic is being evolved where traffic cops no longer issue manual challans.
500 hotspots in the city have already been created making it India's first wi-fi city. Laying importance to the waste management, Fadnavis congratulated Nagpur Commissioner Hardikar for better solid and liquid waste management.
Witnessing the success of Nagpur waste management model, Mumbai has started replicating it. Through smart city initiatives, the state government is planning to cut the tariffs of utilities like water to make it affordable to the poor as well, the chief minister revealed.