SMART Governance and SMART Public Services are the two sides of the same coin. This coin is embedded with greater efficiency, community leadership, continuous improvement through innovation, using technology to facilitate and support better planning and decision making.SMART Governance is about improving democratic processes and transforming the ways in which public services are delivered. This era of developing smart cities in India has brought smart governance as one of its major essentials.
Although e-governance was known but never flown with the pace as is in today's time. The need of e-governance was recognised by ABM Knowledgeware Ltd. in 1998. Since then, ABM has adopted next gen technologies to meet the need of Indian Government in the process of becoming SMART GOVERNMENT. ABM has developed many products out of which MAINet and GRPare two major offerings.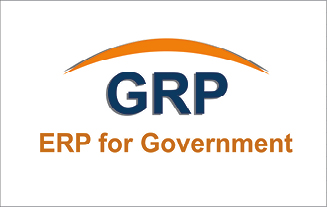 A) ABM MAINet 2.0 (Municipal Administration Information Network)
MAINet® is an integrated ERP that can manage the complete working of a typical municipality (Corporation or Council) of any size. It encompasses all Citizen facing services and work handled by every department of a municipality. It can be implemented state wide by the Urban Department for all ULB's in the state or individually by a specific Urban Local Body. It is designed & developed by ABM with meticulous study of municipal councils /corporations processes and incorporates the best practices to create a truly e-governed municipality.
ABM MAINet® has rich citizen interfaces to enable the corporation to deliver services online using Web Portal, through service centers designated as 'Citizen Facilitation Centers (CFCs)' or even using Mobile App. In addition to the proven software, what we bring on table is immense experience of implementing state wide software in multiple states and a bundle of Best practices across country. ABM MAINet® has two types of modules – citizen centric and departmental processes, which can be implemented selectively as well as in integrated manner.

Why MAINet? Benefits of ABM MAINet 2.0
1) Benefits to the Corporation:
Puts Municipality One step ahead in GOI' s goal of Digital India
Cross departmental integration of the municipality
Increase in productivity of the manpower due to assistance by the computer system in decision-making.
Better monitoring and control of revenues and expenses
Seamless flow of information
2) Benefits to the Citizens:
Hassle-free Interactions for Citizens due to single window solution, comprising of front office, back office and work flows
Transparent and Open service to citizens
Multiple channels of delivery
Time bound service delivery
Redressal of civic complaints to the satisfaction of citizens.
Saves Time and Money of the citizens
B) ABM's GRP – Govt. Resource Planning
GRP is an ERP for Government. GRP is an indigenous 'integrated office automation system for government and other government bodies', built with an objective to run a paperless office in all its administrative transactions. This offering is focused on helping both state and central government organizations and other bodies, to transfer to an end-to-end digitized enterprise which will tremendously improve service delivery, increase efficiency by enabling integration between various departments, enhance transparency in the purchase process by automating Administration, Accounts, Finance, Project Management and Stores & purchase and reduce operating costs.
Why GRP? 
Exclusively designed and developed for Indian Government and PSUs
Better Value for money
Built on a platform that can adopt to changing needs of the customer
Government specific solution from a Govt. focused company
Benefits of ABM GRP.
Well Integrated and centralized system
Higher Process Visibility
Reduced Process time
Helps in Process re-engineering
SMS & Email alerts
Wide range of Operational and MIS reports
Workflow (for approvals) is automated and dynamic
Role based dashboards and access to modules
Super user role to Group Heads to override workflow and other business processes
Two factor authentication and digital signatures for enhanced security.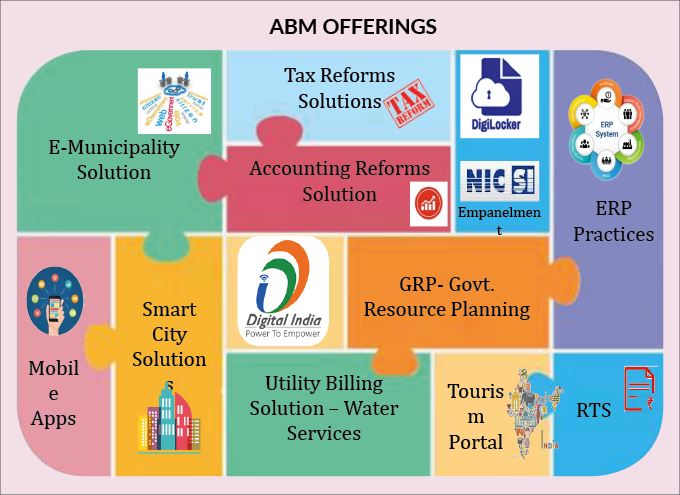 PROJECT JOURNEY BY ABM 
The emphasis on technology solutions has stemmed from the increasing demand for smarter urban services by citizens. A citizen can be Resident, Visitor, business owner or Patient who all need smart urban services. A city is known to be smart when it has Transparent & Efficient Municipal Services, Faster Grievance Response, Clean Drinking Water, Clean & Green City, 24*7 Access to Urban Services, Smart Navigation within the city, Accessible & Efficient Public Transport, Subscribe to News &Alerts ,Smart Card based Business Permits, Accessible & Efficient Public Transport, Solid Waste Disposal, Hospital Admission, Epidemic Alerts, Health Camps, etc.
A transparent & efficient Municipal Services covering almost all the services like – waste management, schools, hospitals, etc can only happen when the Government accepts the concept of e-Municipality. Moreover, E-municipality are the footprints of smart governance and Smart city is the foot print of e-Municipality.
A Smart City has smart environment (E-Waste Management, Emission level monitoring, Area based analysis reducing carbon footprint), smart education (E-learning tools, Smart class rooms), smart healthcare (Smart health monitoring & Alerts, self-help healthcare KIOSK, predictive health analysis), smart parking (Information on parking space availability, automatic ticketing and Boom barriers), smart buildings (Smart Building Plan Approvals, Water & Energy consumption monitoring), smart security (Emergency services on the go, Panic buttons in public transportation systems), smart energy(Smart Grid, Automated metering, prediction of energy transmission as per climatic condition), smart transportation (GPS based tracking, Route guidance).
In this context, various Municipalities have adopted information & communication technology (ICT) tools for smart governance and ABM is catering such solutions to them.
ABM's e-Governance Solutions are currently delivering approximately 2.8 Crores G2C and G2B services per year as on 2015-16! True to our belief of "enabling enduring e-Government", ABM has successfully demonstrated this in most of its e-Government projects in sectors like Urban Administration, Utilities and Citizen/ Consumer services.ABM, today, has developed a thorough strategy in implementing and rolling out commercially-of-the-shelf (COTS) ERP based e-Governance solutions in ULBs across India. ABM is one of the few companies,thatis selected for large projects in multiple states simultaneously.
Municipal Corporation of Greater Mumbai – one of the largest ULB in Asia
E-Municipality in the state of Bihar – 141 ULBs
E-Nagarpalika project in the state of Madhya Pradesh – 377 ULBs
Replication of KDMC's model in Maharashtra – 231 ULBs
ABM is known as a leader in e-Municipality due to its proven successful projects.
Highlights of few e-Municipality project as well as others are:
Municipal Corporation of Greater Mumbai (MCGM): ABM implemented SAP for 70% operations of MCGM. ABM developed Web Portal that is integrated with all other software applications. It implemented their Java based applications for Property Tax and Water Distribution dept. and thereby covering almost 80-85 % of MCGM operations. MCGM has over 59 depts., 200+ SAP locations, 1.20 L employees, 4.2 Lac water connections generating Rs 1250 Cr demand per year and 3.7Lac properties generating `6063+ Cr demand per year. These applications are running stably for 7-8 years. ABM has also implemented an application for Municipal. Corporators for them to get MIS from computerized systems of MCGM.
(The views expressed in thir article of the company.)