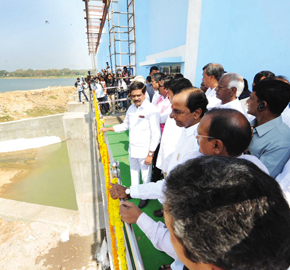 Telangana government– with its major thrust on urban development – is in the process of constituting 24 new urban development authorities to promote structured urban growth plan in the State. Sudheer Goutham of Elets News Network (ENN) outline the vision and mission of Telangana government that is driving the holistic development of the State on a fast track.
Telangana, having come into existence recently in 2014, is on a fast track mode in urban development, achieving significant milestones in government administration year-on-year. Powered by a strong leadership and armed with focused policies, the state is on the move steadily with a determination for holistic development of the region.
The state believes that urban development is the social, cultural, economic and physical development of cities, as well as the underlying causes of these processes. Cities and their development is a central topic in human geography, and the study of cities makes up the sub-discipline of city geography or urbanism. Physical development of cities especially infrastructure, real estate and affordable housing is on the top agenda of the state leadership.
According to KT Rama Rao, Minister for Municipal Administration and Urban Development, Information Technology, Government of Telangana, urban development has been one of the major focus areas. "In Telangana, urban population constitutes 40 per cent and migration from rural areas to cities, especially to Hyderabad, is more.  We are in the process of forming 24 new urban development authorities to ensure structured urban growth," Rao says.
He states creating 21 new districts is meant to ensure smaller towns also develop and the youth get better employment opportunities. Besides, these urban bodies will transform Telangana, reducing pressure on Hyderabad and Warangal cities. In addition to four existing development authorities – Hyderabad Metropolitan Development.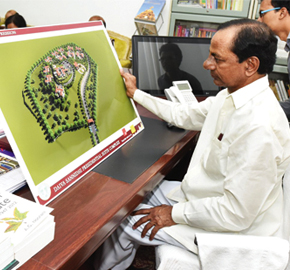 Authority, Kakatiya Development Authority, Yadadri Urban Development Authority and Vemulavada Urban Development Authority – 24 new development bodies will cover all the 31 districts of the state to plan structured growth.
The state has many projects in pipeline for urban development and transforming Hyderabad, as a global city is the top agenda for the State, with the Greater Hyderabad Municipal Corporation (GHMC) being in the front end to make it happen.

Infrastructure Sector
in India As infrastructure sector is a key driver for the state economy and the national economy, the sector is majorly responsible for propelling Telangana's overall development. It has intense focus from government for initiating policies that would ensure time-bound creation of world class infrastructure in the country.
The Central Government has announced its target of `25 trillion ($376.53 billion) investment in infrastructure over a period of three years, which will include Rs 8 trillion ($120.49 billion) for developing 27 industrial clusters and an additional `5 trillion ($75.30 billion) for road, railway and port connectivity projects.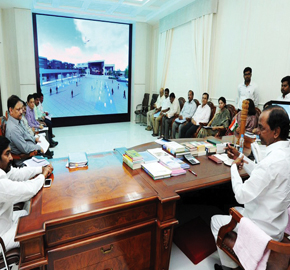 Market Size: India needs Rs. 31 trillion ($454.83 billion) to spend on infrastructure development in five years, with 70 per cent of funds needed for power, roads and urban infrastructure segments.
The Indian construction equipment industry is expected to grow to $5 billion by FY2019- 20 from current size of $2.8 billion, according to a report released by the Indian Construction Equipment Manufacturers' Association (ICEMA).
Foreign Direct Investment (FDI) received in construction development sector from April 2000 to March 2016 stood at $24.19 billion, according to the Department of Industrial Policy and Promotion (DIPP).
Telangana -At A Glance

With an area of 112,077 square kilometres and a population of 35,193,978 (2011 census), Telangana is the 12th largest State of India. With its major cities including Hyderabad, Warangal, Nizamabad, Khammam, Karimnagar and Ramagundam, Telangana is bordered by the states of Maharashtra to the north and north west, Chhattisgarh to the north, Karnataka to the west and Andhra Pradesh to the east and south.
Government's Vision and Projects
The state has a roadmap for urban development and earmarked nearly Rs 30,000 crore on welfare schemes. Some of its projects include: Hyderabad Metro Rail (HMR), Strategic Road Development Programme (SRDP), and Hyderabad – a Global City.
Hyderabad Metro Rail (HMR): It is a rapid transit system, currently under construction, for the city of Hyderabad. It is in Secant Operational model and being implemented entirely on public-private partnership (PPP) basis, with the state government holding a minority equity stake. Following a construction period of just five years, the first phase, comprising three lines totalling 71 km with 66 stations will be completed in 2017.
Strategic Road Development
Programme (SRDP): The State is rolling out SRDP to ensure overall improvement in connectivity and circulation of traffic, aiming at seamless and signal-less traffic wherever possible. SRDP has physical components like world class roads and junctions, proper facilities for pedestrians and bicyclists, intelligent transport systems and smart technologies. Over 152 km of Outer Ring Road (ORR) has been laid connecting Vijayawada Highway, Warangal Highway and Karimnagar Highway. This will avoid passing of non-city through the center of the city. Also, 42 km end-to-end 6-lane expressway alongside of the Musi river is planned, which is hoped to free entire space along. At the city-level, five major components have been planned. They are five skyways.
Hyderabad – a Global City: It is a high priority project for the Government of Telangana. Hyderabad has been declared as the fifth most dynamic city in the world ahead of London (UK), Austin and Boston (US). Hyderabad has over 1 crore population with 21 lakh households. The state Government and local administration are finding permanent solutions for drinking water, electricity and lights, parks and water bodies and strict regulation of buildings. In fact, Hyderabad witnessed the first powercut free summer city last year.
According to KT Rama Rao, Minister for Municipal Administration and Urban Development, Information Technology, Government of Telangana, "we could do this by raising states internal efficiency".
"We brought power from available external resources; we actually did not generate 1 MW of power. 4760 MW is the installed capacity of all the power stations in the state. Further, to make Telangna is power-cut free state, plans, with an investment of Rs 2,000 crore, are in the offing to generate 24,000 MWs of power, of which 3000 MW from solar energy. As Hyderabad is the global city in making, so we need a dedicated power island that dedicated power distribution systems and sub-stations."
Urban Development has been one of the major focus areas of the Telangana state government since its formation. In the backdrop of rapid urbanisation, plans to create 24 new urban development authorities for a structured urban growth is one of the prominent initiatives undertaken by them.
Telangana is witnessing significant interest from international investors in the infrastructure space. Many Spanish companies are keen on collaborating on infrastructure, high speed trains, renewable energy and developing smart cities. The Asian Development Bank (ADB) has approved $631 million loan to develop the first coastal corridor, namely the Vishakhapatnam-Chennai industrial corridor, which is expected to bring manufacturing and export industries to the east coast.
Airports Authority of India (AAI) plans to develop city-side infrastructure at 13 regional airports across India with the help of private players for building of hotels, car parks and other facilities, and thereby boost its non-aeronautical revenues.
The Government of India has earmarked `50,000 crore ($ 7.34 billion) to develop 100 smart cities across the country. The Government released its list of 98 cities for the smart cities project in August 2015.