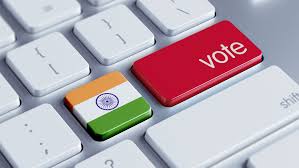 Soldiers posted along the border will now be able to cast their vote through the e-ballot facility, as the Union Law Ministry has accepted the Election Commission (EC) recommendations on allowing electronic postal balloting for service voters.
"Now our service voters posted at border areas can use this facility for the first time on pilot basis which is a historic opportunity for Election Commission of India (ECI) to promote inclusive participation," the Chief Election Commissioner Nasim Zaidi said.
The poll panel is working with the Defence Ministry to create a database of armed personnel who will use this facility. The monitoring body of EC will initially try out this service at the border along Punjab, where nearly 1.1 lakh registered voters are posted.
A nine-member delegation of the Election Commission is already visiting Punjab to review the preparations for the upcoming polls.
The Election Commission also aims to make these Assembly polls more "disabled friendly" by setting up polling stations at schools for the visually impaired and old age homes.
At all polling stations, necessary arrangements have been made like ramp for disabled, drinking facilities, toilets, power and waiting room.
There are a total of 22,600 polling stations at 14,354 polling locations in Punjab.