SAANJH centres, a novel initiative of Punjab Police, aims to provide services to residents in a convenient and effective manner. The integrated model involves more and more people in redressing grievances, including those against the police force itself, writes Priya Yadav of Elets News Network (ENN)
SAANJH Kendras FEATURES
A state-wide IT platform with centralised server at police headquarters linked to every SAANJH Kendra enables centralised data uploading and access providing citizens with copies of FIRs, untraced reports, No Objection Certicates, etc., at a click of a button, in a time-bound frame.
Every SAANJH Kendra provides all services to be delivered by the police department as enshrined in the Right to Service Act within prescribed time limits to the people from a single window. The citizen from any part of the State can to approach the nearest Kendra for obtaining information/services from any police station in the State, including remote locations.
All SAANJH Kendras are registered as self-representative registered societies under the Registration of Societies Act, 1860.
SAANJH Kendras are the platforms for the partnership of community and police to plan and implement the locally connected community-centred projects. e members of SAANJH committee and designated experts, like lawyers, counsellors, including women, handle issues relating to children, senior citizens, NRI related controversies and other domestic-social disputes like fast driving, under -age driving, etc.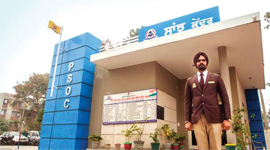 Gave your accommodation out to a new tenant, or hired a new servant? If you are in Punjab then you don't have to spend endless time in dusty corridors of police stations or queue up for a long time to register the same with the police.
Residents have the facility of just walking down to the SAANJH Kendras, neat swanky buildings, in their respective areas and get the needful done in no time.
The public-centric project has linked up Punjab police directly with the public through its 41 services. The services include getting copy of FIR or DDR, tenant or servant verication, service verication, character verication and passport verication under the project where the applicant or complainant gets the services within a specic timeframe through a single window system.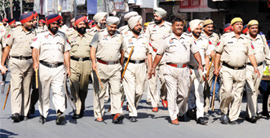 The project was started in 2010 and in the past the Kendra's have provided services to more than 50 lakh people across the State within a span of four years. ere are nearly 400 SAANJH Kendras in the State now that are also dealing with registration of foreigners, investigation of cases of missing passports, complaints of fraud by travel agents, NRI complaints, passport verication, police clearance certicate at time of foreign immigration, apart from other minor clearances. Only heinous crimes such as murder, rape, abduction or drug tra"cking are le to be handled by police stations.
The centres are self-sustaining, with operating costs, including sta" salaries, phone/electricity bills and computer maintenance, compensated by the collection of fees – complainants are charged between Rs. 5 and Rs. 200 for services o"ered. The Bureau of Police Research and Development lauded the tireless e"orts of Punjab Government in introducing people-friendly services through SAANJH Kendras. The bureau in its report tabled in 2015 to the Central Government appreciated the eGovernance initiatives and community policing of the government.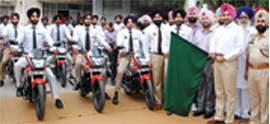 According to the report, "Remarkably, Punjab is the only State, in which the single window system allows application for all of the licenses studied in this assessment, although some others come very close."
Speaking about the initiative, Deputy CM Sukhbir Singh Badal said, "More than 31,000 personnel have been working in the Kendras and been imparted training of so skills to deal with the citizens. It's heartening to see the people approaching SAANJH Kendras without any hesitation. is has helped to develop a cordial relationship between the police force and public."
Every SAANJH Kendra is run by a Police Public Committee comprising of Police O"fficers, Representatives of Government Departments such as health, education, women at the district and sub divisional level and representatives from among principals of colleges, professionals and civil society and NGOs.
Follow and connect with us on Facebook, Twitter, LinkedIn, Elets video