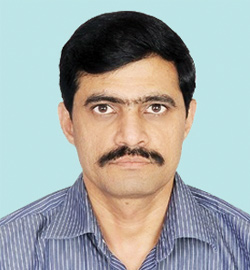 Andhra Pradesh State Public Distribution System is comprised of 3.85 crore beneficiaries (BPL card holders) and 28,599 Fair Price Shops (ration shop) spreading across all the 13 districts. The beneficiaries are issued smart ration card or Aadhaar-based household card that contains the UID number, demography and biometric details of each family member with a thumbnail photograph of every person in the family. Smart ration cards enable the beneficiaries to make transactions at Fair Price Shops with a hand-held PoS machine. Keeping in mind the delivery of food grains to the authentic beneficiaries, Chief Minister N Chandrababu Naidu has directed the officials to install iris recognition equipment, and bio-metric and finger print-enabled ePOS machines in all Fair Price Shops (FPS) across the State.
Y Vishwanath, Senior Consultant (Technical) and Head of PDS Aadhaar Linking Project, said, "As many as 7,595 ePOS devices-cum-electronic weighing machines have been installed at Fair Price Shops in the State. Besides, we have ePDS and Supply Chain Management system to ensure delivery of commodities and monitoring at all levels, i.e. FCI godowns, Mandal Level Storage (MLS) and FPS."

FACTS about PDS
The Public Distribution System (PDS) means distribution of essential commodities to a large number of people through a network of Fair Price Shops on a recurring basis. It facilitates supply of food grains and essential commodities at subsidised prices.
With a network of more than 51,879 lakh Fair Price Shops claiming to distribute annually commodities worth more than Rs.15,000 crore to about 30 crore families, the PDS in India is perhaps the largest distribution network of its type in the world.
There are two stages of transportation of PDS commodities for reaching the stock up to the doorsteps of the Fair Price Shop dealers. Transportation from FCI godowns and sugar factories to MLS points is known as Stage-I transportation, and transportation from MLS points to Fair Price Shops is known as Stage-II transportation.
Since the Aadhaar numbers are linked with ration cards, the government has identified 67 lakh bogus units so far and eliminated all ghost ration cards. "We have also been able to crack down on non-active card holders, who are not drawing any ration and the same member is listed in many ration cards," he added.
The transactions happening in Fair Price Shops automatically get updated in the server through GPRS. Since it is a transparent mechanism, the government is further working on establishing inter-district portability, giving beneficiaries an opportunity to collect ration from any district.
"When a beneficiary goes to the Fair Price Shops, he needs to give his smart ration card number, and as his number is entered in the system, his eligibility for the particular month is displayed. The inventory also gets updated at FPS, MLS and FCI godown," he said.