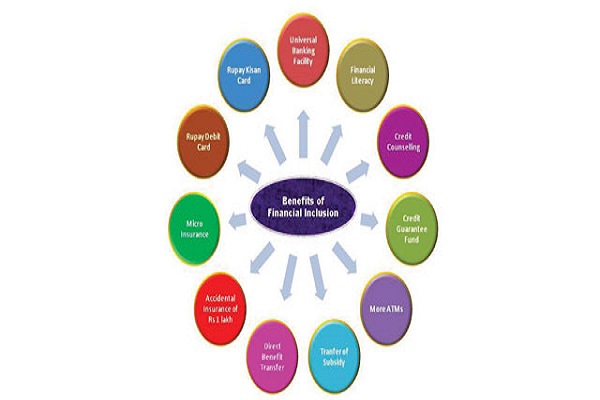 Balanced economic growth of a country can't come about without the financially-excluded sections of the society coming into the mainstream of the nation's financial system, writes Sunil Kumar of Elets News Network (ENN)
Despite finances being a necessity, a large section of people mostly in the rural areas are not aware of the art of managing the hard earned money to make it grow, so that it stands by them in their hours of need. Due to their financially ignorance, they are also prone to falling in the hands of greedy money lenders.

In such a scenario, financial inclusion holds special significance for India, as majority of the Indian population resides in rural areas. Besides, bringing progress and prosperity in the rural areas, it also augurs well for the overall economic development of a country like India. It allows poor households to save and manage their money in a secure manner, decreases their exposure to economic shocks in the form of drought, floods or any calamity of the kind which affects people dependant on agricultural activities.
Financial inclusion refers to the strategies adopted to reach banking activities and its benefits to the unbanked areas; it is a drive to bring the underprivileged people into the mainstream. However, the connotation of the term financial inclusion does not restrict itself to credit alone; it also includes generating financial awareness, knowledge about banks and banking channels, facilities provided by banks and the advantages of treading the banking route. Besides, it also entails the task of educating people and making them financially literate.
Status in India
The Indian banking industry has been able to penetrate only less than half of the population over the last few decades. The statistics on financial exclusion in India provides a depressing picture. Out of the over 600,000 rural habitations in the country, only about 30,000 or just 5 percent have a commercial bank branch. Just about 40 percent of the population across the country has bank accounts and this ratio is much lower in the north-eastern part of the country. The proportion of people having any kind of life insurance cover is as low as 10 percent and that of those with no life insurance cover is an abysmally low 0.6 percent. People having debit cards comprise only 13 per cent and those having credit cards a marginal 2 percent.
Out of the total number of saving bank accounts, a vast majority are dormant. Status of active 'no-frills accounts' is no less alarming, as all across India, less than 10 percent of such accounts are active. In the absence of financial literacy, very few conduct banking transactions and even few receive credit from formal financing channels. Millions of people across the country are thereby denied the opportunity to increase their earning capacity and entrepreneurial talent and continue to struggle with their limited resources.
Despite some sincere efforts to make financial inclusion work in the country, most of the objectives of such exercises still remain unachieved. The main factors attributed to these failures are absence of technology, lack of reach and coverage, and inefficient delivery mechanism, among others.
Also Read: Scaling the Insurmountable
Broad-based financial inclusion remains need of the day, as there is hardly any instance where transition from an agrarian system to a post-industrial modern society has happened without setting up of a robust financial system.
Jan Dhan Yojana
Plan aims to end financial untouchability
Govt targets bringing 7.5cr people in banking services by Jan 26
New account holders to get Rs. 1-lakh inbuilt accident insurance cover
Those opening account before Jan 26 next year to get additional Rs. 30K life cover
New accounts to come with Rs. 5k overdraft facility
Banks create record by opening 1.5cr accounts on the plan launch day
Bank accounts to give the poor ammunition to fight poverty
Financial inclusion best way to alleviate poverty
Around 10cr people are not covered by the banking system
The RBI move
With a view to driving India to the path of financial inclusion, banking regulator Reserve Bank of India initiated the Business Correspondent model in 2006, wherein non banking financial institutions (NBFCs) that do not accept public deposits, non-governmental organisations (NGOs), microfinance institutions (MFIs) and other organisations of the kind can act as Business Correspondents and finance the rural community. But the entire process has to be under the central bank's watchful eyes. Banks can only authorise those entities as business correspondents who are financially sound enough for the purpose. The process was initiated in view of the increasing penetration of NBFCs in rural India.
Based on its previous experience, the RBI recently decided to increase penetration by banks, both public and private, and asked them to draw up Financial Inclusion Plans (FIP) with a view to rolling them out over the next three years. These plans broadly include self-set targets in respect of rural brick and mortar branches opened, Business Correspondents employed, coverage of unbanked villages with population above 2000 as also other unbanked villages with population below 2000 through branches/ BCs/other modes, no-frill accounts opened including through BC-ICT, Kisan Credit Cards (KCC) and General Credit Cards (GCC) issued, and other specific products designed by them to cater to the financially excluded segments. The implementation of these plans is being closely monitored by the central bank.
The FI Paradigm
Financial inclusion incorporates micro credit, branchless banking, no- frills bank accounts, savings products, pension for old age, microfinance institutions, entrepreneurial credit etc. In fewer words, Financial Inclusion = NFA + Banks + OFIs + MFI + IT. Thus, financial inclusion is needed for achieving inclusive growth, economic development, social development and equal opportunities to all sections of the society.
Leveraging technology
Technology plays the biggest enabler to the achieving the goal of financial inclusion. That's why, government policies have laid a strong foundation wherein technology can help spread the outreach of financial services. Leveraging technology makes it easy to leapfrog the barriers of geography for sustainable, scalable financial inclusion.
Also Read: 'FI moves on people's Support'
Some of the technology solutions being implemented today are Smart Cards, biometric ATMs, Point of Service (PoS) devices and mobile phone applications. Leading banking and financial institutions are engaged in providing banking services to the financially under-served through pilots or limited commercial rollouts using either one or multiple technologies cited above. Technology solutions are being promoted to address the scalability challenges facing financial inclusion in India and other developing countries.
The use of technology has been the obvious choice to drive the financial inclusion programmes of banks, as the key objectives of such programmes is to reduce the cost of operations without compromising on customer experience and security.
Mobile banking as FI tool
Mobile banking transactions refer to transactions through mobile phones by bank customers that involve credit/ debit issued against their accounts. To enhance usage through mobile banking, the threshold limit of transactions permitted without end-to-end encryption was raised from Rs. 1,000 to Rs. 5,000. Further, the limit of Rs. 50,000 per transaction was done away with by permitting banks to fix the limits based on their own risk perception.
With 'for-profit' companies being allowed to act as Business Correspondents, which include mobile network operators (MNOs), it is expected that this unique bank-MNO partnership model being piloted in India will provide a boost to mobile payments and help in financial inclusion, given the wide network of the MNOs in terms of providing mobile services to their customers.
Jan Dhan Yojana
Most significant move in the recent times came only weeks ago when Prime Minister Narendra Modi announced the launch of ambitious Rs. 1 lakh crore financial inclusion plan called Prime Minister's Jan Dhan Yojana. The programme envisages a bank account for 150 million Indians by August 2018.
Making the announcement from the ramparts of historical Red Fort, Modi proposed an overdraft facility of Rs. 5,000 for each account and a RuPay debit card with inbuilt accident insurance cover of  Rs. 1 lakh. The overdraft will be backstopped by a Credit Guarantee Fund. Incidentally, it was a pleasant surprise to see banks opening as many as 1.5 crore bank accounts on the very first day of the launch of the scheme on August 28, 2014.
Finance Minister Arun Jaitley's maiden budget also aimed at giving a significant push to financial inclusion in the country. The Union Budget 2014-15 reiterated the commitment to set up differentiated banks such as "payments banks" and said the RBI would roll out a framework for issuing licences to such banks.
Payment Banks
Payment banks can engage limited banking activities such as opening accounts and facilitating deposits and remittances. They, however, are not allowed to offer loans. There has been talk that the RBI may allow players such as India Post to operate as a payments bank. The organisation had applied for a universal banking licence when the central bank had opened the window recently but the RBI had reserved the decision to the government.
A payments bank licence for India Post, which has a deeper post office network than India's largest lender State Bank of India, should help boost financial inclusion by facilitating banking in the remotest corners of the country. In the Budget, the FM also announced setting up of a Financial Inclusion Mission, which would "particularly focus to empower the weaker sections of the society, including women, small and marginal farmers and labourers." As part of the mission, the FM proposed to open two bank accounts for each household in the country. A similar move was suggested by the Mor committee, which had recommended the creation of a free Aadhaar- linked bank account for every Indian by end 2015.
These moves should go a long way in pushing financial inclusion in India.