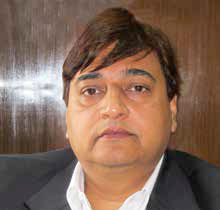 Please give us an overview of the functionings of NIC in the state of Jharkhand.
NIC Jharkhand State Centre (JHSC), is at the forefront in implementing ICT based projects for the state government, and has earned many laurels towards implementing projects which has initiated e-governance in different sectors the state. The reach of NIC at all the districts of the state along with the state center at Ranchi helped the state in implementing its major e-Governance projects. The implementation of State Wide Area Network (JharNet) by the state government has solved the last mile connectivity problem, creating a seamless backbone for connectivity up to the block level from the state capital, facilitating video conferencing, IP telephony and Data center based services.
Coupled with IT consultancy and software design, development & implementation, NIC with its high speed state of art Network – NICNET has augmented the efforts in providing ICT based citizen services, data /video connectivity, web hosting etc. and has emerged as a total IT solution provider to the state government.

Please brief us on the establishment of Data centre.
A state of art "Data & Network Centre "(iNOC) having terabyte of storage space and high speed communication link, has been established at NIC Ranchi. NICNET has expanded up to the 22 districts of Jharkhand. All the districts are connected to State Network Centre. The data centre is secured through CISCO PIX redundant Firewalls along with IPS for Intrusion prevention.
The antivirus server helps in smooth operation of the nodes. NIC Data Centre is connected through NICNET at State Head Quarter, Ranchi. It consists of 1 TB Storage Area Network (SAN) with 10 servers. The data centre provides Hosting platforms like Apache over Linux/IIS over Windows with Oracle, MySQL and PGSQL database. The cluster servers with Oracle RAC are provided for high availability and high reliability. Several Citizen centric applications are hosted in the data centre. Applications like SAMWAD and e-NAGRIKSEWA are the two most used applications. Apart from this Court case monitoring system and Transport monitoring system are of great help to the citizen as well as administrators.
What are the main e-governance initiatives have been taken by the NIC department?
The main e-governance initiatives are
• National Knowledge Network: Aims to provide high speed (gigabits) connectivity to research and educational institutes.
• Transport-Vahan, Sarathi & Smart card Project – Central Program which includes the registration of Vehicles, fitness certificates, issue of Registration certificate and Driving Licenses on Smart card.
• Video Conferencing – Court and Jail State Project – Trials are made without physical movement; VC facility is functional at all jails & sub-jails (26) of the state. On average, 40 trials are conducted everyday. it has Reduced expenditures on vehicles, transportation and security.
• Prisoner Management & Visitor management system: it has been Implemented in all the 26 Jails of the state. Maintains the Prisoner Details – Case details, History ,Educational status, Digital photo and Finger Prints. it also helps to maintains the Visitors details with digital photographs. It also Helps jail authority in avoiding impersonation and trackking the movement of Prisoners. Web Based version implemented at Latehar and Simdega Jails.
• E – Nagrik Sewa 1.0 – Citizen services for issuance of certificates: Helps Pragya Kendras to provide services for issuance of certificates – Caste, Income, Residential, Birth, Death. Facilitates tracking the status of the application and also Facilitates the back office to generate Certificate and Supports Digital Signature and Digital Document transfer
• PDS Computerization: Online Food grain Allocation launched at 3 districts – Ranchi, Dhanbad and Simdega on 2nd April-2013 by Hon'ble Governor using Central software of NIC. A inhouse software development team is positioned for further application development. Software for Aadhar based commodity distribution at FPS using Hand Held Device is ready for Pilot run
• Health– Computerisation Activities: MCTS ( Mother and Child Tracking System) – A National Program. It helps in Tracking pre natal and post natal aspects related to Mother and Child.
• National Land Record Modernization Program( NLRMP): Online Mutation was launched by Hon'ble CM in November- 2013. Citizen can view status of their mutation application and download Digitally signed document from anywhere. khatiyan and Register-II Data of Completed circles are available on Jharkhand Govt Portal. Citizen can also view their Khatiyan and Reg-II. Status of Both Khatiyan and Reg.II is available in a single search option also.