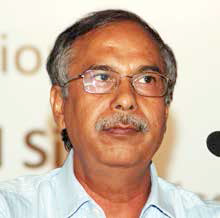 The CSC scheme also envisions reducing the digital divide and incentivizing private sector to realize the value at the bottom of the pyramid. CSCs are envisioned to facilitate a platform that will enable government, private and social sector organizations to integrate their social and commercial goals and take benefits of information and communication tools (ICT) to the remotest corners of the country. The CSCs are acting as change agents and are much more than mere service delivery points in the rural India. A CSC promotes rural entrepreneurship, builds rural capacities and livelihoods enable community participation and effects collective action for social change- through a bottom-up approach with focus on rural citizen.
CSC Institutional Framework
The CSC ecosystem comprise of more than one lakh Village level entrepreneurs (VLEs), 26 Service Center agencies (SCAs-the private partner), 35 State designated agencies (SDAsstate government nodal agencies ) and a host of public and private entities as service providers.
The Department of Electronics and Information Technology ( DeitY) plays important role to support CSC ecosystem. The CSCs are covered under Mission Mode Project of Deity. The important Stakeholders are:
The State Designated Agencies are CSC scheme implementing agencies at State Government level and they select Service Centre Agencies (SCA).The SCAs help to operationalise the Common Service Centers. The CSC is operated by Village level Entrepreneur (VLEs) and CSCs act as ICT enabled front end at village level where all public , private services are delivered to the citizen at affordable cost in transparent manner.
Managing a dynamic ecosystem of such diversity and complexity would require a dedicated entity at the heart of the network to seamlessly manage and maintain these relationships, and to ensure continual systemic viability and stability. The CSC SPV – CSC e governance Services India Limited is expected to function as the anchor agency, stepping in to strengthen interrelationships and linkages where ever necessary .The CSC SPV helps to bring multiple Service Providers who offer government, business, financial and social services through CSCs at common platform.
CSC SPV Objectives
The main objectives of the CSC SPV are:
• Ensuring systemic viability and sustainability of the CSC Scheme
• Monitoring achievements of the outcomes by the CSCs
• Enabling delivery of G2C and B2C services through CSCs
• Providing a standardized framework for collaborative decision making
• Catalyzing and maintaining content aggregation on an on-going basis
• Building stakeholder capacity
• Looping best practices
The Mission of CSC SPV is to enable provision of government, private and social sector services to citizens at doorsteps, at affordable cost and in a transparent manner through the CSCs.
CSC Scheme Overall Status
As on end of November 2013, 1,28,315 CSCs have been operationalised in 35 (28+7) States and UTs , of which 1,12,504 CSCs are connected. On an average, each VLE undertakes 458 transactions per month with a monthly income of about `5000.
As one of the world's largest service delivery networks, the focus of the CSC SPV is on operationalising 100% of the CSCs across all 35 States & UTs. This would include monitoring the Scheme implementation, ensuring connectivity to CSCs increasing the number of services available through CSCs.
The likely passage of Electronic Service Delivery Act in the near future with increased focus on e-enablement of various Central & State Governments services is likely to make the CSC as vibrant instrument of Government policy for empowerment of the rural citizen.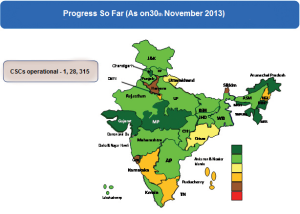 CSC Services
Delivery of Government service through the CSCs is driven by the Government both Central and State preparedness and ability to provide the same. There has been significant variation in delivery of G2C services with some States as Andhra Pradesh, Madhya Pradesh, Kerala, Rajasthan and Gujarat performing very well while the in other cases it shall improve with the implementation of the E- district scheme. It is true that with the implementation of e district across the country there shall be significant improvement in the delivery of G2C services to the citizen through CSCs.
The National Policy on IT also focuses on technology-enabled approach to deliver services in social sector like education, health, skill development, financial inclusion, employment generation, e-Governance etc. to enhance efficiency and reach across the country. With the availability of the front end as CSCs across the country in equitable manner the Government departments can expedite the initiative for delivering such services to the citizen .The focus and intention are unquestionable however steps to undertake digitization, business process re-engineering, mobilizing the requisite resources and timely completion of the process involved are the areas which need to be addressed by the policy makers. The citizen need a lot many other services other than the G2C services so as to actively participate in nation building. CSCs meet the requirement of the citizen in enabling him to get information, knowledge and skills for overall development. Such services are enabled through SCAs and also by the CSC SPV. Some of the initiatives in this direction include:
Financial Inclusion
This includes delivery of financial products and services including banking, insurance and pension. With 40 percent of the population not having access to the banking services and insurance penetration in rural areas being very low,CSCs offer an excellent channel for financial institutions to meet the challenge of covering such a vast uncovered populations. The various activities which CSC can perform for financial inclusion include:
Events watchEvents watch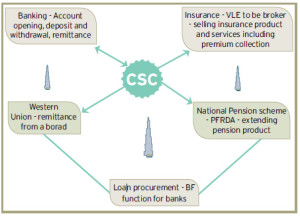 Enrollment of customers, including collection of biometric and other details, provide card (ID Card, Debit, Card, Credit Card, PIN), Provide transaction facility, Deposit of money in an account with a bank, Withdrawal of money from an account with a bank, Remittances from an account with a bank to an account with the same, Balance Enquiry and issue Receipts/ Statement of Accounts. Disbursal of credit facilities to borrowers involving small amounts etc. are activities which can be taken up at CSC, engaged to function as BC.
*Banking
The CSC is mainly to act as banking correspondent for various banks and perform the function for delivery of such services to rural citizen. Already 6000 CSCs across the country are working as BC for Public sector banks .The Government has also appreciated that CSC as BC is a better alternative for the banks as compared to other model of standalone Events watchC for rural India. The effort is to make every CSC as BC for a Bank. There has been constraint of service area approach, kiosk technology adoption by banks and lack of appreciation at the local bank branch level for BC to be considered as a business opportunity. All the CSC becoming BC shall also enable Government to fulfill its endeavor of enabling direct Benefit transfer to the citizen under various Government schemes .Such a initiative will definitely enhance the income and credibility of the CSC within the community.
*Insurance
CSCs VLE has been recognized and approved to act as Broker for selling of insurance product and services. They can offer the product and services of all the insurance companies for life and non life products. This is a revolutionary step taken by IRDA in enabling the extension of insurance services to rural India. Process for delivery has also been simplified and efforts are being made to deliver the service 'on line' and also in demat format. Insurance for life, animal, crop, health, house, agri implements and artisan will definitely change the face of rural India and empower farmers and other rural citizen to use these instruments for insuring against risk and lead a better life.
 *Pension
One of the problems of people in rural India is lack of pension after they are unable to physically perform their normal agriculture or other related activities. PFRDA has extended the pension scheme to unorganized sector.
CSCs can deliver the PFRDA pension products to rural citizen and bring him at par with the people working in organized sector. Beside this the CSC can also act as Western Union center and provide the remittance to rural families who are sent money by relatives working abroad.
CSCs thus can meet all the requirement of the rural citizen in terms of financial products and services. Necessary framework and agreements with service providers are already in place.
CSC and financial services
Government has also authorized the CSCs to function as permanent enrollment centers for UID. Besides enrollment, the updation of demographic data and biometric can also be done through the CSCs.
CSCs offer itself as an excellent front end infrastructure for the entire suite of Aadhaar based services.
• Permanent Enrolment Centers
• UID e-Aadhaar Print services, Aadhaar card on plastic
• Best Finger Detection services for citizen (convenience)
• Demographic Data correction services
• Aadhaar seeding for Service Providers
• UIDAI Auth services- Demographic/ OTP/Biometric (+ Advanced Auth – Iris )
• Evidence of correct aadhaar number, deduplicated, authentic (non-ghost)
• Evidence of person present (replacing *wet* signature requirements
• e-KYC service
At present about 2000 no of CSC are working as permanent enrollment centers and 75 lakhs of Aadhar enrollment and 50000 updation of data has been done through these centers. The CSC centers have also done printing of about 5 lakhs Aadhar cards.
CSC and UID Services
The infrastructure of CSC is most suited to impart education services as well as work as facilitation center for educational service provider. So far the CSC is authorized to work as facilitation center for National Institute of Open schooling (NIOS) and NIELIT. The centers are also imparting the e literacy – BCC course of NIELIT to rural citizen under the DeitY scheme of making one person in every family e-literate. The education services being delivered through the CSCs are: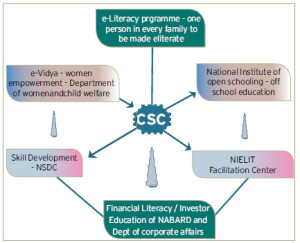 Other Services
CSCs are also delivering election related services as application for registration as elector , deletion of name, addition of name , issuance of EPIC card and providing all other election related information as polling station list , voter list etc. PAN card related services of revenue department are being delivered through the CSCs. Railway ticket issuance service is also available to citizen through the CSCs. Other services through the CSCs include:
• Passport
• Mobile Recharge
• DTH Recharge
• Dish TV E-charge
• Data Card Recharge
• Bus ticket Booking
• Bill Payments – electricity, water
• Entertainment
• E- Learning
• Telemedicine services (Apollo, Medanta and Venu Eye)
A recent study by Center for Innovation in Public system indicate that on an average 59 percent 0f the VLE are graduate and above while 28 percent are undergraduate . It also brings about that for 52 percent of VLE the CSC is the only source of income. 19 percent of the CSCs are operated by women and the income of CSC operated by women is more than that of CSCs operated by men. About 50 percent of the CSCs have more than one computer and thus employ more than one person .These facts indicate that CSCs are really enabling development of rural enterprise through ICT which is unique .There are however some issues such as availability of reliable power and connectivity which need to be addressed.
A study by ITU inter-alia mention that "The CSC program, tipped as the world's largest telecentre scale-up, was chosen to be implemented under a PPP model unique to the Indian entrepreneurial spirit; and has been largely successful so far- There is need to emphasize upon footfalls, transactions, engagement and participation by communities at each of those CSCs. A citizen engagement strategy at CSCs is already evolving, leading to sustaining CSC operations for the future". CSCs are a long way to go and with the availability of G2C services across the country shall be able to meet the desired outcome of serving the village communities. The study also observes that "The CSCs cannot be pronounced a success story unless these centers graduate from their dependency on utility services for generating revenue. The business model should go beyond the VLEs' potential income opportunity to the idea of developing a cost-benefit analysis tool to track the benefits accrued to rural citizens. Such a move would help to discover a CSC-oriented sustainable business model."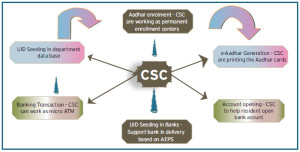 CSCs are indeed the change agent and are playing an important role in enabling empowerment of the rural communities. This front end can address the issues of digital divide and can be an effective instrument of government service delivery to citizen in all parts of India. CSC scheme can in fact be termed as a "movement- Andolan " of empowering communities and creating sustainable business enterprises at the bottom of the pyramid.