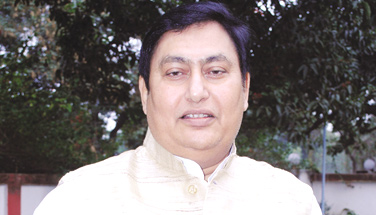 Shahid Ali Khan, Minister of State Minority Welfare & Information Technology, Government of Bihar
You came out with ICT policy in 2011. What progress has been made on various initiatives that you have envisaged?
ICT Policy 2011 is a framework under which we aim to provide various developmental projects related to Information Technology in the state. Our main objective is to provide good governance through IT enablement, and thus encourage a holistic development of the state by attracting investments in the IT sector as well as in other allied sectors. When you look at Andhra Pradesh, Karnataka and to some extent Maharashtra, they have done outstanding work in IT sector. We are the late comers, but the late comers do have benefits too. We should use the best of technologies and initiatives which have been already tested. As far as progress on the various initiatives  is concerned, it has been little slow and steady. We have been able to attract investments. Other allied industries are also moving in right direction.
Through ICT policy 2011, we have focused on seven important areas – human resource development, employment generation, IT infrastructure, investment promotion, e-Governance and regulation. In the area of e-Governance, there has been a substantial achievement, now the information is easily available to the public. This has brought  transparency, accountability and reduction in the service-delivery timeline. Skilled human resource is also one of the challenges for the state government, and therefore we are promoting computer literacy at school level, and also there has been focus on using mobile technology to reach the last mile.
Compared to other cities in the country, there is infrastructure deficit in Patna? Don't you think that it makes difficult for IT companies to set up their bases here?
I agree with you that a lot needs to be done when it comes to creation of a world-class infrastructure for IT companies. But it is also true that there has been a significant improvement in several key areas like law and order,education, healthcare, etc. Today, we are keen to promote IT industry and we are ready to come up with polices and measures that will ensure that there exists a healthy infrastructure to support the IT industry in the state.In fact, policies are already in place, it is just that all the stakeholders will have to honestly come forward and work for a better and more prosperous Bihar.
The industry needs good infrastructure, conducive environment and appropriate legal and regulatory framework.The government of Bihar is committed to provide these things; there may be little bureaucratic delays, but in principle we are for promoting various industries and creating jobs in the state. To address the infrastructure need, we are planning to create IT City, IT Cluster, EHDM Corridor, IT Park, etc., acrosst he state. There is an ample opportunity for investments into Bihar today. If there is any innovative idea or plan, any organisation has,it can share with us. We are the facilitator, and we shall help them.
You are also heading the Minority Welfare Department. There have been reports of modernisation and computerisation of Madrasas across the state. Please tell us about this project.
We have heavily focused on overall develop ment of the state including the minorities. There has been tremendous achievement in education sector, be it Madrasa or school education. The state government has ICT at school scheme, under that scheme computer education and computer-aided education is being implemented in 1,000 secondary and higher secondary schools of Bihar. As far as Madrasas is concerned, as of now, we are actively working on it. I strongly feel that Madrasas must be modernised and computerised. It is very important to do that because large section of young students, belonging to Muslim community, attend Madarsa, If you are not able to make them digitally literate, then you can't achieve your goal of making Bihar an IT hub. Bihar Knowledge Society has done some good work, but lot more needs to be done.
Please tell us about some of the major areas where Information Technology is being used in the state.
Government of Bihar has taken few major initiatives, which are now being expanded. The projects such as ICT @ School, e-Shakti, e-Procurement, e-District, etc., have huge potential and shown good results. For example, e-Shakti, today, it is in functioning mode in Patna District. About 7.5 lakhs e-Shakti cards have been given and there has been disbursal of Rs 7,02,202 among 1,840 beneficiaries. Also, Department of Revenue and Land Reforms is using modern technology to survey the land. Aerial photography is being used to survey the land. On pilot basis, five districts have already been covered. Once the work gets completed, it will bring a lot of transparency in land records management, and will surely reduce land disputes across  the state. The Urban Development Department
has started a project called 'e-Municipality' which has everything integrated and interconnected, right from accounts to building plan approvals, birth and death registrations, grievance handling, human-resource development and solid-waste management. Across various departments of the government, IT interventions are happening.
Bihar has acquired the reputation for good governance, state GDP is also consistently in good bracket, but manufacturing industry is still showing dismal performance its contribution to GDP is lowest in the country. In your opinion, what are the areas where Bihar should focus on for consistent economic growth?
Manufacturing has been the neglected area in our country, and Bihar is no exception. According to projections in 2013-14, due to demand slowdown the contribution of manufacturing sector to India's GDP is going to be  little lower compared to previous year. I think, we need to provide assurance and right framework to the industries which have halted or are little hesitant to invest in Bihar. Today, lot of things are in place and it is the right time to overhaul the manufacturing industry in the state. The manufacturing industry  is also facing problem due to unavailability of concrete policy in favour of states where the pace of the growth has been slow. For consistent growth, special focus should be given to location specific agriculture resource endowment which is in abundance, but scattered.
There are lots of Central Government flagship programmes such as Direct Benefit Transfer (DBT), MNREGA, food security. What is the status of their implementation and has the state been able to use them for the welfare of the people?
Not only these flagship programmes, the state government also has various other state plans for the welfare of the people, and we have been able to use them for the benefit of the state. For MNREGA the state government has been awarded, very recently, Direct Benefit Transfer (DBT) is already happening even before UIDAI through e-Shakti, and on February 1 the Hon'ble Chief Minister had launched Food Security Act in the state. Nearly seven crore people in rural Bihar, and 70 lakh people in urban areas are expected to benefit. Under the scheme, each person will get 5 kg of food grains every month at the rate of Rs 2 per kg for grain and Rs 3 per kg for rice. Over 44,000 ration shops at Panchayat level will be used to implement the scheme. To reduce the corruption, vehicles that deliver the ration will be GPS-monitored, and a call centre with tollfree number has also been opened to register grievances.
The economic growth and development of a country depends on the integrated equitable development of all its citizens. What are you doing for minority communities to bring them at part with majority?
I agree that the overall development of a country depends on the integrated equitable development of all its citizens. Our Government
being well aware of the fact has always been the forerunner in protecting the legal rights of the minority communities and ensuring their share in education, employment and economic benefits. Our department is still  relatively new.
Our budget has substantially increased. We have been still raising infrastructure for the department that had been taking good shape. Our welfare schemes include scholarships to meritorious students of colleges, grants for state Waqf Boards and Bihar Urdu Academy and coaching for students for civil services, and monetary help for women. We have also recently appointed 38 minority welfare officers, one in each district.