Renu Budhiraja, Sr Director & HOD State Data Centres, Department of Electronics & IT (DeitY), Government of India
Government of India started the National e-Governance Plan (NeGP) in May 2006with one of the key Strategy around "Centralised initiative decentralised implementation". This included setting up various Policies, Standards,guidelines and frameworks on one hand and establishing a robust ICT infrastructure to delivery services to the Citizens on the other hand. The core infrastructure pillars included State Wide Area Networks (SWANs), State Data Centres (SDCs),Common Service centres (CSCs) and middleware architecture termed National Service Delivery gateway (NSDG) and its by-product the State Service Delivery Gateways (SSDGs).
Today, with 31 SWANs in place, 21 SDCSs in place, NSDG and many SSDGs in place, it is time to move forward. It is found that while most of the Data centres in place have reached more than 50 percent of the total rack space utilisation,the States are still to accommodate many more departments and applications. There is a need to look at optimisation of the servers, storage,licenses, power, cooling and other aspects so as not to be able to accommodate more applications but also to minimise operational expenses.
Is Cloud computing the answer?
Well, Cloud computing is a model for enabling convenient, on-demand network access to a shared pool of configurable computing resources (e.g., networks, servers, storage, applications, and services) that can be rapidly provisioned and released with minimal management effort or service provider interaction.
Optimum utilisation and reuse of ICT resources
Cloud computing as a delivery model is based on pooling of infrastructure resources where afairly large number and capacity of  resources are pooled together to serve multiple users using a multi-tenant model, with different physical or virtual resources  dynamically assigned & reassigned according to user demands. That said, the excess or the released capacity is provided to other users to server their demands leading to better utilization of cloud resources. When implemented, this characteristic of cloud computing would benefit various Government Departments.
For example, when the Income Tax department faces peak load during the end of quarter one every year (which is the time for submission of commercial tax in India), the Department of Education faces maximum load during the end of quarter two every year (which is the time for announcement of board results). With cloud computing capacity released by Income Tax department would be utilized by the Department of Education. This would ensure improved utilisation and de-duplication of licensing cost for operating system, database and middleware. Such benefits are unlikely to achieve in a traditional non-cloud environment.
Rapid development, deployment and reuse of applications
Cloud computing PaaS (Platform-as-a-service) service model offers ecosystem for development and deployment of applications through programming languages, development and test tools, deployment infrastructure such as Domain Name registration, assigning public IP, storage, servers etc. This shall provide departments a single interface, whereby, all development and deployment tools and services are offered, thereby, curtailing application deployment & development efforts and time.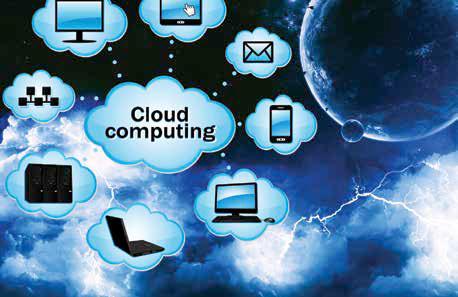 In India, every State is a Country in itself with State specific requirements with respect to a specific application. In the traditional model, we see multiple versions of an application customised to the needs of the States. This not only leads to duplication of development efforts but also huge cost and time taken and subsequent maintenance required. It has been seen through the recent Replication programme by government of India that we are able to save anything from 40 to 60  percent of the cost of development and time being reduced from say 1 year to around 4 months.
Cloud Computing can enable us build multitenant applications which can be developed once and easily configured and run as single
or multiple instance for various States from one location on virtualised infrastructure. The applications can further be published on
a eGov Appstore providing a single window for departments looking to avail readymade or core applications for their G2C, G2G or G2B service offerings. This Appstore can be available to all State departments to contribute their applications for utilization across other States and their respective departments. This will is shall also encourage application reuse, in a way, shall greatly augments release of citizen centric and other services.
Agile service delivery
Cloud computing automates the process of provisioning of resources and provides self-service provisioning features through a single portal for efficient service delivery. This characteristic of cloud has the potential to eliminate the long ICT procurement cycles currently present in Government departments. In the present (non-cloud) environment, ICT provisioning/ procurement requires various approvals at various level and is predominantly people driven and usually involves long turn-around times. However, resource provisioning in a cloud based model is process driven and significantly reduces the long ICT procurement cycles resulting in fast and efficient delivery of services and also leading to indirect cost savings.
Cloud value propositions for Government of India
Major benefits of adopting cloud computing by Government include the following:
• Optimum utilisation and reuse: Optimum utilisation and re-use of Government's existing ICT infrastructure and related components
• Rapid development, deployment and reuse of applications
• Agile service delivery: On demand service delivery eliminating long procurement cycles
• Scalability and elasticity: On-demand scalability of infrastructure rather than procuring infrastructure for the peak load
• The above would lead to Cost savings on ICT infrastructure and applications leading to better utilisation of ICT investment by Government for providing services to citizens
Scalability and elasticity
In a traditional (non-cloud) scenario ICT infrastructure sizing is done keeping in mind the peak demand. This results in infrastructure lying un-used for most of the time in the year, while incurring recurring costs like data centre space, racks, power, cooling, maintenance etc. However, if this approach is not followed chances of IT not being able to support the business needs (and hence affecting delivery of citizen centric services) during a sudden requirement is increased.For example, the Department of Education may
require additional servers to support increased load for its applications only during end of second quarter of every year when board exam results are declared. However, department may not require these servers all through rest of the year. In a traditional non-cloud environment procurement or provisioning of these servers would incur cost extra cost all round the year. However, with the cloud enablement of Government data centres, Government departments/agencies at centre and states will have the capability to scale up or  own resources as per their anticipated or sudden loads. Using the same example as above, during the second quarter of every year the Department of Education can provision extra servers from cloud and can release the same after 1 month (depending on the application load requirements). With the pay-per-use pricing model, Department of Education would just additionally have to pay for additional servers just for the time that they utilized those servers. Thus, cloud enables on demand scalability as per business requirement and reduces cost at the same time.
Cost savings
A qualitative analysis can be conducted to understand how cloud computing can help reduce ICT costs for Government owned National and State data centres (e.g. SDCs, NDCs), who are the providers of ICT services. And also for Government departments/agencies at centre and states, who are the consumers of ICT services.
From a data centre providers perspective, cloud computing brings the benefit of economies of scale to IT operations. Cloud allows data centres to standardize and pool computing resources, resulting in highly efficient operations. At the same time, cloud automates and streamlines various data centre maintenance tasks, offering exceptional agility to various Government departments/agencies at centre and states that are the end-users.
While the major cost components include – server and storage Costs, software and license costs, network, security and AMC charges; the non-major cost components include – power and electricity costs, cooling/ACs costs, manpower costs, O&M costs and retail/physical space. Cloud enablement of Government owned data centres would reduce cost and improve utilisation of existing infrastructure.
Follow and connect with us on Facebook, Twitter, LinkedIn, Elets video