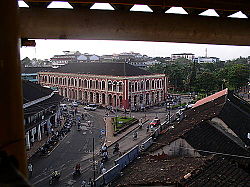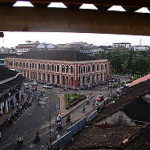 Newly appointed Margao municipal council (MMC) chief officer Srinet Kotwale has promised to streamline the working of the council while assuring that e-governance would be in place within three months and promising that the commissioned garbage treatment plant at Sonsoddo would be ready by April 2013.
The former director of Information Technology, in his first posting in South Goa, said that while matters seem to be in place in MMC, there was a huge need for better management and strengthening of the wings (sections) of the municipal administration.
Kotwale, who had postings in the Mapusa, Ponda municipalities and the Goa state pollution control board, has stressed that he would see to it that there would be restructuring of the municipal staff and that decentralization would be the key.
Kotwale said that he would see to it that manual attendance was made compulsory until the bio-metric attendance system was tested. He pointed out that the biometric system was time consuming as it took forty seconds per thumb recognition and considering 20 seconds delay between staff members, it would amount to one minute per person to use the biometric system. Kotwale who said that this was his 30th posting, would see that queue system was avoided and was working towards that.
Kotwale added that the commissioned garbage treatment plant at Sonsoddo would begin its trial phase in August and that they would monitor the system in a phased manner to identify gaps and that the garbage treatment plant would be fully functional by April 2013.
On the issue of encroachments, he said that he would instruct his officials to make an inventory of offenders and that he would double the fine amount and that the items of repeat offenders would be directly auctioned.
Stressing that he would not hesitate suspending any staff member found erring on duty, he said that he wanted to make the civic body more citizen friendly and the idea of e-services which would be fully operational in 3 months time and so the pending works of the citizens would get disposed off.