Girl Child Protection System
Implementing Agency: Department of Women, Child, Disabled & Senior
Citizens, Govt of A.P
results2.ap.nic.in/wcd/gcps
The Girl Child Protection System has brought about greater transparency;  eliminated errors; ensured timely generation of certificates; facilitated the easy

  reconciliation with LIC and provided easy monitoring of the implementation of  the girl child protection scheme. The scheme is aimed at preventing gender   is crimination by empowering and protecting rights of girl children. It enhance status of girl child and promotes adoption of small family norm by ensuring holistic development of the girl child for a bright future entailing improved sex  atio besides preventing female infanticide.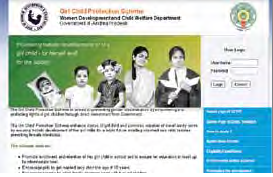 An online state wide web-based  utomation system developed to achieve the objectives of the project includes  promotion of enrollment and retention of the girl child in school and to ensure  her education at least up to intermediate level; encouraging girls to get married  only after the age of 18 years; encouraging parents to adopt family planning  norm with two girl children; protect the rights of the girl child and provide  social and financial empowerment to girl child; eliminate negative cultural  attitudes and practices against girls; strengthen the role of the family in improving the status of the girl child; extend a special dispensation to  orphan/destitute and differently-abled girls.
Online workflow automation; use  of low cost and open source technologies; training of in-house staff to operate  the system; online entry of applications by CDPOs; provision for getting  objections; LIC, school administration; provision for monitoring the status to  State administration and generation and authentication of certificates in local  language are some of the salient features of this system.
Project Jyoti
Implementing Agency: Microsoft India
     www.microsoft.com/india/msindia /msindia_ourmission_projectjyoti.aspx
Microsoft's Community Technology Skills Program christened as Project Jyoti  has successfully supported 1,300 Community Technology Learning Centers

(CTLCs) and about 300,000 individuals have been trained in IT skills in  partnership with 14 NGOs. More than 180,000 students have been placed in jobs  including in the rural areas. Over 34.4 millionpeople have been impacted directly or indirectly through IT skills training, including marginalised women,  unemployed youth from urban slums, farmers, fishermen, other members of the village community, victims of human trafficking and communities  vulnerable to trafficking, rural self-help groups, and rural kiosk entrepreneurs.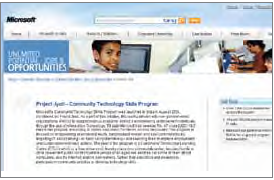 The use of Computer Aided Design (CAD) software by Chikankari embroidery  weavers in Uttar Pradesh for making better designs; market price information for  farmers to realise  better value for their produce; timely weather information and data on location of fishing schools for fishermen via satellite connectivity at some CTLCs; access to information resources on health,  education and legal rights for women and rural communities; use of CTLCs  being used as Information centres to help communities fight for their rights  through dissemination of information on various schemes, laws and policies of  government etc. are some of the innovative facets of this project.
High travel  cost due to dispersed location of habitation; erratic power supply; lack of  skilled female trainers; demand for more computers and lack of Internet  connectivity are some of the challenges faced by the project.
Follow and connect with us on Facebook, Twitter, LinkedIn, Elets video