Potential demand for eGovernment services is about 50 percent and will continue to rise. This, among other findings, came out of the eUser study held in 2005, funded by the European Commission's IST (Information Society Technology) programme. The survey conducted in Europe, focused on a number of themes – the public's use of government services, the different channels (or media) employed, the nature of potential future demand for eGovernment, the barriers and experiences in using eGovernment, and the socio-economic attributes of eGovernment users compared with non-users. Some of the highlights of the survey as follows:
• While in some countries like UK telephone and post have overtaken face-to-face contact with the government (74% telephone and only 51% face-to-face), the latter is still the most important channel for contacting government. 81% of all citizens who contacted government in the last year did so in person, although not necessarily exclusively by this channel. (see table 1)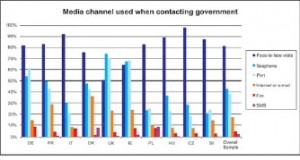 • The potential demand for eGovernment services is about 50 per cent of all government users, and could be higher. This is mainly for information services, followed by communication services, and lowest for transaction services. (see table 2)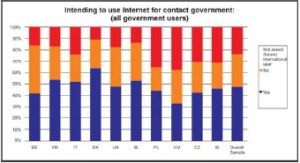 • The survey result showed that one of the barriers which users anticipate they will meet when using eGovernment relate to difficulty in actually starting, with a feeling that face-to-face is better and the fear about data privacy important.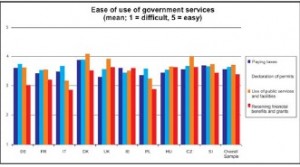 • In terms of government services generally, citizens rate their overall satisfaction at about 3.5 out of 5.0.(see table 3)
Users of eGovernment services tend to be younger, male and better educated, and have higher socio-economic status and be in employment.
Follow and connect with us on Facebook, Twitter, LinkedIn, Elets video