Software companies are constantly striving to encourage innovations in the development sector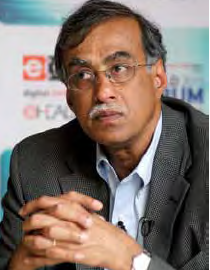 Information technology today plays an extremely strong and important role in all aspects of development. The challenge is how to get technologyresources in the hands of the underserved to spur development and part of the discussion then becomes whether Intellectual Property (IP) has any value or not and whether intellectual property helps generate revenue, helps generate   development, helps generate economic activity and how do you manage the two issues – one of costs and the other one is economy because people that create anything have a right to benefit from that creation.
At Microsoft, revenue is generated either through a product or through IP. To us it is clear that every individual that wants to participate and have access to technology, particularly technology that we have created, needs to be provided certain resources in order to be able to do so. The challenge is to get technology in the hands of the underserved in a meaningful manner.
We run a number of programmes that involve facilitating access to technology. We run training programmes in over 100 countries through more than 70,000 technology  learning centres that we have helped set up in partnership with more than 1000 non profit organisations. A related challenge is to build the capacity of non profits so that they use technology in a beneficial manner and improve the   efficiency and effectiveness of their services. Finally, the challenge of spurring innovation at the bottom of the pyramid around technology to facilitate development to facilitate development also needs to be
addressed.
Effective collaboration among individuals who use technology, organisations  that develop technology and solutions based on these technologies and the
We run training programmes in over 100 countries through more than 70,000 technology learning centres
governments that deploy these solutions is essential if egovernance is to become an effective mechanism. In addition, individuals that need to use technology should be able to use it, organisations going to use them. For this, training and capacity building is a must and we at Microsoft are running a  number of initiatives across the world in this regard. In India, our partnership with the NASSCOM Foundation has reached over 10 million people and  worldwide, over the last eight years we have reached over 190million people.
The challenge is how to get technology resources in the hands of the  underserved to spur development
We are also involved in a big way in capacity building of non profits so that they  can use technology effectively and also innovate using technology and  reach the most marginalised aspects of our society.
The gaming device Kinect  that we launched recently, has been hacked by people in the development  community. At first, people within the company reacted with horror that our IP  was being compromised. However, saner heads prevailed and pointed to the  kind of innovation that was taking place – Kinect was being used in ways we  could never have imagined.
The device's infrared camera that acts as a motion  sensor for gaming, was used by students in Germany for providing auditory inputs to blind people to help them navigate corridors; another set of hackers  mounted the device on top of a robot to look for people in collapsed buildings;  some have even tried to use it for medical imaging! Inspired by this, we decided  to make our source code available to the development community for  noncommercial usage.
Companies will have to start looking at what can they do  to spur development and innovation and what should be controlled from the perspective of IP that becomes commercial  in nature.