To be achieved through concurrent approach of 'UID integrated' and 'UID independent'. UID integration to be perceived as a 'plug in' to the benefit distribution framework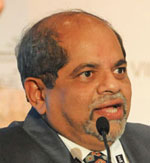 By Ashank Desai,
Founder, Mastek
ID is fraught with a large number of challenges pertaining to the management of social benefits something for which the UID has been created in the first place. The slow paced progress of automation in social welfare domains such as PDS, Social Justice, Women and Child, Tribal – mismatches with the pace of UID enrollment. Some schemes confer benefits since birth, for e.g. a child up to six years is allowed 1 unit of kerosene under a ration card scheme. UID is captured at the age of 14.
Consistency of bio-metrics across life stages
How UID would maintain the biometric consistency across the various life stages and service requirements – scholarship for student, loan for entrepreneur and pension for the old ? UID is primarily referred to an  individual, however the beneficiaries under various social schemes can be households, groups, institutions. How would the demographic changes to the UID data be managed? Who would take the ownership of synchronizing the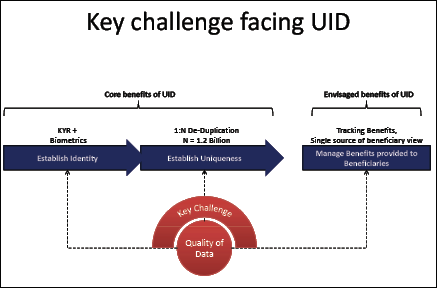 changes with the various benefit domains data? In case of realizing a threat to the UID data – who triggers the damage control? There are several such  questions pertaining to the technological and operational framework of UID.
Magnitude of De-Duplication
The De-duplication of the magnitude required by the UIDAI has never been  implemented in the world. In the global context, a de-duplication accuracy of  99% has been achieved so far, using good quality fingerprints against a database of up to fifty million. Retaining efficacy while scaling the database size from fifty  million to a billion has not been adequately analyzed. Fingerprint quality, the  most important variable for determining de-duplication accuracy, has not been  studied in depth in the Indian context. A Nation-wide HETEROGENOUS  Identity Management system catering to a population of  more than 1 Billion &   ther entities numbering approximately 5 million and involving multiple agencies, stakeholders/entities catering to more than 35 Languages and 150   ialects would be areal challenge. The level of fieldwork spread over the entire country having a area of 3,166,414 Sq. Kms divided into 593 districts, 5470 sub-districts comprising of 5161 towns and 638,588 Villages.
Multi-Pronged Implementation
This high level of complexity can be mitigated through a bottom-up approach  whereby the Social Welfare domains bring all the beneficiaries within their ambit irrespective of the UID. The Social Welfare departments render some 150+ schemes through various corporations and other departments. For e.g. a student gets post-matric scholarship and also scholarship under Aam Aadmi Bima Yojana. There is therefore a need to create a single view of the beneficiary.Through this multi-pronged Implementation Methodology, 100% automation of social schemes needs to be achieved through a concurrent approach of 'UID integrated' and 'UID independent'. For e.g the Ration card  management system can be rolled out with and without UID. The UID integration can be perceived as a 'plug in' to the benefit distribution framework.
Follow and connect with us on Facebook, Twitter, LinkedIn, Elets video