Goal of community knowledge enterprises is to take information at the right time to the right place and to the right person in right context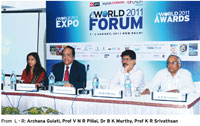 The session was chaired by Prof VN Rajasekharan Pillai, Vice Chancellor, Indira Gandhi National Open University (IGNOU). He started by mentioning that Ministry of IT, Government of India, has constituted a working group- 'Mass IT Literacy for all' which is chaired by IGNOU. They had meetings with the IT ministry personnel, IT secretaries of the states as well as the private players in education sector to propagate this activity. In India there have been some successful literacy missions the purpose of which is to define literacy in a contextualized way. DOEACC which is conducting a large number of programmes under the Ministry of IT is a major partner in this activity. Unconventional collaborations are necessary to make the society literate. It is also necessary to spread the message to educational institutions. Jan Shikshan Sansthan under MHRD is also one of the partners in this initiative.
With broadband revolution, mobile revolution and intervention of the computers with different setups it is becoming very diverse and we need to be more focused. For this working group the computer division at IGNOU is providing the necessary support.
Kerala was the first state to become 100 percent literate. In total literacy movement one district with maximum number of illiterates was Malappuram. In Kerala with the support of Ministry of IT, Government of India, they started IT literacy movement Akshaya. The district of Malappuram, with maximum numbers of conventional illiterates, became the first IT literate district in India. The main reason was life expectancy in Kerala was very high, so there were large numbers of old people whose children were working in Gulf countries. For communication purpose they learnt how to make use of computers. Therefore we have to look at the diversities of the levels of educational systems of the country, and technological capabilities, in terms of infrastructures.
The next speaker Archana Gulati, Joint Administrator, Universal Service Obligation Fund, Ministry of Information and Communication Technology, Government of India, started her presentation with a small clip on 'Sanchar Shakti' which is ICT skills for women by members of Self Help Groups in rural India. Sanchar Shakti focuses on four key areas: providing value added services, establishing solar based mobiles and CDMA, SWT charging centres, and rural repair and service in handsets and modems. The long term vision is to use the mobile projects to scale up the Sanchar Shakti into a pan India initiative.
Ms Gulati  said that it is also pertinent to give information to women based on their daily life to give them self confidence and empowerment. This scheme was launched on 7 March 2011 by President Smt Pratibha Patil. Challenges were also faced mainly because of the fact that rural women were largely illiterate. For example, the content delivered though mobile needs to be highly gender sensitive. Also a lot of training is required to teach rural women how to use mobile phones. They also have a limited capacity to grasp the knowledge. So they should be made to choose what kind of content they want to learn.
The USOF has signed eight different MoUs with service providers across the country- agriculture, horticulture, livestock rearing, bee keeping etc. Ms Gulati gave examples of two different villages- one in UP where rural women had never held a mobile phone in their hands, and the other in Pune where women were slightly more educated and were quite enthusiastic about the use of mobile technologies.
Outcomes expected from this study are: enrichment of the lives of the villagers, to show the stakeholders that such kind of projects can succeed and can be commercially viable. If the service providers develop the software catering to the needs of rural women it is feasible and it can work.
There are also some projects in the pipeline like women running solar charges in mobiles, women running repair work centres for modems and mobiles. The content is highly customized to the needs of the women including market skills, training, information on government schemes, education, literacy etc.
B K Murthy, Director and Head, National Knowledge Network Division, Department of Information Technology, Government of India started by saying that ICT Literacy has become a part of life. 8 out of 10 people in India in the age group of 30 years are software engineers. Behind every successful IT project around the world there is an Indian. So for Indians IT literacy is not a big issue.
Education gives empowerment while IT gives efficiency. In a country with one billion people if everybody is empowered, then a powerful nation can be built. Today in most of the courses across the globes IT literacy courses are specially designed for social science research people. All humanities students are now learning IT literacy.
These days the total population on social networking sites is almost comparable to China and India if the total number of people is taken as a country.
The Division did a case study ten years ago in a village near Faridabad on how ICT can help a common man. Based on this experience they have designed a community software package by which a person need not understand emailing and related stuff but could see the picture on the screen, click it and record his/her voice. But the problem that villagers faced was when the system was taken to the villagers, they could not even click the mouse.
Mr Murthy cited another example from IIT Kharagpur. They went to one of the laboratories where a professor was using ICT for cerebral palsy. He had designed some icons based on which he taught different patients about the use of computers.
He also talked about the use of ICT in a blind school that used a text-to-speech software. In three years about 10 students had passed O level and were employed in other blind schools and government schools.
So overall there is a need to improve IT literacy as today IT has become a part of life.
According to Prof Srivathsan, Pro-Vice Chancellor IGNOU, fundamentally, the whole society is changing as we are entering into a knowledge era and in this environment it is imperative as to what kind of IT literacy we build. The entire community should exhibit the characteristics of knowledge organisation and become knowledge activators. So question is what kind of values are we creating for the masses through IT enabled services.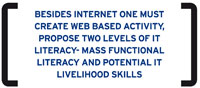 The masses have to be categorized to ensure that information reaches everyone from rural to urban people. Indians will become part of knowledge society and economy whether it will be in the field of education, healthcare, livelihood opportunities, access to egovernance services, social networking, arts and craft, agriculture.
There are four basis to understand the dynamics of information society- smart enabled citizen access to common services; to assure effective delivery of services to the poor, needy and below poverty line citizens; citizens should become producers as well as consumers of content; opportunities for local growth though mass literacy.
According to him the best definition of ICT was given by Henry Kissinger in 2004 who said that the role of technology is to bridge the gulf between availability of information and the ability to use it.
There are technologies and backends to support this kind of system. The kind of taxonomy we get as skills for common persons may vary depending on various categories, for example, Bluetooth, WiFi, internet access, navigation, email should be in local languages. Then there are issues of security and certain ethics need to be followed. For example, security issues in payment of credit cards; content creation in audio, video and documents in local language; mobile ethics etc.
Smart enabled IT citizen's practicality can be seen through use of ICT. In Malappuram district the government pays for one person from every household to become IT literate the cost of which is paid to common service centres. Later on, they are used to post agricultural information and market produce. Now all districts of Kerala have adopted the Akshaya concept. Below Poverty Line people should be exposed to the use of CSCs, kiosks, egovernance citizen access, introduce livelihood oriented IT skills. Large number of people will need skills on how to use and manage social networking, citizen centric egovernance, NGOs, industries, and CSC associated services access. Participating in web group activities can be converted into a web group model. Example of community services include agriculture wherein one can connect all those services that are sufficient to provide services, create database, and connect all those organisations which have experts who are relevant to provide services.
ICT is for breaking barriers. So there is a need to build connectivity in terms of community enterprises. The Prof gave several examples of extended Janani Suraksha Yojana for mother and child welfare, health assurance services for old and poor, localizing and accessing primary education, introducing education passbook for every youth, agriculture virtual farm cooperatives for specific crop, e-krishi type market access services which can be readily be taught. There should be professional support for community staff. For this DOAECC should team up with other DIT wings and other concerned media.
The goal of community knowledge enterprises is to take information at the right time to the right place and to the right person in right context. So localising basic mass literacy means that besides using internet one must create web based activity, propose two levels of IT literacy- mass functional literacy and potential IT livelihood skills in information management for the local profession.
Prof Srivathsan concluded with Vivekananda's directive that if the poor cannot come to education, education must reach them at the plough, in the factory, everywhere. IT mass literacy should bootstrap the country and prepare every citizen for the emerging times for knowledge and economy, make India  a true exemplar and practitioner of knowledge society and economy.
Follow and connect with us on Facebook, Twitter, LinkedIn, Elets video