The key to the success of Aadhar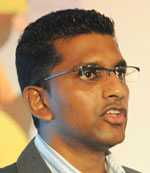 By Jai Kevin Kumar,
Global Solution Advisor,BMCsoftware
The Aadhar Eco-System comprises of various sorts of applications like enrollment application, authentication application, fraud detection application, administrative application, analytics and reporting application.
Handling Voluminous Data
The sheer volume of data to be handled and processed in an optimal response time on demand in a secure fashion poses unprecedented challenges to the entire technology stack. The 10 finger prints of an individual would occupy somewhere around 5MB space which would sum upto 6 Peta Bytes for the entire population of 1.2 billion. With 4 million enrolments per day coming in, a de-duplication check for all these records is a mammoth task which calls for capacity management, infrastructure & application availability, dynamic infrastructure management and application level provisioning.
Optimal Response Time
The 2-3 second response time of the system whereby over 1 billion records are to be compared for every enrolment for the speedy creation and retrieval of entries call for dynamic resource management, dynamic workload analysis and the due maintenance of SLAs to registrars.
The on demand elastic & dynamic provisioning of dataset and existence of distributed data centers require a judicious optimization between regional capacity vs. National demand; the upgradation and consistency across datacenters.
Security & Standards
The due application of security & standards in the domain of biometrics call for a dynamic audit and compliance as well.
Traditional IT Management
The typical traditional IT management often held together by paper-based forms, spreadsheets, email etc. is highly manual in nature which makes it difficult to scale, respond quickly and meet the commitments on a consistent basis.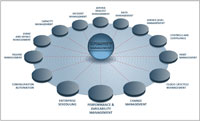 Automated IT Management
There is therefore a need for an automated IT management system to support a system of such a giant magnitude and complexity. An automated IT management system provides platform for effective business planning and operations. It provides a common and consistent way for sharing information across IT functions. It simplifies, standardizes and automates IT processes with oob workflows. Such a system enables IT to scale better and consistently meet expectations.
An automated IT management system can support aadhar enrollment errors deduction and remediation. It can automate and autoscale based on capacity trends during enrollment or authentication. It ca continuously auto-discover of infrastructure and associate it to aadhar applications. The orchestration of data and workflows across Aadhar Data Centers can be duly accomplished by such a system. Such a system ca monitor end-to-end transactions across enrollments, authentication, fraud detection and other applications. It can eventually plan future growth and define supply and demand strategies.