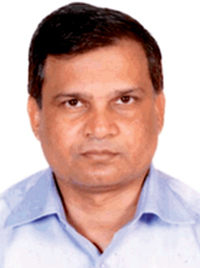 M K Yadava
Managing Director
AMTRON (Assam Electronics Development Corporation Limited)
Though e-Governance has taken off in full swing, but the bigger challenge is to reach out to the remotest areas of the country
National e-Governance Plan  has steadily evolved from computerisation of Government to citizen centricity, service-orientation and transparency. The govement's approach has the potential to enable huge savings in costs through sharing of core and support infrastructure, enabling interoperability through standards. A massive countrywide infrastructure reaching down to the remotest of villages is evolving, and large-scale digitisation of records has taken place  to enable easy, reliable access over the internet. The ultimate objective is to bring public services closer home to citizens, as articulated in the Vision Statement of NeGP. Some extensive work has been done by the issuance of digital certification in Assam, Tamlnadu and many other places which are a welcome change. This has made  communication more quick and in a way has  transferred government itself. There has also been reduction of intermediaries between the Government and citizen.
The Government of Assam created a separate IT Department to focus its thrust on the development of ICT in the state.  Assam Electronics Development Corporation (AMTRON) is responsible for implementing a range of ICT programmes on behalf of the government of Assam. One of its key projects is the Anundoram Borooah Award Scheme (ARBAS), which gives a free PC to every student in Assam who achieves 60 per cent or higher in their high-school leaving exams. But the major bottlenecks are trying to reach billions of citizens. With this ambitious endeavour, there is a need to  bring in transparency in everything.  Still lot more has to be taken care of. Power is an issue of major concerns haunting the remote areas. Connectivity becomes a problem as power supply is not available. Reaching out to all the people in one common language becomes a major problem. Government should also think of localization of content.
The intent of e-Governance is to accelerate the processes by automating them and making them accessible to the citizen. But this accessibility is in infancy still in most of the areas.


"ICT and e-Government implementation is most effective when appropriate skills and HR systems are developed in government and user organisations support it– Clay G. Wescott, Capacity Development & Governance Division, Regional and Sustainable Development Dept., Asian Development Bank, Philippines