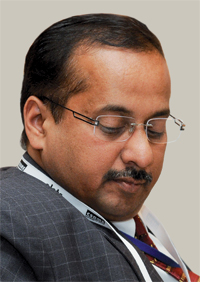 Venkat Patnaik
Head – Government Business
NIIT Technologies Limited
The next five years focus should be more on integration of various services and infrastructure platforms
Many things have changed in e-Governance in India but not with the desired results nor with the expected speed. Many programmes were announced during last six years  but remained in the vicious circle of EOI, RFP or a pilot and did not achieve the desired  scale of economics.
India, no doubt is moving towards becoming a powerful nation on world map. My personal opinion is that we may still continue focusing on micro-level things and lose focus on the goals planned through perspective planning. More and more citizens will be IT savvy but not because one is enabling people at village level but because villagers are moving towards cities. The next 5-6 years focus should be and will be more on integration of various different services and infrastructure platforms which are presently working in silos and not able to talk to each other. Going forward, one may end up having "cloud" as the suffix or prefix to all ICT based services. Government institutions will be forced to move towards paperless offices. Judiciary will have a major overhauling in terms of people, process, speed etc. Similarly education and Health sectors will look different as ICT will play a critical role in their transformation.
The processes initiated or created, intended for large participation of society did not happen. The outcome is still driven by the large, big and the powerful entities. Hence, the mismatch or the digital divide is still continuing. In short, either the wrong stakeholders are occupying the right place or the right people are made to sit at wrong places. This needs corrections.
We must ensure that the basic infrastructure reaches the last mile for digital connectivity, electricity and financial transactions. There is need of tax holidays for private entities for providing citizen services at the village level. Last mile employability, wherever there is scope, should be programmed in all initiatives. Citizens should be taken on board at operational level decision in each and every citizen related projects and programmes.


"In most advanced countries, power utilities have made major gains in terms of productivity, efficiency, reliability and commercial management through the use of modern IT tools"