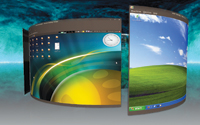 Since cloud computing is the buzz word today, the trend towards adoption of private cloud and virtualisation is going to increase over the next few years, as unless you virtualise, you cannot move towards private clouds
In the 1960s, when Christopher Strachey, the first Professor of Computation at Oxford University and leader of the Programming Research Group, brought the term virtualisation to life in his paper, 'Time Sharing in Large Fast Computers,' little did he realise that forty years later there will be an intense interest from governments and enterprises to implement the virtualisation technologies in their environments.
Virtualisation concept is understood to have been first used in the 1950s and 60s by logically partitioning mainframe computers into virtual machines. These partitions allowed mainframe computers to perform multiple tasks and applications at the same time.
During the 1980s and 1990s, the use of desktop computing and x86 servers became more popular. Due to the high cost of their maintenance, management and insufficient disaster protection, a need was felt for x86 platform virtualisation. In the late nineties virtualisation solutions came up, which transformed x86 systems into a fully isolated shared hardware infrastructure. Today, the virtualisation technology is being deployed in server, storage, networking, as well as in client-server environments.
Leveraging existing resources
---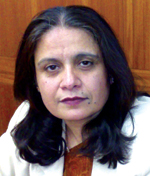 Neeta Verma
Senior Technical Director, Data Centre and Web Services Division, National Informatics Centre
"Applications are either CPU or memory intensive. With virtualisation, one can strike a balance between the two and make efficient use of existing IT infrastructure."
---
Organisations are increasingly looking at virtualisation as one of the cornerstone technologies. With virtualisation, they can simplify their energy costs and increase server flexibility, while simultaneously increasing availability, security, and compliance infrastructure, and by deploying multiple virtual servers on one physical server. As Neeta Verma, Senior Technical Director, Data Centre and Web Services Division, National Informatics Centre puts it, "Using virtualisation technology, organisations are able to meet their service objectives with less amount of hardware." She adds, "In an organisation, applications are either CPU intensive or memory intensive. With virtualisation, one can strike a balance between the two and make good and efficient use of the existing IT infrastructure."
Virtualisation makes an organisation very agile. Using virtualisation technology, an organisation can go live in much less time, since it reduces the need to buy hardware and software and saves the deployment time.
---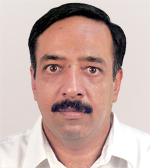 Vivek Malhotra
Vice President, General business, North and East regions, IBM India South Asia
"Virtualisation is the engine of green data centre. It offers a rapid return on investment through decreased management costs and increased asset utilisation."
---
Power and cooling consumption too remain contained in a virtualised environment. Vivek Malhotra, Vice President, General business, North and East regions, IBM India South Asia, refers to virtualisation as the "Engine of the green data center." According to Malhotra, "Virtualisation offers a rapid return on investment (ROI) through decreased management costs and increased asset utilisation. Organisations can enhance system availability and lower the cost and complexity of disaster recovery solutions by virtualising resources to get a flexible and dynamic infrastructure. Also, virtualisation supports the pooling of resources that can be centrally managed through an enterprise hub to better support dynamically changing business requirements."
---

Advantages of virtualisation
Server consolidation and containment: It reduces server sprawl by deploying systems into virtual machines

Rapid provisioning: It enables quick provisioning and re-provisioning of servers

Standardised desktops: It can provide standardised enterprise desktop environments hosted on servers

Business continuity: It reduces the cost and complexity of business continuity by encapsulating systems files that can be replicated and restored onto any target server

Legacy application re-hosting: It can help migrate legacy operating systems and software applications to virtual machines running on new hardware for better reliability
Source:http://www.ece.neu.edu/conf/isca2006/docs/Herrod-keynote.pdf
---
A growing market
All these benefits are leading to increased adoption of virtualisation technology both by enterprises and government globally. IDC predicts the virtualisation services market to reach $11.7 billion in 2011. This has been partly triggered by the recent economic recession, which prompted many organisations to leverage the consolidation benefits of virtualisation technology to lower short-term capital costs. IDC predicts that the most successful vendors in the virtualisation market will be those who can automate the management of an ever-escalating installed base of virtual machines as well as provide a platform for long-term innovation that enables customers to continuously make improvements to their operations.
According to a recent survey by Forrester Research of 2,600 technology decision-makers in the US and Europe, a majority of organisations has adopted server virtualisation, and a small but growing number of firms are piloting cloud computing initiatives. Gartner forecasts that the spending on x86 server and desktop virtualisation software technologies is slated to grow at a compound annual growth rate of 23.7 percent through 2014.
Flavours of virtualisation

Organisations that are aiming to lower their total cost of ownership and increasing their IT efficiency are driving the virtualisation market. Aman Munglani, Principal Research Analyst, Gartner, says, "The big trend in the last three years is towards X86 or server virtualisation. The reason for this is that a lot of organisations had a very low utilisation rate of servers and they looked at virtualisation to increase the utilisation of their servers." Historically, if we look at the utilisation rate, it is 20-30 percent. Virtualisation is expected to increase this to 60-70 percent.
In India, large enterprises, including the banks, telcos and big manufacturing companies started with virtualisation of their server infrastructure. Now, the SMB segment is also looking at virtualisation in a significant way. The objective
is pretty much the same—to increase the utilisation rate of servers.
Storage virtualisation is very nascent in India. Munglani of Gartner illustrates the rationale behind this, "The reason for lower adoption rate of storage virtualisation is that it is very expensive, if you take into consideration the storage cost involved. At the same time, not too many organisations really need storage virtualisation as they have not reached the level of complexities
in their environment to use storage virtualisation in a big-way. For these organisations, consolidation is a much better bet than storage virtualisation."
Virtual desktop infrastructure (VDI) is going to be the next big thing in virtualisation, though not much is happening in VDI. "Given the fact that organisations would like to control the outflow of information to the employees, VDI virtualisation is the best bet to consider," Munglani says. Since cloud computing is the buzz word today, the trend towards adoption of private
cloud and virtualisation is going to increase over the next few years, since without virtualisation one cannot move towards private clouds.
State of adoption in the government
The key drivers for virtualisation are optimal usage of infrastructure, sharing of best practices across applications, provisioning of multiple platforms to meet different user requirements, reduction of cost and an increased agility in terms of infrastructure expansion. The drivers specific to government include leveraging existing investments in infrastructure, proliferation of e-Governance
standards across multiple applications in different government departments, reduction in incremental costs, and scalability of infrastructure.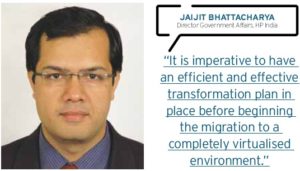 For e-Governance, virtualisation offers integration management with automated problem resolution, end-to-end management of security, and budgeting based on actual usage of data. Full blown virtualisation can help the
government to reduce duplication of efforts and increase effective utilisation of resources. Virtualisation also solves some security issues related to data at the user level. Since all data should reside in the backend in a fully virtualised environment, the scale and frequency of data compromise at the user level can be reduced as no bulk data will reside on the end-user PC. In addition, other process implementations such as restricted use of external devices for data transfer, such as USB drives, and enforcing all bulk data transfer to within
the government network will significantly enhance data security.
However, Jaijit Bhattacharya, Director Government Affairs, HP India, recommends proper planning before migrating to a virtualised environment. According to him, "It is imperative to have an efficient and effective transformation plan in place before beginning the migration to a completely virtualised environment. The ideal approach in this regard would be to build a road map for virtualisation adoption and then proceed with the same."
The adoption level of virtualisation by governments is still low. Most government agencies have already looked at x86 virtualisation in a big way, but the level of infrastructure virtualisation is fairly low, to the tune of 10-20 percent, as per Gartner research. Munglani of Gartner is optimistic about adoption of virtualisation technology in government. He says, "The trend towards spend on virtualisation by governments is likely to continue. I think it has pretty much reached [the stage] that governments in India are considering virtualisation as a must-have technology. Among a lot of CIOs in the government, the level of interest in virtualisation is very high. Some have adopted it, and some are yet to adopt it."
A good amount of work is happening in the State Data Centres (SDC), which are meant to host e-Governance applications. SP Singh, Senior Director, Department of IT (DIT), Ministry of Communications and IT, and Incharge
of SDC mission mode project considers SDC as an opportunity to adopt virtualisation. In fact, virtualisation is now becoming a very acceptable methodology in SDCs. According to Singh, "The DIT is now considering making all the SDCs virtualisation ready so that the existing infrastructure could be
optimally utilised. We have seen that many of the applications may not be using entire computing power of the server. So it becomes all the more important that the server is optimally utilised. For this, virtualisation becomes very important."
Virtualisation in SDC could be at the server level, storage level, or at the applications or database level. Singh adds, "We would be looking initially in SDC at server and storage virtualisation and the associated implementation methodologies for the same. Virtualisation technology adoption in SDC will also reduce.
DIT's requirement of the line departments in the states to bring in their own infrastructure in the data centre. So essentially virtualisation enables optimal utilisation of the existing resources put in SDCs."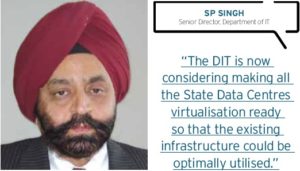 Talking about challenges, Singh says, "The challenge will come only if different linedepartments in the states are asked to share their infrastructure. That is where the the state IT departments, or the composite team for the data centre will have to get in the buy-in of the line departments to come on to the virtual serversfor their applications."
Currently, not many states have started using virtualisation technology. "To give a concerted thrust to virtualisation in SDCs, the DIT has undertaken an exercise and has come up with an implementation strategy to bring in virtualisation in SDCs across all states and union territories as part of enhancement of SDC. The work is under progress and we expect that within next two months, this will be finalised and sent for the technology selection," adds SP Singh.
The Cloud factor
As far as other government departments are concerned, a lot of e-Governance applications are in the process of building. The government is thinking in terms of simplifying the governance and making it transparent by launching various IT initiatives. This will lead to a large number of such projects rolling out in the next one or two years. Bhattacharya of HP feels, "One of the key issues for the government is to attract IT talent to work dedicatedly for the government within the constraints of the government. This is a difficult proposition given that the market demand for such professionals is very high. Virtualisation helps in reducing the need for a large number of IT people, thus easing a key constraint of the government."
Virtualisation is picking up in the government and is going beyond server virtualisation towards storage and desktop virtualisation. Prashant Chaudhury, Manager, Technical Sales, CA Technologies, opines, "Considering the current state of infrastructure deployment in the government and the possible scenario in the next four to five years, the server and the OS virtualisation may be most relevant to the government. However, a full-blown virtualisation strategy may not be very relevant now because technologies have emerged faster than the current pace of infrastructure deployment, both in the government as well as enterprises. It is time now to directly plan for a cloud platform instead of taking a step-by-step approach of server consolidation (through virtualisation), data center automation and cloud enablement."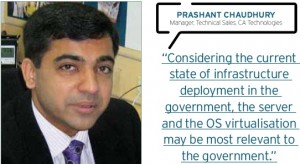 According to Chaudhury, the ideal approach for the government would be to leverage its existing infrastructure as well as the infrastructure that is going to be deployed in the short term by directly developing a cloud platform over the infrastructure. This will automatically provide all features as well as benefits of virtualisation and automation. "This way, government will be able to quickly offer its infrastructure (in the form of either infrastructure or platform or application) as services to the user departments and citizens. The good part is that the cost of a complete cloud platform is very competitive and it makes a complete economic sense to go for a cloud platform," he adds.
Areas of concern
There are still areas of concern when it comes to hosting mission-critical applications in a virtualised environment. "When it comes to mission- critical applications, the parameters like security, disaster recovery, back-up and storage are issues of concerns. And one should not lose sight of these while adopting virtualisation," cautions Singh. A dedicated infrastructure is almost always built whenever it comes down to hosting mission-critical applications such as income tax or railways reservation.
According to Verma of National Informatics Centre, most of the virtualisation maintenance specific software, barring few, is vendor specific, so much so that user needs to learn different vendor virtualisation interfaces. Thus, she quips, "There is a need for some standardisation in the interface as far as virtual server configuration and management is concerned".