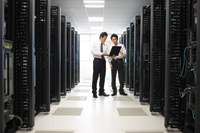 Given the colossal scale of IT in the Aadhaar project, virtualisation will kick in savings of an unprecedented magnitude
The Unique Identification (UID) project's objective is to provide unique numbers to all residents of India. Apart from providing identity, UID, also known as Aadhaar, will enable better delivery of services and effective governance. In becoming a single source of identity verification, it could enable the easier rollout of services such as bank accounts, passports, driving licences, and LPG connections. Proof of identity and greater financial inclusion could lay the foundation for checking fraud and corruption, avoiding duplication and targeting intended beneficiaries in a range of programs such as the NREGS and the PDS.
Quick Facts
There are a broad range of clients, applications and devices:
The largest existing biometric database is of 120 million in the US. UIDAI is doing 10 times that number, at 1.2 billion

UID's biometric de-duplication algorithm will need to check a fingerprint against those of 1.2 billion people to ensure uniqueness, with minimal false acceptance rate
A task like no other

The Unique Identification Authority of India (UIDAI) has been created as an attached office under the Planning Commission. Its role is to develop and implement the necessary institutional, technical and legal infrastructure to issue unique identity numbers to Indian residents. UIDAI is expected to provide UID to around 60 crore people in four to five years.
The scale and complexity of the project is unprecedented, globally. Apart from operational challenges like how will UID be allocated to footpath dwellers and how it will handle the issue and status of illegal immigrants, the UIDAI will also need to tackle technology ramifications of the scale of the project.
Some of the technological issues that this project would need to address are handling 1.2 billion records, compiling the largest biometric database to date, providing privacy and security to records, and accurately capturing biometric data. It will also be providing 1:N biometric de-duplication and handling one million enrolments per day, putting together a storage architecture that can help transfer more than 5TB of data per to CIDR for thousands of enrolment stations and handling above 100million authentications per day.
Also, the sheer scale of the project itself throws up some unique problems. For instance, for each individual who is enrolled, the associated data is estimated to be at least 10 MB. Multiply it 1.2 billion times, which is the population base that UID would cover, and the requirements of storage, processing power and algorithm design would be mammoth.
Technology innovation to the fore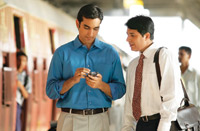 Cisco has shared with UIDAI, the company's experience in addressing similar issues in projects across the world. Cisco Datacenter technology and architecture were chosen by UIDAI to be part of the Engineering Datacenter. Virtualisation provides the answers to some of the challenges faced by UIDAI for the UID project.
Reduces IT sprawl: It helps centralise and consolidate IT assets across the network. This is especially important as the huge savings in cost will be significant for the UID project.

Utilises storage and server better: Consolidating and centralising the server and storage environment is a key strategy to achieve higher utilisation, better performance and lower costs.

Manages storage growth better: With the coverage of people for UID expected to increase exponentially, it will be important to manage and store data intelligently, for the UID project to make economic sense.

Allows just-right provisioning of resources: With server virtualisation, UIDAI will be able to reduce demand for data centre resources, and deployment of new servers

Faster deployment of applications: Being a unique initiative that has no precedents, it will be imperative to deploy new application and IT business initiatives on the fly.

Access the desktop anywhere: Given the nature of the exercise, it is important to have infrastructure that allows access to distributed resources in the face of sudden and unpredictable events.

Low energy consumption: With awareness of green computing on the increase, UIDAI will also benefit from resource management and energy efficiency.
---
Consolidating and centralising the server and storage environment is a key to achieving high utilisation and performance and lower costs
---
The project needs to address issues like handling 1.2 billion records, capturing and compiling huge biometric database, and providing privacy and security to citizen information
---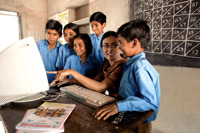 As the UIDAI embarks on an ambitious initiative, Cisco has contributed significantly to the technology backbone. Technology innovation, in the form of virtualisation will provide the UID project the head start it needs.
Contact
Cisco Systems India
Birla House (East Tower)
7th, 8th and 9th floor
25, Barakhamba Road
New Delhi – 110001
Phone: +91 11 4261 1000
Fax: +91 11 2376 6126
www.cisco.com