On-board security, load balancing, et al add punch to routers while 10-gigabit capacities are more common in switches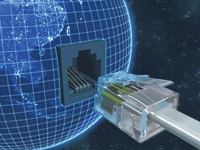 By Gayatri Maheshwary
There has been a sustained demand in India for high-performance networking solutions, managed connectivity and network services and network security. Even during the recession, the demand stayed, which ensured that the market was only mildly impacted, compared to some other IT market segments like PCs and servers, which were severely impacted.
The growth is driven by the benefits seen from a centralised computing environment wherein a host of applications can be used by various functional groups across an organisation in multiple locations. These benefits are being understood and appreciated not just by enterprises but also by governments.
As per Springboard Research estimates, the market for enterprise networking equipment in India was estimated to be around $1.2 billion in 2009 as against $1 billion in 2008. This figure is likely to reach $1.7 billion by 2012, corresponding to a CAGR of 15 percent through this period. Gartner's estimate is that the worldwide market contracted by 19 percent over 2008, but the Asian market fared comparatively better and shrunk only by 9-10 percent in 2009 over the previous year.
Modern data networks are a logical outcome of the evolution of computer and communications technologies. They are an effective means of transmission and exchange of information over long distances. Various data encoding and multiplexing techniques are used for secure and reliable delivery of data over a network.
---
Various data encoding and multiplexing techniques are used for secure and reliable delivery of services such as voice-over-IP and videoconferencing
---
On the hardware side, networking equipment typically includes routers, switches, hubs, gateways and access points, while in terms of software and services, network management is a key market segment.
Router: A router is an electronic networking device that interconnects two or more computer networks, and selectively interchanges packets of data between them. The routers have today matured into integrated devices. With key market segments like service provider and government expected to increase spends in the coming year, the router market should see robust growth.
Ongoing developments in routers include multi-service functionalities being integrated onto these devices. These range from security features, application add-ons, and value-added features like delivery of voice. High-end routers, used by larger organisations, are also efficient and optimised hardware and software platforms that guarantee embedded security, VPN and high-speed performance.
Routing devices also enable optimal delivery of services such as voice over IP, videoconferencing, application acceleration, and network analysis. Application acceleration has become a necessity for many verticals and routers have a very important role to play in this regard. Routers have matured over the years and have become intelligent network devices. They now have the capability to integrate features such as content processing, VPNs, firewalls and load balancing. Increasing network adoption in verticals like banking, financial services and insurance (BFSI) and telecom have fuelled the router market in India. All these segments require extensive data traffic to be handled on a day-to-day basis.
Switches: Switches are a core component of networking. They increase the overall capacity and speed of the network, but should not be seen as a cure-all for the network issues. Given that the use of bandwidth-hungry applications and services is increasing, prospects for the Ethernet switch market remain very robust. As new networks require higher security and additional features, equipment manufacturers have the opportunity to deliver faster and more intelligent switches.
According to IDC, as against the usual trend, the first quarter of CY10 was an exceptionally good quarter for the Ethernet switch market. The growth in the market can be seen as driven by factors such as the growth of voice and video over IP, network-based businesses and applications, network-attached devices, virtualisation, and cloud computing. The negative impact of the macro-economic conditions of 2009 is subsiding. According to IDC, market data for the first quarter of 2010 point out a remarkable 111.2 percent year-on-year increase in revenue for the 10 gigabit Ethernet switch segment, with the segment crossing the $1 billion revenue mark globally to touch $1.15 billion.
From a vendor perspective, Cisco accounted for the biggest gain in Ethernet switch revenue and its market share increased to 68.5 percent, up from 64.5 percent in first quarter of 2009.
Ethernet switch market revenue grew by 32.7 percent year-over-year during the second quarter, helped by the growing popularity of applications such as virtualisation and voice over IP, according to IDC's Worldwide Quarterly Enterprise Networks Tracker.
Hubs: A hub comprises a number of ports, each of which connects a network cable. Small hubs network up to four computers. They contain four to five ports, the fifth one being reserved for an uplink to another hub or network device. Larger hubs can contain eight, 12, 16, and even 24 ports.
Network management: The server hardware market continued to grow over the period 2008- 2010 with business expansion and replacement of legacy systems. However, the market growth is slowing down as compared to the period 2004-2006, primarily due to increasing interest in virtualisation and server consolidation.
In general, ease of network management, efficient resource utilisation, office automation and improved troubleshooting are the major drivers for the system and network management segment. Sectors such as banks, IT services and communications need a secure network to maintain the server traffic from their internal as well as external sources.
As networks become more reliable and businesses depend on them for more of their core business needs, it is important for IT managers to put into place networking equipment that not only meets or exceeds their current needs but also provides the scalability to meet bandwidth and functionality demands down the line. Driven by the economic downturn, businesses are not slashing budgets outright but rather taking a more holistic view that requires investments to be competitive on the initial purchase price, as well as avoid financially encumbering the business in the future. In a study of mid-market organisations, IDC estimated that organisations were able to achieve a return of 473 percent, on their investment while the payback period was 5.7 months.