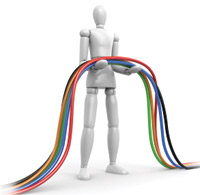 A standards-based approach will keep today's cabling installations geared to meet tomorrow's application needs
The recent economic slump worldwide had led organisations to cut costs, including their IT spends. Yet, some organisations saw the longer-term importance of building a robust and reliable IT infrastructure and deployed intelligent cabling solutions.Intelligent cabling is more expensive than traditional cabling, but then the benefits can outweigh investments.
In an intelligent networking environment, the system automatically detects items connected to the physical network, and correlates them with a log of connectivity changes and record of device locations. Often, inferior cabling systems are the main cause for network downtimes, so installing standards-compliant structured cabling systems can eliminate much of the problem.
Structured cabling divides the entire infrastructure into manageable blocks and then attempts to integrate these blocks to produce high-performance networks. It is a system that provides a structured approach to the entire cabling system in a premise. Overall the cabling system in an organisation includes six subsystems.Entrance facilities, where the building interfaces with the outside world. Equipment rooms, which host equipment that serve the users inside the building.
Telecommunications rooms, which house telecommunication equipment that connect to the backbone and the horizontal cabling subsystems.Backbone cabling, which connects the entrance facilities, equipment rooms and telecommunications rooms.Horizontal cabling, which connects telecommunications rooms to individual outlets or work areas on the floor. Work-area components that connects end-user equipment to outlets of the horizontal cabling system.
A multitude of cabling solutions is deployed today, depending on the requirement.  These range from Cat 5e to Cat 6a in copper and from OM1 to OM4 in fibre, addressing bandwidth needs of up to 10G. For very high-speed, high-bandwidth networks, Cat 6a has been gaining ground. Fibre optic cabling installations have also increased, but their use is mostly limited to backbone cabling.
Structured cabling standards

Structured cabling design and installation is governed by a set of standards that specify wiring of data centres, offices, and apartment buildings for data or voice communications, using cables such as Cat 5e or Cat 6 and modular sockets. There are structured cabling standards used internationally published by ISO/IEC. The body that sets standards for structured cabling system is the Electronic Industry Association /Telecommunication Industry Association (EIA/TIA). The EIA/TIA 568A standard defines multiple categories or upgrading of structure cabling system performance.
Standards define how to lay cabling in a star formation such that all outlets terminate at a central patch panel, where it can be determined exactly how these connections will be used. Each outlet can be 'patched' into a data network switch (normally also rack-mounted alongside), or patched into telecoms patch panel which forms a bridge into a private branch exchange (PBX) telephone system, thus making the connection a voice port. Cabling standards demand that all eight connectors in Cat5, Cat 5e and Cat 6 cables are connected.
---

Advantages of structured cabling
Consistency: An SCS solution can ensure that the same cabling system supports data, voice and video.
Support for multi-vendor equipment: A standards-based cabling system supports applications and hardware even with a mix and match of products from different vendors.
Simplified moves, adds and changes: Structured cabling systems can support any changes within the systems.
Simplified troubleshooting: With structured cabling systems, problems are less likely to down the entire network, as they are easier to isolate and fix.
Support for future applications: Structured cabling systems provide for future deployment of applications like multimedia and video conferencing in a non-disruptive manner.
A growing market
Report Buyer, business intelligence agency for major industry sectors, has projected that the worldwide structured cabling systems (SCS) market will grow from $15.3 billion in 2008 to $29.1 billion by 2013, at a compound annual growth rate of 13.7 percent.
FTM Consulting Inc. in its April 2010 report titled "Structured Cabling Systems Vertical Market Analysis," says the global SCS market is forecasted to clock a CAGR of 13.1 percent through 2015. This study of the SCS market includes an analysis and forecast of SCS spending by 17 different vertical markets, such as healthcare, retail, manufacturing, finance and insurance.
An interesting finding from this study is that healthcare was the leading vertical market for SCS in 2010. With a spending of $680.7 million, the healthcare segment accounted for 12.9 percent of the total SCS market in 2010. After healthcare, state government was the second largest contributing sector, with 11.8 percent share, followed by the retail at 11.6 percent. The other two leading sectors included professional and technical services at 8.7 percent and manufacturing at 8.4 percent. These five verticals accounted for more than half of the SCS market in 2010.
Deployment trends
As organisations quickly outgrow their low-density point-to-point links, many plan to leverage cost- and space-saving technologies in order to simplify cable infrastructure, enable business growth, reduce power requirements, and support higher port speeds and distances. By moving from traditional low-density, duplex patch-cord cable solutions to high-density, structured cabling solutions, organisations can implement the physical layer in a much more manageable and flexible manner while streamlining data center reconfigurations and simplifying management.
These structured optical cabling solutions improve performance across both short and long distances while reducing bulk cable volume by more than 75 percent. As a result, these solutions can help organisations simultaneously meet the performance, scalability, and efficiency needs of their next-generation data centres. Fibre-to-the-x (FTTN, FTTH, FTTC, FTTK) is the next big thing in SCS, and is slated to promote usage of optical fibre in place of the usual wired local loop used for last-mile telecommunication.
FTM Consulting Inc. undertook an extensive analysis of SCS trends in 2009, examining and forecasting the use of fibre and copper cabling across major application segments such as local area networks, data centres, and voice over Internet protocol (VoIP). A finding was that copper cabling, which accounted for 76.8 percent of the total market in 2009, would account for 79.1 percent of the total SCS market in 2014. Fibre cabling will continue to make inroads into the data center segment, while copper cabling will be used extensively in future VoIP systems. This is because of the limited distances to be spanned in data centres, while VoIP systems need to cover longer distances, and also nee separate, horizontal cabling between telecommunications rooms and VoIP phones. The VoIP cabling application is reminiscent of copper cable's growth in the early LAN market, when copper cabling was strung between the telecommunications rooms and the desktop computers.

FTM analysis indicates that fibre cabling will increasingly be used in data center applications and remain the mainstay in the enterprise's backbone network. At the same time, copper cabling will continue to be the dominant cabling for LAN applications.
There has been some industry opinion that wireless networks will eventually displace all physically structured cabling system networks. However, FTM Consulting believes that this will not happen, and in fact, wireless will provide an incremental opportunity for SCS deployments.