The route to a green data centre is marked by complex issues that require an understanding of hardware and software and a good understanding of power, cooling and networking.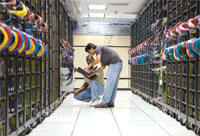 The National e-Governance Plan (NeGP) has taken a big leap from government-centric to citizen-centric services. State Data Centre (SDC) is a key component of the NeGP. SDC is envisioned as a shared, reliable and secure infrastructure for hosting and managing e-Governance applications of a State and its different departments. It provides functionalities such as central repository of the state, secure data storage, online delivery of services, citizen information and services portal, state Intranet portal, disaster recovery, remote management and service integration.
With these shared service centres implemented and managed centrally, individual departments can now focus more on service delivery rather than on issues related to infrastructure.
In the last three months, 10 state governments–Tripura,Maharashtra, Haryana, Orissa, Meghalaya, Puducherry, Gujarat, Sikkim, Nagaland and Rajasthan– have floated tenders for design, site preparation, supply, installation, commissioning, maintenance and operations of SDCs for a period of five years . This number is bound to increase as many states are in advanced stage of data centre planning. All these deployments provide an impetus to e-Governance in these states.
"If the focus is immediate power reduction, the first step is to enable energy saving features in servers. The second is to take a look at virtualisation."
---
Paul Marcoux
Vice-President, Green Engineering, Cisco Systems
Drivers for Green Data Centres

However, shortage of power has emerged as a key problem in deployment of an efficient data centre. With acute power shortages in most states, there is a crying need to use power judiciously. This is compounded by the trend of rising cost of electricity.
Along with consciousness of energy cost is an increasing recognition that man-made greenhouse gas emissions are a major contributing factor to global warming. Governments, like industry and the society at large, have an important new agenda: tackling environmental issues and adopting environmentally sound practices.
Reducing power consumption in Data Centres is, therefore, a priority for state governments. Green Data Centres are the answer as they consume less power and provide significant environmental benefits. Energy saving features in technology products and virtualisation are the key to unlock profitability and sustainability of data centres.
The Green Channel

A green connotation to a data centre always means that the facility has either been retrofitted or initially designed to mitigate its power consumption through the strategic application of available technologies. The long-term goal of the green data centre operation is to achieve carbon neutrality.
The route to a green data centre is marked by complex issues that require an understanding of hardware and software and a good understanding of power, cooling and networking.
Blade Vs Rack

Blade form factors utilise power and cool more efficiently than stand alone rack unit servers, per work unit performed.
Since data centre efficiency is in part a cumulative calculation of how disparate IT infrastructure interoperates with supporting facilities, blade capacity and density requirements must be aligned with facility design to achieve maximum efficiency benefits
Green Design

Setting the right benchmarks to be monitored is a critical success factor in energy efficiency. For example, adhering to a watt density per rack helps give the Data Centre manager more control over the standard operating environment (SOE) per rack. From a planning and deployment standpoint, this variable is manageable building block that can be used in a zone-based approach.
Cooling IT Right The largest consumer of power and the most inefficient system in the Data Centre is computer room air conditioning (CRAC). Almost half the power in Data Centre goes to cooling. For example, if a server requires 100 watts of production power, a CRAC unit would require between 180 and 250 watts of power to cool the server.
Examining air flow in the Data Centre typically uncovers many simple fixes that can increase the efficiency of the entire cooling system.
Monitoring is Key

Facilities infrastructure such as Uninterruptible Power Supplies (UPSs), Computer Room Air Handlers (CRAHs), temperature and humidity monitors, fire suppression, physical security, power distribution units (PDUs), and branch circuits, when monitored and managed in an IP-based network, enables Data Centre managers to measure power efficiency.
The Network Effecte
When considering network architecture, the planner should not confine the scope to switches, routers, load balancers, and firewalls and should extend it to gather as many relevant data sources as possible to monitor power efficiency.
These sources include monitoring of power, temperature, and humidity; UPS, branch circuits, PDUs, specialised sensors and others that are located either inside or close to the data centre. In addition to using the network, efficiency opportunities in network design to support different services are significant.
Convergence of services provided by standalone components into a more ubiquitous network-based platform will enhance asset utilisation (server and storage utilisation).
Cisco Shows the Way

For Cisco and its partner organisations bringing the much-needed expertise to design, operate and manage an energy efficient, cost effective data centre, is the key.
Cisco Energy Assurance Program (EAP) allows an entity to estimate the energy efficiency of operations and identify energy efficiency gains that can help financially, and with sustainability in mind. EAP comprises:
Expanded planning tools for cost and carbon reduction

Learning centre

Interactive reference designs

Collateral and articles that discuss energy efficiency
Cisco Efficiency Assessment Services are delivered jointly by Cisco Advanced Services and qualified Cisco partners with extensive expertise in data centre facility requirements. Some components:
Evaluation of physical Data Centre infrastructure, including the overall site, power, cooling, physical security, and operational practices

Establishment of efficiency benchmarks for facilities and IT operations

Architectural assessments to improve Data Centre and enterprise-wide operative efficiency
Built to Last

In the march towards e-Governance, it is important that States take cognizance of sustainable development. It has been proven that improving the efficiency could possibly defer the upgrade or expansion of the data centre. With rising costs of power, States should thus strongly consider green SDCs.