Managing the prisoner record and monitoring of prisoner / visitor was always difficult since most of the records were normally maintained manually, so the concerned authorities were required to  go through all the registers to find out the details and status of the inmate as well as of the visitor.
LANKA GATE – OPENING ENDLESS OPPORTUNITIES
Information and Communication Technology Agency of Sri Lanka (ICTA) which has been established to implement the eSri Lanka development initiative, launched one of its major e-Government infrastructure project called Lanka Gate recently.
Lanka Gate is a middle-ware software infrastructure that enables application level integration across government organisations and electronic service delivery to citizens based on service oriented architecture (SOA) principles. Lanka Gate contains all necessary components to ensure proper integration, interoperability, security, and electronic payments. The other key component in Lanka Gate is the all important single window for e-Services, the 'Country Portal'.
TAKING THE FOSS PATH…

The plan for Lanka Gate which has been formed for years took a different turn when Dr Shahani Markus Weerawarana became the fi rst CTO of ICTA in 2006. Being an ardent fan and one who understands the benefi ts of Free and Open Source Software (FOSS), she conjured up a FOSS based recipe for Lanka Gate.
The Lanka Gate primarily operates over Lanka Government Network (LGN), the network infrastructure that connects government organisation at the networking layer. Public key infrastructure (PKI) scheme of Lanka Gate uses digital certifi cates issued by LGN Certifi cate Authority (CA), which is the Certifi cate Authority established for the government within the Sri Lankan legal framework. The highly scalable architecture of Lanka Gate is capable of supporting a very high number of e-Services. Currently it supports the e-Vehicle Revenue License (Road Tax) project, which is also a complete FOSS production.

FOSS IN SOA FOR SERVICE DELIVERY

The SOA principles implemented by Lanka Gate facilitate seamless service orchestration in providing citizen friendly services which would have not been possible in an ordinary architectural approach.
The use of FOSS technologies has contributed a lot to the stability, scalability, security and low TCO (Total Cost of Ownership) of the solution. It has used the following FOSS technologies to build this marvelous piece of software.
1. Apache Synapse
2. WSO2 Governance Registry
3. Liferay Portal Framework
4. Apache Axis2
5. MySQL
6. Apache HTTPD
7. Nginx
Lanka Gate Country Portal is published under http://www.srilanka.lk and http://www.lk. It currently provides basic services such as weather, train schedules, crop prices in addition to the e-Revenue License e-Service. Localisation, which is a major benefi t facilitated through FOSS technology is utilised to maximum by Lanka Gate project where every service is provided through Sinhala, Tamil and English.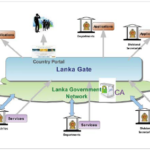 Lanka Gate has also enabled its mobile platform to provide the government information services through 1919 which is the common number used for Government Information Centre (www.gic.gov.lk) to provide all government information. Therefore the text message service provided by Lanka Gate has been branded as "1919 – GovSMS".
The e-Revenue License e-Service is currently the only service available in Lanka Gate which facilitates electronic payments (Credit/Debit card payments)for a government service Ministry of Finance of Sri Lanka has restricted the use of credit card payments only for eRevenue License project until June 2010. Hence ICTA is incapable of releasing any more eService until this  restrictions is removed.

VENDOR NEUTRAL
Sri Lanka, which boosts a very high FOSS technology capacity, has many local companies who thrive in FOSS based application development. ICTA has selected Virtusa Corp. which is a Sri Lankan based global company to develop Lanka Gate.
However, due to the openness of the software any competent party should be able to provide maintenance services for the software. For example, ICTA has selected 3i Infotech India as the partner to provide application integration services for Lanka Gate.
Therefore, ICTA is happy and proud to declare that it has built its own SOA based middle-ware infrastructure by using the available FOSS products and managed to reap the following benefi ts due to reliance on FOSS.
1. Cut down of development cost from USD 4 mn to USD 0.3 mn
2. Cut down the development time from 2 years to 6 months
3. Avoid vendor locking
4. High level security due to openness of the source code
5. Very high fi nancial sustainability due to low TCO.
GOV 2.0 THROUGH ENTERPRISE LEVEL FOSS PRODUCTS

The use of cutting edge FOSS technologies has enabled ICTA to leapfrog and achieve the following objectives of Gov 2.0.
1. Provide citizen services based on requirements of individuals such as customisable user space in the Country Portal
2. Provide "one-stop" services through meshing up services in collaboration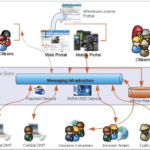 with public and private sector organisations by achieving a high level of interoperability
3. High level citizen participation through citizen forums
4. Channel all information and services through mobile platforms
ICTA intends to build its own public software repository (http://www.govforge. lk) to release the entire collection of FOSS applications under a Free License. This is a very good news for countries/states that plan to build their own middle-ware infrastructure as now anybody can download the Lanka Gate software and customise to suit its own needs with minimum effort, time, and money.
WASANTHA DESHAPRIYA PROGRAM DIRECTOR, RE-ENGINEERING GOVERNMENT, ICTA, SRI LANKA

Wasantha Deshapriya obtained a B. Sc. from the University of Kelaniya, a Postgraduate Diploma in Computer Technology from the University of Colombo and an M. Sc. from the University of Reading, UK. An SLAS offi cer with public sector experience for more than 20 years, Wasantha has been involved with government computerisation projects for over 15 years and has been instrumental in the delivery of Public Administration Circulars by email and web from 1999 onwards.
SANJAYA KARUNASENA, HEAD OF TECHNOLOGY, ICTA SRI LANKA

Sanjaya Karunasena is an Enterprise Architect with over 12 years of industry
experience. Sanjaya has signifi cant architecture and development experience in product development and enterprise software development, including experience in the retail, telecommunication, and e-Government domains. In his current role, while contributing to the design and the implementation of the nationwide SOA infrastructure, he provides technical guidance to a variety of initiatives.

"Exciting news! Elets eGov is now on WhatsApp Channels 🚀 Subscribe today by clicking the link and stay updated with the latest insights!"
Click here!