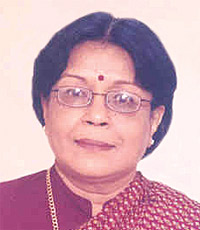 Dr. Rita Sharma
Secretary, Department of Rural Development, Government of India
In order to ensure regular content flow of information with regard to Rural Development Programmes at various levels (National, State and District and Block levels), a number of steps have been taken to strengthen IT infrastructure in the Ministry. Simple application software has been developed for various Programmes of Rural Development for easy access by all citizens for getting information regarding Department's Schemes, enrollment process, application for job cards and issue of duplicate job card etc from the nearest Common Service Centres (CSCs) rolled out through out the country. The Ministry's web-site www.rural.nic.in is accessible to all users. This website is an umbrella dynamic portal which provides linkages to all central government agencies/organisation associated with rural development activities.
The portal provides the information and guidelines related to various RD Schemes. The three Departments of the Ministry have separate websites as well namely www.drd.nic.in for Department of Rural Development, www.ddws.nic.in for Department of Drinking Water Supply and www.dolr.moic.in for Department of Land resources. The Ministry has developed separate Management Information System (MIS) for National Rural Employment Guarantee Act (www.nrega.nic.in) and Pradhan Mantri Gram Sadak Yojana (www.pmgsy.nic.in) also and MIS on Indira Gandhi National Old Pension Scheme (IGNOAPS) is underway.
The Ministry has also taken up the work of developing separate MIS for Swarn Jayanti Gram Swarojgar Yojna (SGSY) and Indira Awaas Yojna (IAY) as part of strengthening e-Governance in the Ministry. The Ministry has developed online system for receiving Monthly Progress Sanitation Campaign (TSC) Integrated Water-shed Development Programme (IWDP), Drought Prone Areas Programme (DPAP), Desert Development Programme (DDP) which are available on the website. The detailed information of BPL Census 2002 is also available on the Rural Portal and reports on various parameters can be generated from dynamic applications. The very large data available in Ministry of Rural Development is being shared with the Unique Identification Authority of India (UIDAI) for creating Unique Identity numbers to all citizens.
The Ministry also arranges video-conferences to review implementation of the programmes. The other major activities include content development, training of personnel and organising workshops and conferences for generating awareness among the rural development functionaries about the benefits of IT. Efforts are also being made to examine various alternative models for establishing ICT based mobile banking   service centres for inclusive banking that would recommend proper payment system to NREGA and other Programme beneficiaries.
Follow and connect with us on Facebook, Twitter, LinkedIn, Elets video