M N Vidyashankar
Principal Secretary, e-Governance Department, Government of Karnataka
Introduction
The State Data Centre of Government of Karnataka was set up during 2004-05 as a core common technology infrastructure. The State Data Centre (SDC) provides the infrastructure required for consolidating state level applications at a central facility.
The State Data Centre is hosted in a physically secure Data Centre located centrally at Reliance IDC, Khanija Bhavan, Bangalore. It is continuously monitored by surveillance mechanisms and administered by 24×7 operations and management staff.
SDC connects to the remote Taluka servers through a VSAT network. SDC also has dedicated fibre connectivity to the Treasury network and to the State Secretariat. Connectivity to the web is through a shared 100 Mbps line.
Karnataka State Wide Area Network (KSWAN) would be shortly commissioned to connect SDC to all the Taluks, which would phase out the existing VSAT connectivity.
Objectives
Centralising and consolidating various government databases

Providing shared infrastructure for various e-Governance projects

Facilitating provisioning of government services online

Facilitating provisioning of better and efficient services to citizens

Facilitating services for backend departments
Benefits
Physical Security

24×7 monitoring of servers

Support from SDC support team

Data Security
DEPARTMENTS USING SDC
The following departments are currently using SDC for hosting their servers and applications:
INFRASTRUCTURE AT SDC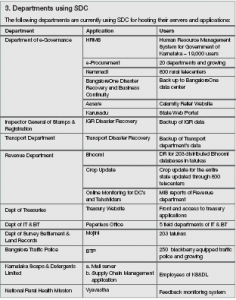 Space: SDC was initially started with 110 Sq ft of server farm area and has now been expanded to 510 sq ft of server farm area. This space is suffi cient to host 15 server racks.
At present 7 racks are populated with servers, storage and networking components and 8 more rack space is available for future expansion. Reliance also provides perimeter security for all servers hosted in SDC. Hardware & Software: SDC hardware comprises of:
57 physical servers including rack servers and blade servers.
32 Virtual servers
24 TB of SAN storage
Hardware load balancer with Intrusion Prevention System (IPS)
Tape Library with 84 backup tapes (200/400 GB capacity)
2 Layer, 2 & 4 Layer 3 switches
SDC SOFTWARE COMPRISES OF:
Operating System – Microsoft Server 2003/2008 & Red hat Linux 4.0
Database – Microsoft SQL 2000 &
2005, Oracle 10g, MySQL
Virtualisation – Vmware ESX server
Firewall – Microsoft ISA 2004/2006
Portal – Microsoft Sharepoint server 2007
Mail – Microsoft Exchange 2003
Content Management – Microsoft Content Management server 2002
Antivirus – Symantec Endpoint protection & Sophos Endpoint Control
Backup – CA Bright store R12
Monitoring – HP Openview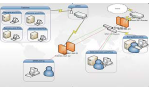 Data Convergence: Departments that are hosting their servers and applications in SDC, have an advantage of sharing a common infrastructure.
Bhoomi database is used by Nemmadi application for issuing RTC's through web.
SSLR department uses Mojini application for updating SSLR department's data in Bhoomi database.
IGR department uses Kaveri application for updating IGR department's data in   Bhoomi database. DSSP uses Nemmadi infrastructure
Departments that are hosting their servers and applications in SDC, have an advantage of sharing a common infrastructure.
FUTURE PLANS
New SDC: 4500 sq. ft. of space has been identifi ed at Vikasa Soudha for setting up new SDC
New SDC would have 43 rack space of server farm area & 80 TB of SAN storage
New SDC would be setup and operated by a BOOT model by the Datacenter  operator, for a duration of 5 years
55 crores of fund has been approved by DIT for setting up of new SDC
RFP of new SDC has been submitted to DIT for approval
Implementation of SDC Disaster
Recovery (DR) site at NIC Data Centre in Hyderabad
Expansion of SDC to accommodate all departments
To provide Servers and Storage on demand to the departments
M N VIDYASHANKAR
M N Vidyashankar, an Indian Administrative Services Offi cer of 1983 batch, is currently working as the Principal Secretary, e-Governance Department, Government of Karnataka from 1st July 2009. He has served in different Departments in the State Government, in Government of India and was  Chairman, BWSSB from the year 2000 – 2004, was Commissioner, BDA from   July 2004 to May 2006, was Principal Secretary to Government, Department of Information Technology, Biotechnology and Science & Technology from October 2006 to March 2008. He may be reached at prsegv@gmail.com