Ajay Ahuja
Systems Engineering Manager
Sun Microsystems India
IT Data Centres are an integral part of any IT Infrastructure. All IT services are served by a backend Infrastructure, which is generally and in most cases hosted in IT Data Centres. This is true for any segment and any industry, be it Government, Telecommunications, Banking, Finance or Education and Research. A typical Data Centre hosts the IT equipment, including Severs, Storage, Networking equipment etc., which is required for hosting and delivering IT Enabled services.
The Government of India, under its National e-Governance plan (NeGP) is implementing Data Centres in each of the States. It is important for the stakeholders at the State as well as the Centre level, to understand the components and key drivers for an IT Data Centre. This article is an attempt to introduce key components of an IT Data Centre, and also to highlight the importance of cross-functional interaction between various stakeholders, which is a must for the successful roll out of these Data Centres.
There are many components in an IT Data Centre. Servers, Storage and Networking equipment forms the core of the IT components, whereas Power, Cooling and Space constitute the facilities infrastructure. These components are managed by different stakeholders, which may include IT managers, facility managers, vendors, employees and the users. It is important to have an organisation structure, which encourages healthy interaction between these stakeholders, aiming for a common objective of overall organisational efficiency and effectiveness.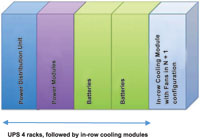 Elements of an IT Data Centre
An IT Data Centre can typically be divided into IT Infrastructure and facilities Infrastructure components. The IT Infrastructure components consists of the payload including:
Servers

Storage

Networking Equipment
The Facilities Infrastructure includes:
Real Estate Space – Rising costs of real estate space and limited availability, has led to the efficient and most effective space utilisation requirements for the IT Data Centres.

Power Infrastructure – Includes the Power supply to the facility, including the generator sets. This also includes the Uninterrupted Power Supplies (UPS) and the ATS (Automatic Transfer Switch to transfer the power from UPS to Generator set and vice versa.Figure 1 shows a typical UPS, with Power Distribution modules, Power Modules, Batteries and In-row cooling. Multiple such modules are used to cater to the Data Centre power requirements.

Cooling Infrastructure – Various kinds and design of cooling infrastructure are available. Cooling can be centralised, in-row or overhead cooling. In-row or the overhead cooling gets cold water from a chiller, generally placed at the roof. There is a cold water pipe coming in and hot water pipe going out.

Network Connectivity Infrastructure – Each rack has a provision to connect to network. Network connectivity equipment is provided within each rack, from where it goes to the distribution frame. Each row of racks typically has a distribution panel, where all the cabling gets consolidated. This is further connected to the core switches in the Data Centre. Figure 2 shows a typical Network connectivity distribution panel.

Environment Control Infrastructure- IT Data Centres have humidity equipment and also de-humidifiers to control humidity.

Fire Control Equipment

Security Equipment – Secure and restricted access is another important component of an IT Data Centre. The access is enabled using biometric devices. Secure Data Centres with restricted access can also be controlled and managed remotely.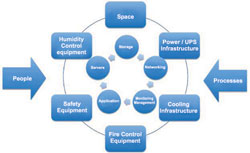 Core of Data Centre
People and Processes off course, form an integral and core part of an IT Data Centre.
Reliability, High Availability, Serviceability, modularity and flexibility are the key design parameters for an IT Data Centre. Typically customers are asking for 99.999% availability. The 5 nine availability is not easy to achieve and it actually points to about 15 minutes of downtime during the entire year.
To achieve 5 nines availability, both the IT infrastructure and site infrastructure should be 99.999% available. If the facility infrastructure is not 99.999% available, there is no use of high availability of the IT Infrastructure.
The Uptime institute classified IT Data Centres into various Tier levels depending on their Availability criteria. A Tier 1 Data Centre infrastructure is composed of a single path for power and cooling, without redundant components. This typically leads to 99.671% availability, which is about 29 hours of annual downtime. A Tier 2 Data Centre infrastructure is composed of a single path for Power and cooling equipment, with redundant components, leading to 99.741% availability, which translates to 22 hours of annual downtime. A Tier 3 Data Centre infrastructure is composed of multiple active power and cooling distribution paths, with one active path at a time, having redundant components, and is concurrently maintainable, providing 99,982% availability or about 1.6 hours of annual downtime. On the other extreme is a Tier 4 Data Centre Infrastructure, which is composed of multiple active power and cooling distribution paths, each having redundant components and is fault tolerant, providing 99.995% availability. This translates to an annul site caused IT downtime of about 15 minutes.
It may be reiterated that the overall downtime and availability depends both on the availability of IT as well as Facilities infrastructure. A Tier 4 Data Centre Facility with non Redundant IT infrastructure like non-redundant servers etc. may still not provide 99.999% availability. To achieve the desired levels of availability, it is mandatory to have both the IT as well as the Facilities infrastructure availability.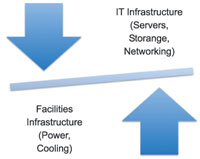 Apart from the infrastructural considerations, It is also important to have continuous interaction and collaboration between the IT and Facilities department. Typically, most of the IT Data Centres have separate IT and Facilities units. There is limited or minimal interaction between the two units. A problem in one unit may not be of importance to the other unit. But, the fact is, a problem in one unit can cause problem or availability issues for the other unit. It is therefore most important to have collaborative engagement between the two units. The organisation structure of these Data Centres should provision for the same. This interaction is also important for deeper understanding of cost and energy implications. A collaborative structure between the IT and Facilities units, and a representation from both the units in the senior management or Board, can lead to better understanding of the critical issues, with a better chance of resolving them in an efficient manner.
It is strongly recommended to critically evaluate the options for both the IT and Facilities infrastructure, for the upcoming State Data Centres in the country. The States should look for an Organisation Structure with a collaborative engagement between the IT and Facilities department, to together evaluate and decide on the parameters for availability, cost reduction and energy preservation leading to a highly effective and efficient IT Data Centre.
Ajay Ahuja
Ajay Ahuja is working on some research initiatives with the Department of Management Studies at IIT Delhi. He also works as Systems Engineering Manager with Sun Microsystems India Pvt. Ltd. He has been involved in various Technology enablement initiatives along with designing and  architecting  solutions for various enterprises across the Government, Education and Defence segments. He may be reached at ajay.ahuja@sun.com
Follow and connect with us on Facebook, Twitter, LinkedIn, Elets video