W. G. Crishantha D. Nanayakkara,  and Shahani Markus Weerawarana
For a successful e-Government implementation, any country should adopt its own implementation approach, which is moulded according to the unique characteristics of the country. As a developing country, Sri Lanka, too, has been adopting to a unique e-Government programme, which is quite different to many other countries in the region.
This article discusses an extension of a research study in Sri Lanka carried out by the same authors almost two years ago. In that study, the authors evaluated the e-Government model, adopted by the ICT Agency of Sri Lanka (ICTA) with its e-Sri Lanka Re-engineering Government programme. It evaluated its strengths and weaknesses by analysing factors that influence e-Government projects currently being implemented. The factor analysis was based on a proposed model (Wackwella Gamage Analysis Model) that was formulated with special consideration placed on incorporating the e-Government implementation characteristics unique to Sri Lanka. Based on this factor analysis, appropriate recommendations were then proposed to enhance and strengthen the Sri Lankan e-Government model by considering all social/cultural/economical/technical aspects pertaining to Sri Lanka. Subsequent to the original research study, both authors were able to further study the actual implementation of the e-Sri Lanka Re-engineering Government programme in detail, as members of the technology team at the ICT Agency of Sri Lanka.
Based on these observations, this article further enhances the Wackwella Gamage Analysis Model discussion into several important aspects particularly from a technical implementation perspective. This discussion is particularly important considering the current stage of e-Government implementation in Sri Lanka since the original study was completed during the early stages of the e-Sri Lanka Re-engineering Government programme implementation. This article significantly emphasises aspects such as interoperability, architectural integration, procurement aspects, policy and legal infrastructure as well as a discussion of the impact of innovations introduced by ICTA in these aspects. With its discussion of the technical perspective extensions based on the application of the Wackwella Gamage Analysis Model on the e-Government implementation programme in Sri Lanka, this article provides the reader with an up-to-date understanding of an interesting case study– the e-Sri Lanka Re-engineering Government programme implemented by the ICT Agency of Sri Lanka (ICTA).
INTRODUCTION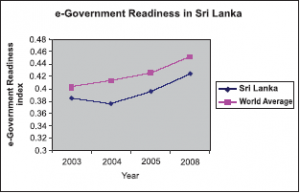 According to the World Bank (2005) defi nition, e-Government refers to the use  of information technologies by government organisations, which have the ability to transform relations with citizens, businesses, and other arms of the  government. Since the advent of the World Wide Web, the global business environment itself has gone through a lot of changes, notably in the Businessto- Business (B2B) and Business-to- -Consumer (B2C) sectors. To follow the same  trend, national governments, too, slowly started to adapt Internet and related  technologies in their organisations. These sectors are mainly centered on  critical dynamics between different bodies within society, such as government,  citizens and businesses. Though it gives numerous benefi ts to the public, most  national government entities face numerous challenges while implementing  e-Government applications (Davidson, Wagner, and Ma 2005).
Sri Lanka e-Government readiness index fi gures have been lying even below the world average for last few years (See Appendix 1, Figure 1). In order to  reverse this unimpressive trend, the Sri Lankan Government in 2002 initiated  the Reengineering Government programme under the e-Sri Lanka Road map  (Hanna, 2007). The ICT Agency of Sri Lanka (ICTA) was appointed as the main  regulatory body to implement this programme under the guidance of the  Presidential Secretariat. This road map consists of two phases. Currently, the fi  rst phase is being implemented and the second phase will be fi nalised after  evaluating the phase one deliverables (World Bank, 2004). Generally, any  country that implements e-Government projects should follow a well  established localised e-Government model to achieve better results. Sri Lanka,  too, has been following an e-Government model under the ICTA Reengineering  Government programme for the last fi ve years (ICTA, 2004). Thus, it was important to see whether this e-Government model is fully adapted to the local context.
ANALYSIS
In 2007, authors were able to critically analyse the e-Sri Lanka Re-engineering Government programme based on the factor model (WGFAM) proposed. This model discusses 30 different factors categorised into fi ve main areas.
Organisational Factors
Environmental Factors
Technology Factors
Support Factors
Financial Factors
Among these, authors have given more emphasis to the technological and procurement related factors, since they showed a substantial amount of  progress during last two years. Other factors are discussed briefl y in order to  make this a complete analysis.
TECHNOLOGY FACTOR ANALYSIS
IT infrastructure Since 2002, Re-engineering Government programme gave a  signifi cant emphasis to improve the government IT infrastructure by  implementing various projects. The Lanka Government Network (LGN) and the  Lanka Gate are the main projects among them.
LANKA GOVERNMENT NETWORK
According to the initial plan consisting of 3 phases, it was able to cover the  target of 325 locations in Phase 1 and planning to cover another 150 in Phase 2.  LGN is a highly secured, reliable infrastructure backbone that connects all government organisations to provide Internet, email and Internet Protocol (IP)  based voice services.
In addition, this also provides,
Secure communication network among government organisations in Sri Lanka
Centralised control and management of the network
Centrally managed internet access
Centrally managed secure email system
Broadband connectivity to create an IP backbone
Open interoperability standards; This will enable to ensure interoperability between systems regardless of their platform, technology or vendor Multilingual support by adopting
ICTA approved Unicode fonts for local languages and should be supported by the trilingual keyboard (to support Sinhala and Tamil)
Virtual Private Network (VPN) activity to trusted users to access the government network
Centralised help desk facility to LGN users
LANKA GATE
After stabilising the physical network infrastructure to all government departments through LGN, during last two years ICTA was able to reach great heights by launching its fl agship software infrastructure called Lanka Gate. This ever fl exible infrastructure is based on the Service Oriented Architecture (SOA) framework, which basically is built on to plug any e-Service to it. By having this feature, it can extend this infrastructure not only to government organisations, but to any of its stakeholders such as citizens, businesses. (See Figure 2)
All these e-Services can be accessed via a common web portal named as the "Country Portal". Any Sri Lankan citizen can log into this portal and access any of the government e-Services hosted. In addition to that, any of these  e-Services can be extended to represent more than one government  department as well. All these transactions are secured with Message level (i.e. WSSecurity) and Transport Level security. All the government e-Services can  be authenticated using the LGN CA (Certifi cation Authority), which is owned and managed by ICTA. By having its own Certifi cation Authority ensures a  secure governance in future without having to depend on a third party CA.
Subsequently, in order to provide Internet and Mobile payment facilities,      Lanka Gate infrastructure is envisioned to have two more main components called CCPGP (Credit Card Payment Proxy) and the MPG (Mobile Payment Gateway). The CCPGP is designed to function as a proxy for existing Internet Payment Gateways available in Sri Lanka. The MPG is designed to provide an open architecture to support mobile payments with SMS, WAP and IVR facilities.

VIRTUAL BUSINESS TRANSFORMATION (VBT)
Having the luxury of a stable network and a software infrastructure has enabled ICTA to move ahead with many more e-Government projects. These projects mostly will be launched as "Quick Wins" with ICTA owned "Virtual Business Transformation" (VBT) concept. Here ICTA has decided not to transform all eGovernment projects as a complete BPR (Business Process Re-engineering). VBT enables to carry out a high-level business process study upfront and connect them to Lanka Gate architecture as a "Quick Win". That would enable citizens to use many services at a record quick time rather than doing a  complete BPR for each and every government system around.
This is more of an "agile" method allowing more citizen interactions to government services. e-Services will be targeted, initially for government organizations with reasonable software and hardware readiness. The identifi ed organisations will work with ICTA to virtualise their business processes and optimise the information and service fl ow between citizen and organisation. Essentially a Business Process Mapping Language (BPML) should be used to detail out the current business process changes and to map and align the new  business process with proposed e-Services.

SOA GOVERNANCE FRAMEWORK
SOA is the backbone of the Lanka Gate providing loosely coupled decentralised services with a centralised control structure. Ideally it should be loosely coupled but tightly managed. Therefore, it is essential to have a framework to
govern its operations in order to maintain its sustainability in the long run.
Therefore, ICTA is in the process of formulating this important framework mainly to fulfi ll the following needs,
To formulate procedures in order to maintain new e-Services Performance monitoring
Monitoring and management of
deployed eServices
To manage security issues
To manage Service Level Agreements (SLAs) etc.

INTEROPERABILITY

Lack of compatibility among e-Government systems can be a failure when it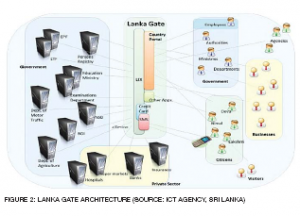 comes to sharing data among them. Hence, it is essential to implement an  e-Government framework, which will support the compatibility among e-Government systems. This is called the interoperability framework. Therefore, Lanka Interoperability Framework (LIFe) is getting formulated to  provide guidelines for different government organisations to standardise the  data architecture and data exchange. However, still this has been limited only to Personal Data domain.
The rest of the identifi ed domains are now being formulated and still in the  review process. Though, this was not a major concern for the moment, once the  Lanka Gate and other related e-Services are in action, this will be a critical  aspect in data communication between different domains. Therefore, it is the  ICTAs primary responsibility to get this fi nalised before it is too late.
ORGANISATIONAL FACTOR ANALYSIS
Vision and Strategy
It is paramount to have a clear vision in order to be successful in e-Government projects. As authors suggested in their initial paper, during last two-three  years, Re-engineering Government project speare headed by its fl agship Lanka Gate project, gave the direction to have more "Quick Wins" along with other major projects in the road map. Along with major projects such as e-Revenue Licence project, there are quite a number of "Quick Win" projects under its VBT concept. For example, under Lanka Gate – Country Portal project, ICTA  envisioned to launch quick win projects like Railway Schedule Inquiry,  Examination Results Inquiry, EPF/ ETF balance inquiry, Motor Traffi c  Registration inquiry, etc.

PROCUREMENT MANAGEMENT
Most of the e-Government projects undertaken by ICTA were comparatively large projects and needed a substantial amount time to complete. Therefore, ICTA opted to develop those systems closer to the traditional "Water Fall" approach. Most of the time a complete BPR was done prior to the development. When it comes to the project software development, ICTA didn't have much control over the project mainly because it did not have the technical strength  to support initially. Therefore, most of the projects took substantial amount of  time to make a real progress.
In order to overcome these project delays, ICTA devised a new software development approach called "Software Development Services Approach  (SDSA)" with following key aspects in mind. (See Figure 5)
An initial high level system study is needed to defi ne the overall architecture of the project.
Depending on this initial study and the devised high level architecture, the ICTA technical staff breaks the total architecture into several "key components" mainly depending on their complexities and interdependencies.
If possible "A thin slice prototype" is implemented to validate related technologies. This would eliminate any technical challenge or any architectural gap up front.
After identifying and testing the high level architectural components, it is quite easy to procure them separately as several individual contracts. This enables to complete any identifi ed component/ module parallel to other components identifi ed in the architecture.
Once all these components are completed, a separate contract can be offered depending on the complexity of the integration or it can be integrated utilising the ICTA technical staff.
Finally, all the technical deliverables from the vendor need to be reviewed and signed off by the ICTA architecture team.
This approach effectively harnesses agile and iterative software development industry best practices within standard procurement guidelines whilst  leveraging upon the cost–effective, highly successful and specialized  outsourced software development services industry. For example, the Lanka  Gate project followed this SDSA methodology and procured all its components simultaneously for several vendors. By applying this, the project was able to complete its key components within a very short time (four months). In  addition to that, the continuous review process paved the way for a successful completion without any last minute surprises.
THE LEADERSHIP
There are several steps have been taken to improve the organisational leadership among government CIOs (Chief Innovation Offi cers). During last few  years, ICTA organised several programmes such as e-Champion knowledge conferencing with the collaboration of World Bank, Study tours to countries like Estonia, which has a much sophisticated eGovernment structure and most importantly the initiation of the MBA in e-Governance programme. Each year ICTA selects most eligible CIOs with the collaboration of University Of  Moratuwa to conduct this very important course, which directs them to know  almost all the aspects of e-Government.
Subsequently, ICTA has also taken steps to form the "National Administrative Reforms Committee (NARC)" to resolve any delaying issues related to its  respective organizations. Now CIOs slowly leverage this concept to inform their  grievances to this committee. However, as suggested by authors in their  initial paper, still the "Inter ministerial committee" though it was again  accepted by the cabinet early this year, has not off taken totally.

ENVIRONMENTAL FACTOR ANALYSIS
National e-Government Policy The government ICT Policy should be  implemented without any further delays. The government was not able to  approve the drafted ICT policy by the cabinet for years due to various reasons.  Adhering to the ICT Policy will allow government organizations to follow some  strict guidelines from the beginning itself. Otherwise complications will arise  after a few years time. Forexample, the use of pirated software within   overnment departments can take place if there is no enforcement/ policy directive from the government. The policy may not be able to control issues  100% but will certainly improve the standards and the management of ICT  within  organistions.
THE LEGAL INFRASTRUCTURE
While other technical developments are going on, the importance of ensuring parallel developments in the legal framework is essential. Fortunately ICTA strengthened its efforts by commencing the building of a legal framework for  ICT development in Sri Lanka, by extending a generic global standard like  United Nations Commission on International Trade Law (UNCITRAL). With this, during last few years ICTA was able to enact a few ICT laws such as Electronic Transaction Act, Computer Crime Act (ICTA, 2007). In addition to that, now ICTA is in the process of legalizing the Credit Card payment transactions within government organistions. This will be instrumental to use credit card within the Lank Gate infrastructure and will further helpful to regulate mobile payment transactions as well.

FINANCIAL/ SUPPORT FACTOR ANALYSIS
At the moment ICTA reengineering government programmes mostly relying on  the World Bank funds until end of 2011 with its two year extension. For some reason, if World Bank does not fund for the next phase, the government should have an alternative plan to take up the challenge to the next phase. Creating Public Private Partnerships (PPP) can also be proposed as one more fi  nancially feasible source that Sri Lanka should look at. The private company  can invest in an e-Government project and can own, manage and maintain for  an agreed period. Further it can gain from the investment through fees. After  the agreed time, the private company should transfer ownership and  operations to the government.
W.G. CRISHANTHA D. NANAYAKKARA
Crishantha Nanayakkara holds a B.Sc. (Hons) in Computing and Information Systems from University Of London and a MBA in Information Technology from  University of Moratuwa, Sri Lanka. Crishantha has nearly 14 years of professional experience mainly in design and implementation of enterprise  software applications. He is currently working at ICTA of Sri Lanka as a Senior  Technologist, providing technical consultation to key e- Government projects.

SHAHANI MARKUS WEERAWARANA
Dr. Shahani Markus Weerawarana is a Senior Lecturer in the Department of  Computer Sciences & Engineering of the Faculty of Engineering at the University of Moratuwa, Sri Lanka. Previously, she was the Chief Technology  Offi cer at the ICT Agency (ICTA) of Sri Lanka. Prior to that, she was the Head of  Engineering at Virtusa (Sri Lanka), which is a global software services provider  with centers in USA, UK, India and Sri Lanka.
REFERENCES
// Davidson, R.M. Wagner, C. and Ma, L.C.K. (2005) 'From government to e-government: a transition model', Information Technology & People, vol. 18, no. 3, pp. 280¬299.
// Hanna, N.K. (2007) From Envisioning to Designing e-Development: The Experience of Sri Lanka, The World Bank.
// Heeks, R. B. (2001) Reinventing Government in the Information Age,  London, Routledge.
// Heeks, R.B. and Bhatnagar, S.C. (2001) 'Understanding Success and Failure in Information Age Reform', Reinventing Government in the Information Age, pp
49-74, London, Routledge.
// Heeks, R. B. (2002) 'Information Systems and Developing Countries:  Failures, Success, and Local Improvisations', The Information Society, vol. 18,  o. 2, pp 101-112.
// Heeks, R.B. (2003) 'Most e-governmentfor- Development projects fail: How  can risks be reduced?', iGovernment Working Paper Series, Paper No 14.
// ICTA (2004) 'E-Sri Lanka Development Project e-Government Consultancy, Proposed eServices Report', Information and Communication Technology Agency, ICTA.
// ICTA (2007), "ICT Policy for Government V.3.62", Information and Communication Technology Agency, ICTA.
// United Nations, (2003) UN Global e-governance Survey 2003, New York.
// United Nations, (2004) Global egovernance Readiness Report 2004: Towards Access for Opportunity. New York.
// United Nations, (2005) Global e-governance Readiness Report 2005: From e-Governance to e-inclusion. New York.
// United Nations, (2008) UN e-Government Survey 2008: From e-government to Connected Governance. New York.
// Wackwella Gamage C.D.N., Shahani Weerawarana, (2008) A Critical Evaluation of the e-Government Model Implementation in Sri Lanka, 4th International Conference on e- Government (ICEG), RMIT University, Melbourne, Australia, 2008.
// World Bank (2004) 'Project Appraisal Document', The World Bank.
// World Bank (2005) Defi nition of e-Government, [Online], Available: http:// www1.worldbank.org/publicsector/ egov/defi nition.htm [Mar. 11, 2007]