ASHRAF ABDELWAHAB
Prof. Ashraf Abdelwahab is a professor of computer engineering, Electronics Research Institute, Cairo, Egypt. In 1992 he received his  Ph.D. degree in Machine Learning and Evolutionary Algorithms,  published over 50 technical papers. Since 2006, Dr. Abdelwahab has  been appointed as the Deputy to the Minister of State for Administrative  Development. He is responsible of supervising, monitoring and coordinating e-Government and organisational development initiatives.  He is also responsible of the coordination with other ministries and  international organisations. He can be reached at awahab@ad.gov.eg
e-GOVERNMENT IN EGYPT
The Egyptian e-Government programme was launched in 2001 focusing on three tracks; namely: introduction of new service delivery channels, optimisation of resource utilisation, and establishing and linking national databases. The programme was a success. At the end of its first phase (2001-2007), the UN-PAN report on e-Readiness 2008 has ranked Egypt 28 out of 192 (UN Survey, 2008).
Service Delivery Channels
The figure below demonstrates the multi-channel model for service delivery, and the government infrastructure supporting its citizens, businesses, and suppliers who can access government services directly or through service providers. The government gateway (branded as 'Bawaba' in Arabic), implemented using a citizen centric approach, integrates multiple back ends (ministries, other government bodies and government databases). The whole process is supported by robust technical infrastructure. The national web portal also provides national e-Government standards for networking, information security, document management, requirements for people with special needs, Enterprise Architecture Frame-work and interoperability as well as a PKI system and an e-Payment framework. This is twined by the adequate legal infrastructure that allows for remote authentication. Egypt issued the e-Signature law in 2004 and  by mid-2009, 4 private companies were licensed for providing digital certificates to the citizens.
The government portal 'Bawaba' (one-stop-shop portal) was launched in June 2002 (beta) and went into full operation in January 2004. The portal is a bilingual Arabic-English interface accessible to citizens, foreigners, businesses, and investors.  It is a one point of entry to all government services in Egypt. This makes it easier to manage transactions and reach key government agencies any- time-anywhere through a user-friendly interface without wasting time, as there are more than 300 government web sites.
The Bawaba is designed and built to be seamlessly integrated with public key infrastructure. Through a variety of encryption techniques and algorithms, the gateway secures sensitive data while communicating with users and ministries over the Internet to provide 24/7 access to government services. The portal offers a variety of services to citizens, businesses and foreigners ranging from simple queries and submitting forms to full transaction services that require integration among service providers.
Government to Business (G2B) Services
The G2B services aim to simplify business processes for all companies, investors, suppliers and exporters and make them more efficient. This is achieved through some heavy-use services that are available online, such as:
e-Procurement: where all government tenders will be availed online with complete automation of the work cycle (1st phase launched, complete system planned by early 2010)
Customs services: online publishing of customs tariffs, as well as online submission of EDI manifests and import/export documents
e-Billing
Business permits/licenses
Applying to join special status
industrial tax/customs free zones
Online purchase of Egyptian quality standards
Tax services (fi ling tax declarations, status inquiry, etc…)
Applying for corporate mergers
Query of the shipping charges and the exchange rates
Browsing the Egyptian industrial catalogue
Industrial regulatory authority services
GOVERNMENT TO CITIZEN (G2C) SERVICES
Currently, there are over 600 inquiry services that provide citizens with service forms, as well as information on service average times, requirements and procedures for public services. In addition, over 90 services are availed that can be reached by citizens wherever they are located. The most prominent services are:
Request submission to university placement offi ce (450,000+ users annually – only available online since 2007)
Vehicle license (registration) renewal
Traffi c fi nes e-Payment
Opera tickets e-Booking
Judicial services (enquiry about case status, request of case document copies, etc…)
Issuance of birth certifi cate copies
Phone and water bills e-Payment
Bus, train, and national airline ebooking
Replacement of national ID card
Tax services (enquiry and submission of tax declaration forms)
Municipal services (permits, licenses, etc.)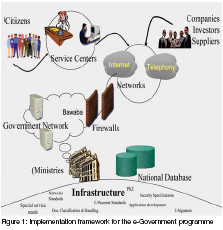 It is worth mentioning that the above services are not only availed; they have undergone a whole cycle of administrative simplifi cation to become less bureaucratic and decentralised and to decrease execution time of paper transactions.
The services track does not focus only on central government services but has adopted a parallel track to modernise local government as well. Today more than 47 (out of 289 municipalities) have been re-modeled, infrastructure installed, a computerized application for monitoring citizen's requests is in place, and staff trained on using the system. On average, a municipality delivers around 67 services to citizens. The project has documented these services, re-engineered some of them, and modeled them in a computer system. A major advantage of this project is its adoption of the single window stop model that  completely separates between the service provider and the service receiver to  fi ght corruption by eliminating direct contact between citizens and civil servants. Today, every head of municipality is able to track all requests and fi  nd out which of them is not accomplished on time and why. The project is  expected to achieve 100% coverage by 2012.

OPTIMISATION OF RESOURCE UTILISATION
The G2G services are illustrated by the automation of the governmental offi ces  program. The program's vision is to develop and automate the various functions carried out by the government administrative body and enhance the collaboration between the different ministries/ government bodies.
This is in order to eventually reduce expenditure and better allocation of government resources. The main objective is to improve the level of accuracy and effi ciency while ensuring security and confi dentiality in exchanging information between different ministries and other relevant government bodies. Initiatives include:
Automation of 1600 fi nancial units
e-Procurement, www.etenders. gov.eg , the Egyptian Government procurement portal
e-Archiving, document circulation and paperless government
e-Inventory

ESTABLISHING & LINKING NATIONAL DATABASE
To harvest the fruits of the several national databases that have been established in the late eighties and early nineties, it was time to link them to aid in making better decisions and to provide better effi cient-directed social safety net services. Samples of this project include the creation of the family database,linking of the National ID to the education database to track basic education dropouts, real-estate registration and the unifi ed commercial registry.

FAMILY CARD
As a direct outcome of the creation of the 'Family Database', the 'Family Card' project was launched to link families to the database. Hence, each family has its very own unique card/identifi er.
HISTORY
As part of Egypt's social insurance programme, the government offers food subsidies to families that are in need of such aid. Before the initiative, delivering food commodities was completely paper based, which led to lack of follow up,  high leakage ratios, and inaccurate delivery of the commodities to the deserved  families. In short, the government was spending aid money that was  not reaching to those who deserve it. Similarly, the delivery of social pensions  suffered the same shortcomings before the initiative (same process, same  disadvantages). However, the social pension is allowed to families according to  certain social criteria which, manually, can be forged, and instead, non-eligible citizens can receive such pension.
INCEPTION
The Egyptian Government took a decision to adopt smart cards as a tool to  provide various social and support services (food commodities, social pension,  health insurance, educational support, etc.) to underprivileged citizens. The  government relied on the use of information and communications technology  as a means to manage and control the delivery of social services to c itizens. Meanwhile, a database for the Egyptian family was being customised to support  the decision making related to subsidized services.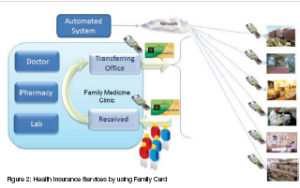 The 'Family Card' project belongs to the Ministry of Social Solidarity (owner of the public services, as well as the family database). However, the Ministry of State for Administrative Development (MSAD), as the main coordinator of e-Government activities within the government of Egypt, managed this project. Its production and operation was fully outsourced to three local private sector companies.
The project started up as a pilot project in 2005 in one of Egypt's 29  governorates, Suez, with only one service: food subsidies. The project proved to be a huge success. The project started rolling out from there to other governorates. It currently covers 6.2 million families out of Egypt's 11.5 million families (enrolled in the subsidy system), and continues to reach new governorates everyday. More services have been added to the Family Card since then, such as the social pension, and medical insurance (available currently in Suez only – see fi gure 2). Further services are being considered to  be added to this platform such as monetary subsidies.
CHALLENGES
The initiative has encountered a set of obstacles. One obstacle lies in the culture of the grocer who used to work manually and was quite reluctant to use the automated system. Similarly, the supply offi ce employee who used paper work and having no technical background represented a challenge to the new system implementation. To overcome such obstacle, two types of training were applied, theoretical and on the- job training.
Another obstacle lies in the culture of the citizen who used to deal with paper card and may have never dealt with electronic equipments, making it diffi cult for him/her to get acquainted with the new system.
An extra challenge was how to receive the citizen's feedback, complaints, and  notices. For this specifi c issue, a dedicated call center has been designed and installed as an integral part of the solution.
The fi nal challenge which was faced was related to the citizens, in making him/her keep his/her smart card and PIN number away from the grocer to  avoid illegal transactions. This has been solved through setting a media  campaign and various awareness sessions .
ASSESSMENT
The initiative guarantees delivery of the services to the underprivileged citizens through a computerised application, upto- date database, and effi cient  incurring system. It establishes monitoring, control over the infi ltration and  loss in supports, and allows creation of a civilised environment through which  underprivileged citizens can acquire their services. It achieves transparency  through the establishment of clear and neutral processes for acquiring and  managing subsidies. The initiative includes building of an integrated family database to support the system together with relevant statistics, which leads to  The resulted savings were around 22% of the total food subsidy for Suez in  Phase 1, reducing the cost of food subsidies for government. In Phase 2, 10  governorates were covered by the system, in addition to the social pension  service to the smart card. Phase 3, (current, covering all Egyptian 29  governorates) should be completely covered by mid 2010. Hence, it can be  deduced that applying ICT and e-Government solutions in this case, have lead  to many benefi ts on a governance level; saving millions of pounds for the  government, and providing better services to citizens, as well as being  transparent along the way.
FROM E-GOVERNMENT TO e-GOVERNANCE
To conclude, it is clear that e-Government has availed several tools on the right track for e-Governance; of which are:
Separation between the service provider (civil servant) and the service receiver (citizen) and recording of all transactions on computers closed down several doors that might open possibilities for irregular payments or illegal transactions
Availing information easily at the fi nger tips of businesses and citizens made them more aware of their rights The new model for government procurement increased transparency in request for proposals and quotations (RFP and RFQ,respectively)
Availability of a government call center and e-mail reply center to inquire and complain is building a new culture within citizens to fi ght for their rights; an issue expected to be encouraged by civil society
Availability of citizen polling on all local government portals will start a new era of citizen participation in the decision making process.