SUDHIR AGGARWAL
Senior Vice President and Head
Today's highly competitive, dynamic, and demanding business scenario is making every board room across sectors (be it Corporate, Government, Public Sector) think time and again to focus on core business areas and outsource the peripheral and support activities. From ICT (Information and Communication Technology) perspective, one extreme is 'Total Outsourcing' and the other extreme is 'totally in-house developed and managed solution'. 'No one size fi ts all' holds absolutely good here, hence every organisation needs to decide appropriately for itself at different point of times.

DATA CENTRE: NEED OF THE HOUR
Data Centre (DC) once not heard so much or something meant for select handful  has become need of the hour for most organisations across sectors.  Some of the key reasons for this change are (a) ICT usage is extended to all  relevant stakeholders beyond internal users for MIS (b) most business  functions are dependent on ICT for their day-to-day functioning (BAU–Business  As Usual) (c) ICT is becoming the tool to help organisations  being agile and fl exible to respond to ever-changing business scenarios and  requirements, (d) Need for centralised computing to reduce capex as cost is  also driving organisation to  think of DC, and many more. However Data Centre continues to be a scarce commodity in India, in terms of capacity.
KEY DRIVER
High availability in overall context happens to be the key driver and critical factor in Data Centre business. That is how Uptime Institute has defi ned standards for Data Centre from availability perspective, i.e., Tier I – Uptime  99.671, Tier II – Uptime 99.749, Tier III – Uptime 99.982, and Tier IV –  Uptime 99.995. It is critical to note, all four tier lies between 99.671 to 99.995.

Categories of Data Centre: Data Center can broadly be covered under two  categories, in-house and Internet Data Centre (IDC). IDC are primarily commercial Data Centre made available to host client's ICT infrastructure. IDC deliver stringent SLAs (Service Level Agreement)
Investment: Data Centre investment broadly falls under two heads capex (Capital expenditure) and opex (Operational expenses). Further these investments go in three areas: IT, Non-IT, and Operations & Management  (O&M). From a fi ve year perspective, the typical healthy ratio of Capex: Opex is 50:50.

DATA CENTRE SERVICES
Some of the typical Data Centre services can be briefed as below:
Hosting Services,
Managed Storage Services
Managed Connetivity/VPN Services
Infrastructure Management Services
Virtualisation Services
Managed Security Services
In layman words one can relate Data Centre to commercial business/ shopping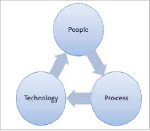 mall. Given an option to create an outlet in a commercial mall, one gets certain things by entitlement like Uninterrupted power supply, Air-conditioning,  security, parking, food court, emergency services, public conveniences, value  added services. However an outlet can still be created in line with one's own  patent, design, and other requirements. One small conclusion here is 'nothing to loose and everything to gain'. Of course, Data Centre is much more technical matter to deal with.
"It is the level of maturity in bringing together the people, processes, infrastructure, tools and technology that matters in delivery of trusted Data  Centre services on continuous and sustainable basis" At macro level, Data Centre services covers
Data Centre
Near DR (Disaster Recovery), and
DR/BC (Business continuity).
Disaster could be natural calamities (Tsunami, fl oods, earthquake, etc.) and/or  human-sponsored (9/11 (11th Sep) in USA, 26/11 (26th Nov) Mumbai blast, …).  In the current context of business complexities, it would be interesting to also  have a quick look at Business Continuity 'BC'. Often DR and BC are  interchangeably used, while BC is complementary and supplementary to DR. DR  is within the domain of IT department and the purpose and scope remains limited to ICT assets.
Disaster Recovery Plan: DR plan is usually limited in scope to a set of defi ned IT  systems and infrastructure, with the ultimate goal being the complete/near complete recovery of those systems and infrastructure within a defi ned  time frame and with minimal/no data loss. DR plan covers the entire  organisation perspective, only to the extent it holds the data pertaining to  respective departments, and that too, to the coverage of each department in  overall DR plan of IT department.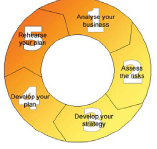 Business Continuity Plan: BC plan covers the entire enterprise with the ultimate  goal being recovery of mission critical/ core business functions to ensure survival of the enterprise. An organisation may have one or multiple BC plan  depending upon its size and nature of business. BC plan is mostly part of organisation's business (other than morale and social) critical requirements.  However it is statutory, as well in some cases in line with provisions of Civil  Contingencies Act. In a small way, some organisations may even implement BC under staff welfare and safety.
Most progressing and modern times organisation now do not regard BC plan as  cost, but as a key value added improvement process fi rmly integrated with risk  management and differentiator while competing in their own market. Difference  between DR and BC: The other key difference between a DR and BC concerns the defi nition of what to recover and what to exclude. Business  continuity requires the defi nition and determination of response to risk (Risk  Analysis and response) the defi nition of possible failure areas (a Single Point of  failure or SPOF analysis) and the determination of the impact of these areas on  the business as a whole (Business Impact Analysis or BIA).
This analysis will result in determination of what business functions are "core"  or "mission critical" – these are the business functions that are essential for the  survival of the enterprise and will by necessity be the focus of the BC effort.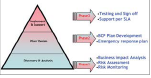 Creating DR/ BC plan is one aspect, while the success lies in successfully     executing the plan. In case of DR/ BC in IDC more so, as service provider   commits to client organisations to help running their organisation smoothly  through its own experience and expertise. Else always there are gaps between plan and execution; but this is something ZERO tolerance zone.
Sify's DR and BC Plan: Sify, being leader in Data Centre services in the Country, has developed a framework of services to assist organisations to subscribe to the required services as desired and required.
Sify has more than 600 person-years extensive experience and expertise in delivering DC/ BC services with more than 100 qualifi ed professionals (CISA,  CISSP, CCNA, …) on board. Sify has developed a comprehensive suite of  services to assist organisations in managing their BC programme life cycle right  from conceptualisation through execution. Sify is uniquely placed to address  the requirement of organisations in need of an effective business continuity  plan. Sify delivers services using its proven global delivery model which  leverages its world class network and data center infrastructure, and top notch  technology talent. The services are customisable, Service Level Agreement  (SLA) driven and offer value proposition to organisations across sectors  seeking to improve the return on their investments.

"Advance planning and preparation which is necessary to identify the impact of potential losses, to formulate and implement viable  continuity strategies, and to develop continuity plan(s) which  ensure continuity of organisational services in the event of an incident"
NOTE: The deliverable from business continuity planning is a business continuity plan (BCP) which is a documented collection of  procedures and information that is developed, compiled and  maintained in readiness for use in an incident.
SUCCESS FACTORS FOR DATA CENTRE
Operations and Management (O&M) is the real test of any successful Data Centre. It is quite signifi cant to capture O&M perspective right at Data Centre design stage from recurring cost, SLA, and other non-functional aspects like Performance, High availability, Scalability, Power usage and consumption to  deliver uptime between 99 to 100 under four tiers. Optimal Power planning,  Power availability and Power consumtion are among the critical success factors of a Data Centre. It is pretty signifi cant in Data Centre business to effectively  manage forward and backward supply chain in partnering spirit wrt. backend  suppliers/ partners and customers and their requirements.
Optimal and effective helpdesk deployment is yet another critical success factors in Data Centre operations. Helpdesk operations plays an important role  in managing and monitoring SLA. Security plan and implementation can give  sleepless nights to Data Centre operations, esp. while committing SLA like  'client's application will never be hacked'; however it is the experience of managing optical mix of people, tools and technology, and processes can  enable Data Centre operator commit such strict SLA. In today's times, Security  is most vunerable subject.
As the business operations are more and more carried out around ICT, some of  the non-functional requirements becomes most critical like Performance, Scalability, Application management, continuous updation and upgradation of  entire ICT infrastructure, Network management, … Continous and periodic proactive health check of systems and analysis and implementing ratifi cation measures are among critical success factors in delivering SLA.

"If Datacenter is seen in the context of a human body: entire nervous system is like connectivity, mind and soul is the application, and heart is Datacenter hosting."
BEST PRACTICES IN DATA CENTRE
In true sense Data Centre operations are built around certain standards (ITIL, ISO 27001, ISO 20000, …) and best practices. The best practices are always evolving in nature as benchmarks and business scenario/requirements keep changing. Optimal manpower planning and deployment plays an important role in success of a Data Centre in terms of cost and delivering SLA.

GREEN DATA CENTRE
Continous stock taking of Data Centre assets (IT and Non-IT) from obsolensce perspective is yet another signifi cant requirements, more so in modern days under the 'Green' initiatives. At times, the cost of replacement is paid off much  faster from the savings achieved under 'Green' initiatives. Such initiatives also  helps in derisking the overall risk factors within Data Centre. Data Centre  management is something like playing Golf, one keep challenging and fi ghting  oneself. \\
SUDHIR AGGARWAL
SUDHIR AGGARWAL is Senior Vice President and Head – Government initiatives for Enterprise Division at Sify Technologies Limited. He is  responsible for Strategic business development in Government and Defense  segment. Sudhir Aggarwal joined Sify in January 2008, as Senior Vice President  and Head – Government initiatives. He is responsible to particularly  focusing in creating very large opportunities in the Government and Defense  segments Prior to his tenure at Sify, he held General Manager, Government  (Business Development) at Oracle.
SIFY TO SET UP TIER III DATACENTRES
Sify Technologies will set up two more Tier III or Level III standard datacentres in Noida and Bangalore. The company already has several  datacentres spread across Mumbai, New Delhi, Chennai, Bangalore and the new  ones will also follow the same standards across India. Sify intends to double its  datacentre space in India to around 4 lakh square feet, from the present 2 lakh  square feet. It proposes to invest about INR 300 crore to increase the  datacentre capabilities in India. The datacentres will remain in the Tier III  category and not Tier IV as preferred by most companies. Nagendran S,  national head (Corporate Accounts Enterprise Solutions) of Sify Technologies,  said, "The only problem with most datacentres in India is that, since they have  only one source of power and don t get power from two independent  companies, they are categorized as Tier III datacentres." As per the industry  standards, Tier IV datacenters with their 99.995% availability provide the  highest levels of performance for mission-critical IT systems, but only a couple  of datacentres in India seem to have earned that distinction. However,  Nagendran said, all our datacentres meet the standards for the Tier IV  datacentres. In fact, we offer customers redundancy of 99.995%, which is  mandatory for all banks and fi nancial institutions. Regarding the new  datacentres, he said it will be from ground up and will have it built depending  on the market requirement. Sify claims to have over 400 corporate customers  who have hosted their services on their datacentres. Some of the corporate include Vodafone, and AT&T. All our corporate clients sign a multi-year  contract with us, he said. The company provides independent services to its  clients and the services range from level 1 support, management security services, management storage services, among others.